| | | |
| --- | --- | --- |
| Where's Saturn? Is that a UFO--or the ISS? What's the name of that star? Get the answers from mySKY--a fun new astronomy helper from Meade. | | |
MORNING SHOW: "I woke up early this morning, stepped outside and saw four bright, beautiful objects in the twilight," reports Kenneith Hui Ho-Keung of Hong Kong. "Venus, Mercury, Jupiter and the Moon were lined up behind the wind turbines of the Ho Koon Education cum Astronomical Centre." Photos: #1, #2. Readers, you don't need to be in Hong Kong to see this show. The planets are on display at dawn all weekend long and all around the world. Wake up and look: sky map.
AURORA WATCH: Would you like to see the Northern Lights this weekend? Take the midnight flight from Los Angeles to London. Here is the view from a port window on Feb. 29th: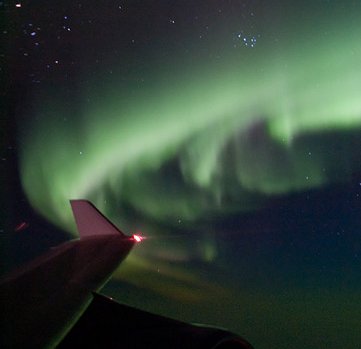 "I was flying over the Hudson Bay en route from LAX to Heathrow," says photographer Jeff Hapeman. "I always keep an eye on the aurora forecast before this flight and pack my camera (a Canon 1D Mark III) if there is a good chance of a display."
The lights Hapeman saw were caused by a solar wind stream hitting Earth's magnetic field. The solar wind continues to blow and NOAA forecasters estimate a 30% chance of more geomagnetic activity tonight. Observing tip: Pick a window seat.
February 2008 Aurora Gallery
[Interactive World Map of Aurora Sightings]
[Aurora Alerts] [Night Sky Cameras]
LUNAR LIBRATION: A few days ago, NASA released new high-resolution radar maps of the Moon's south pole, revealing a fantastic land with peaks as high as Mt McKinley and craters four times deeper than the Grand Canyon. But wait. How did NASA radars located in California see the south pole of the Moon? The answer is lunar libration. As the Moon goes around its orbit, it seems to nod back and forth, tipping its north pole toward Earth one week and its south pole toward Earth two weeks later. The effect is illustrated in this composite photo of February's quarter moons: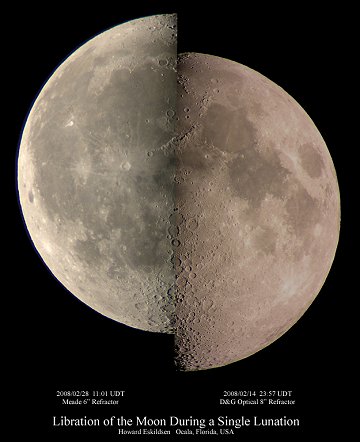 "Two photos taken at first quarter and 3rd quarter were combined to demonstrate the libration of the Moon," says photographer Howard Eskildsen of Ocala, Florida. "The Ptolemaeus group (three distinctive craters near center of photo) were used as the anchor point."
Libration happens because the Moon's orbit is slightly elliptical (5%) and slightly tilted (5°). The two effects combine to provide a constantly changing point of view as the Moon goes around Earth. It is often said that the same side (i.e., the same 50%) of the Moon always faces our planet, but libration allows us to observe not just 50% but rather 59% of the Moon's surface.
---
Lunar Eclipse Photo Gallery
[Interactive World Map of Eclipse Photos]