| | | |
| --- | --- | --- |
| Lights Over Lapland is excited to announce that our aurora webcam will be up and running 365 days per year! You can now enjoy watching the Midnight Sun and all of the other drama in the sky above Abisko National Park, Sweden here. | | |
SOLAR WIND, INCOMING: A wide hole is opening in the sun's atmosphere, and it is spewing a stream of solar wind toward Earth. G1-class geomagnetic storms are possible when the gaseous material arrives on April 19-20. Sky watchers between 50o and 60o N latitude should also be alert for STEVE, which tends to appear in that latitude range during springtime geomagnetic storms. Free: Aurora Alerts
SURPRISE ASTEROID FLYBY: With little warning, a relatively large asteroid flew through the Earth-Moon system on April 15th only 192,200 km (0.5 LD) from our planet. 2018 GE3 was discovered by the Catalina Sky Survey approaching Earth on April 14th. Hours later, amateur astronomer Michael Jäger of Weißenkirchen Austria video-recorded the space rock rushing through the southern constellation Serpens: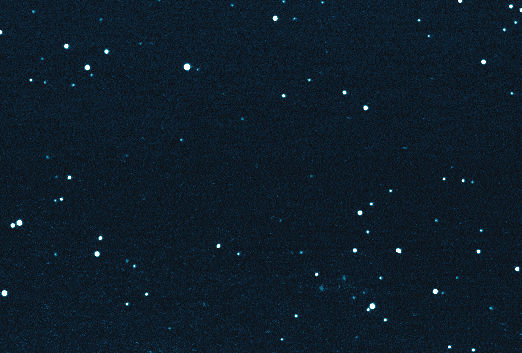 "According to wikipedia, 2018 GE3 is the largest known asteroid to pass that close to Earth in observational history," says Jäger. "It was shining like a 13th magnitude star at the time of my observations."
Based on the intensity of its reflected sunlight, 2018 GE3 must be 48 to 110 meters wide, according to NASA-JPL. This puts it into the same class as the 60-meter Tunguska impactor that leveled a forest in Siberia in 1908. A more recent point of comparison is the Chelyabinsk meteor--a ~20-meter asteroid that exploded in the atmosphere over Russia on Feb. 15, 2013, shattering windows and toppling onlookers as a fireball brighter than the sun blossomed in the blue morning Ural sky. 2018 GE3 could be 5 to 6 times wider than that object.
If 2018 GE3 had hit Earth, it would have caused regional, not global, damage, and might have disintegrated in the atmosphere before reaching the ground. Nevertheless, it is a significant asteroid, illustrating how even large space rocks can still take us by surprise. 2018 GE3 was found less than a day before before its closest approach.
Based on an observational arc of only 1 day, 2018 GE3 appears to follow an elliptical orbit which stretches from the asteroid belt to deep inside the inner solar system. Every ~2.5 years the space rock crosses the orbits of Mercury, Venus, Earth, and Mars--although not necessarily making close approaches to the planets themselves.  An interactive 3D orbit of the asteroid is available from JPL:
explore it here
!
COMPLEX ICE HALO DISPLAY: Many of us have seen a sun halo--a ring around the sun caused by ice crystals in clouds. The luminous rings are usually simple circles.  On March 30th, however, things got complicated. "I saw an incredibly complex ice halo," reports Matthew Cook, who sends this picture from Ann Arbor, Michigan: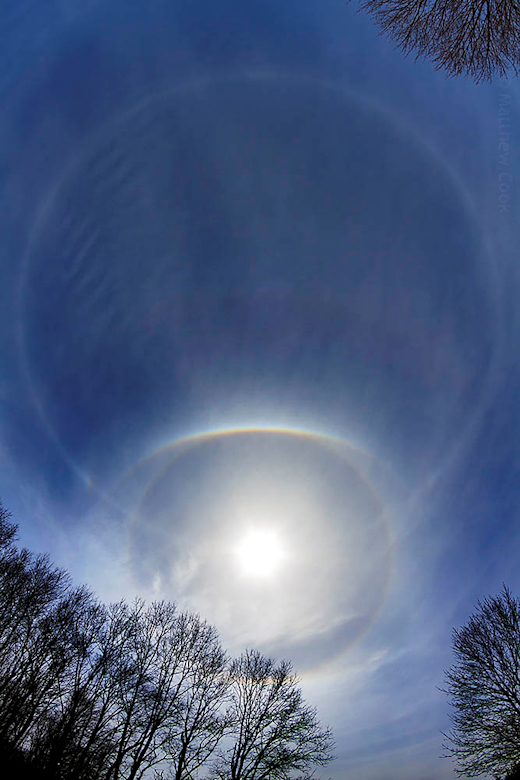 In Cook's photo, we see a complete parhelic circle, a circumscribed halo, a supralateral arc, a 22-degree halo, and a pair of sundogs. "It was a great display," he says.

Complex halos like this require not just one type of ice crystal, but many, with  gem-like perfection and unusually precise crystal-to-crystal alignment. Clouds that contain such a rare ensemble of ice crystals are rare--but perhaps not as rare as you might suppose. Atmospheric optics expert Les Cowley discusses the odds of seeing such a display from your own backyard.

Realtime Space Weather Photo Gallery
MOTHER'S DAY IS LESS THAN 1 MONTH AWAY: Nothing says "I Love You" like a heart-shaped pendant from the edge of space. On Dec. 31, 2017, the students of Earth to Sky Calculus flew an array of cosmic ray sensors to the stratosphere onboard a giant helium balloon. This pendant went along for the ride: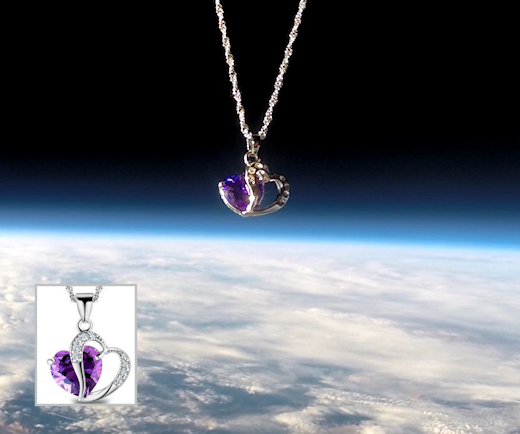 You can have it for $119.95. The students are selling these pendants as a fund-raiser for their cosmic ray monitoring program--and they make great Mother's Day gifts. All proceeds support atmospheric radiation measurements and hands-on STEM education.
Each pendant comes with a greeting card showing the jewelry in flight and telling the story of its journey to the stratosphere and back again. Mom-satisfaction guaranteed.
Far Out Gifts: Earth to Sky Store
All proceeds support hands-on STEM education

---
Every night, a network of
NASA all-sky cameras
scans the skies above the United States for meteoritic fireballs. Automated software maintained by NASA's Meteoroid Environment Office calculates their orbits, velocity, penetration depth in Earth's atmosphere and many other characteristics. Daily results are presented here on Spaceweather.com.
On Apr. 15, 2018, the network reported 21 fireballs.
(21 sporadics)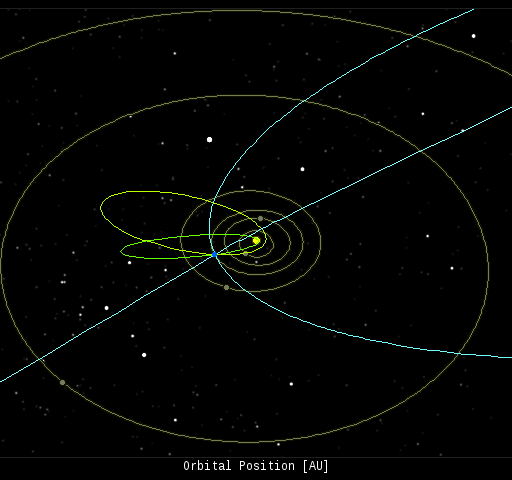 In this diagram of the inner solar system, all of the fireball orbits intersect at a single point--Earth. The orbits are color-coded by velocity, from slow (red) to fast (blue). [Larger image] [movies]
Potentially Hazardous Asteroids (
PHAs
) are space rocks larger than approximately 100m that can come closer to Earth than 0.05 AU. None of the known PHAs is on a collision course with our planet, although astronomers are finding
new ones
all the time.
On April 15, 2018 there were
1906
potentially hazardous asteroids.

Recent & Upcoming Earth-asteroid encounters:
Asteroid

Date(UT)

Miss Distance

Velocity (km/s)

Diameter (m)

2018 GE2

2018-Apr-10

1.4 LD

6.2

15

2018 GY3

2018-Apr-10

0.8 LD

11.3

11

2018 GG

2018-Apr-11

4.7 LD

13.9

43

363599

2018-Apr-12

19.3 LD

24.5

224

2018 GD2

2018-Apr-12

0.8 LD

7.8

5

2018 GP

2018-Apr-13

4.4 LD

8.8

14

2018 GV1

2018-Apr-13

4.8 LD

8.9

12

2014 UR

2018-Apr-14

9.3 LD

4.4

17

2018 GH2

2018-Apr-14

14.3 LD

7.1

22

2018 GE3

2018-Apr-15

0.5 LD

29.6

65

2018 GC2

2018-Apr-17

9 LD

4.9

15

2018 GP4

2018-Apr-17

11.4 LD

9.3

18

2018 GK4

2018-Apr-17

5.9 LD

10.8

20

2018 GS3

2018-Apr-20

8.5 LD

19.8

22

2016 JP

2018-Apr-20

12 LD

12.7

214

2018 GR1

2018-Apr-21

18.2 LD

16.3

52

2018 GG4

2018-Apr-23

9.8 LD

14.9

19

2012 XL16

2018-Apr-23

15.8 LD

6.1

28

2018 GH

2018-Apr-25

14.6 LD

10.7

89

2018 GB2

2018-Apr-27

17 LD

14.5

95

2013 US3

2018-Apr-29

10.1 LD

7.7

214

2018 GO4

2018-Apr-29

11.8 LD

8.6

45

2018 GY1

2018-Apr-29

13.2 LD

16.7

135

2018 FV4

2018-Apr-29

17.7 LD

6.5

58

2002 JR100

2018-Apr-29

10.8 LD

7.7

49

1999 FN19

2018-May-07

9.7 LD

5.7

118

2016 JQ5

2018-May-08

6.3 LD

10.4

9

388945

2018-May-09

6.5 LD

9

295

2018 GR2

2018-May-11

13.4 LD

9.9

109

1999 LK1

2018-May-15

13.3 LD

10

141

2018 GL1

2018-May-18

14.3 LD

5.2

66

68347

2018-May-29

9.5 LD

13.3

389

2013 LE7

2018-May-31

17.8 LD

1.7

12

2018 EJ4

2018-Jun-10

5.6 LD

6.2

195

2015 DP155

2018-Jun-11

9 LD

4.4

170

Notes: LD means "Lunar Distance." 1 LD = 384,401 km, the distance between Earth and the Moon. 1 LD also equals 0.00256 AU. MAG is the visual magnitude of the asteroid on the date of closest approach.

| | |
| --- | --- |
| | Cosmic Rays in the Atmosphere |




Readers, thank you for your patience while we continue to develop this new section of Spaceweather.com. We've been working to streamline our data reduction, allowing us to post results from balloon flights much more rapidly, and we have developed a new data product, shown here:

This plot displays radiation measurements not only in the stratosphere, but also at aviation altitudes. Dose rates are expessed as multiples of sea level. For instance, we see that boarding a plane that flies at 25,000 feet exposes passengers to dose rates ~10x higher than sea level. At 40,000 feet, the multiplier is closer to 50x. These measurements are made by our usual cosmic ray payload as it passes through aviation altitudes en route to the stratosphere over California.

What is this all about? Approximately once a week, Spaceweather.com and the students of Earth to Sky Calculus fly space weather balloons to the stratosphere over California. These balloons are equipped with radiation sensors that detect cosmic rays, a surprisingly "down to Earth" form of space weather. Cosmic rays can seed clouds, trigger lightning, and penetrate commercial airplanes. Furthermore, there are studies ( #1, #2, #3, #4) linking cosmic rays with cardiac arrhythmias and sudden cardiac death in the general population. Our latest measurements show that cosmic rays are intensifying, with an increase of more than 13% since 2015:




Why are cosmic rays intensifying? The main reason is the sun. Solar storm clouds such as coronal mass ejections (CMEs) sweep aside cosmic rays when they pass by Earth. During Solar Maximum, CMEs are abundant and cosmic rays are held at bay. Now, however, the solar cycle is swinging toward Solar Minimum, allowing cosmic rays to return. Another reason could be the weakening of Earth's magnetic field, which helps protect us from deep-space radiation.

The radiation sensors onboard our helium balloons detect X-rays and gamma-rays in the energy range 10 keV to 20 MeV. These energies span the range of medical X-ray machines and airport security scanners.

The data points in the graph above correspond to the peak of the Reneger-Pfotzer maximum, which lies about 67,000 feet above central California. When cosmic rays crash into Earth's atmosphere, they produce a spray of secondary particles that is most intense at the entrance to the stratosphere. Physicists Eric Reneger and Georg Pfotzer discovered the maximum using balloons in the 1930s and it is what we are measuring today.

| | |
| --- | --- |
| | The official U.S. government space weather bureau |

| | |
| --- | --- |
| | The first place to look for information about sundogs, pillars, rainbows and related phenomena. |

| | |
| --- | --- |
| | Researchers call it a "Hubble for the sun." SDO is the most advanced solar observatory ever. |

| | |
| --- | --- |
| | 3D views of the sun from NASA's Solar and Terrestrial Relations Observatory |

| | |
| --- | --- |
| | Realtime and archival images of the Sun from SOHO. |

| | |
| --- | --- |
| | from the NOAA Space Environment Center |

| | |
| --- | --- |
| | fun to read, but should be taken with a grain of salt! Forecasts looking ahead more than a few days are often wrong. |

| | |
| --- | --- |
| | from the NOAA Space Environment Center |

| | |
| --- | --- |
| | the underlying science of space weather |

| | |
| --- | --- |
| | Reviews here can help you to pick up best memory foam mattresses. |

| | |
| --- | --- |
| | These links help Spaceweather.com stay online. Thank you to our supporters! |