| | | |
| --- | --- | --- |
| Metallic photos of the sun by renowned photographer Greg Piepol bring together the best of art and science. Buy one or a whole set. They make a stellar gift. | | |
AURORA WATCH: Earth is entering a moderately-fast (~500 km/s) solar wind stream that could spark geomagnetic disturbances around the Arctic Circle. High-latitude sky watchers should be alert for auroras tonight. Aurora alerts: text, voice.
VENUS-DIRECTED CME (UPDATED): Sunspot complex 1401-1402 erupted this morning, Jan. 16th at approximately 0400 UT, producing a C6-class solar flare (SDO movie) and a bright coronal mass ejection. SOHO recorded the expanding cloud: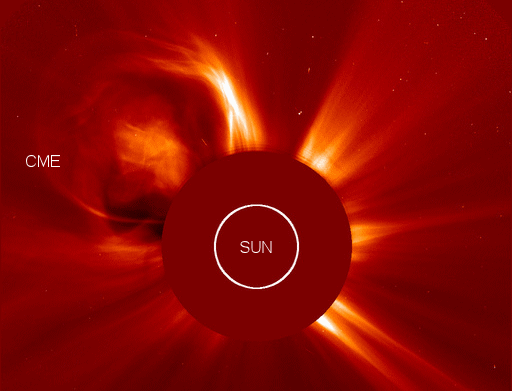 Update: According to a forecast track prepared by analysts at the Goddard Space Weather Lab, this CME will hit Venus during the late hours of Jan. 18th. Because Venus has no global magnetic field to protect it, the impact will erode a small amount of atmosphere from the planet's cloudtops. There's no cause for concern, however, because Venus's massive atmosphere will scarcely notice the loss.
The same analysis shows that the CME might deliver a glancing blow to Earth's magnetic field around 1200 UT on Jan. 19th. The impact could cause geomagnetic activity and auroras around the Arctic Circle.
more images: from Pete Lawrence of Selsey, West Sussex, UK; from John Stetson of Falmouth, Maine; from Richard Bailey of Barham, Kent, UK; from Gianfranco Meregalli of Milano Italy
THE GHOST OF COMET LOVEJOY: Today is the one-month anniversary of Comet Lovejoy's close encounter with the sun. The comet emerged from the sun's atmosphere bright enough to see with the naked eye in the dawn sky. Thirty days later, Comet Lovejoy is a ghost of its former self. This morning, Jan. 16th, Minoru Yoneto of Queenstown, New Zealand, photographed the fading sungrazer: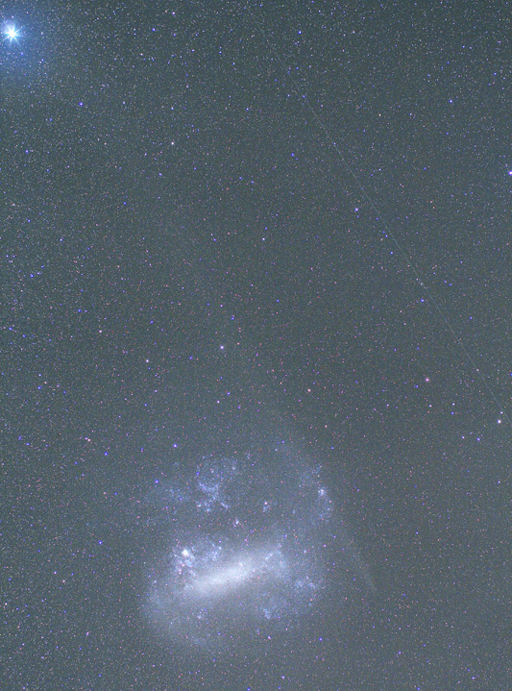 The comet's gossamer tail stretches more than 13 degrees from the Large Magellanic Cloud (bottom) to supergiant star Canopus (upper left). "I didn't expect the tail to be so long," says Yoneto. "[To show the full extent of it], I made a two minute exposure using my Canon EOS Kiss X2 digital camera set to ISO1600." He also captured a satellite traveling along the star field parallel to the comet's tail.
The Ghost of Comet Lovejoy is still putting on a good show.
Comet Lovejoy Gallery
[previous comets: McNaught, Holmes, Lulin, Tuttle, Ikeya-Zhang]
POLAR STRATOSPHERIC CLOUDS: An apparition of polar stratospheric clouds is underway around the Arctic Circle. "It is almost as good as the aurora borealis," says Göran Strand, who took this picture last night from Östersund, Sweden: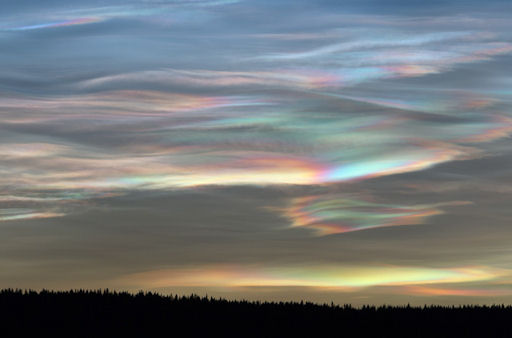 Eric Schandall of Oslo, Norway, adds this report: "We have seen them for three evenings over Oslo, with the ones on Jan. 13th being the most dramatic and beautiful so far."
Also known as "nacreous" or "mother of pearl" clouds, these icy clouds form in the lower stratosphere when temperatures drop to around minus 85ºC. Sunlight shining through tiny ice particles ~10µm across produce the characteristic bright iridescent colors by diffraction and interference.
"Nacreous clouds far outshine and have much more vivid colours than ordinary iridescent clouds, which are very much poor relations and seen frequently all over the world," writes atmospheric optics expert Les Cowley. "Once seen they are never forgotten."
---
January 2012 Aurora Gallery
[previous Januaries: 2010, 2009, 2008, 2007, 2005, 2004]