| | | |
| --- | --- | --- |
| All-inclusive Northern Lights trips in Tromsø, Norway. Small groups, big experiences! Highly qualified guides ensure unique and unforgettable adventures with a personal touch. Visit Explore the Arctic | | |
A HOLE IN THE SUN'S ATMOSPHERE: NOAA forecasters say there is a 40% chance of geomagnetic activity on July 20th when a stream of solar wind hits Earth's magnetic field. The gaseous material is flowing from a hole in the sun's atmosphere. High latitude sky watchers may be able to see auroras during the hours around local midnight Free: Aurora Alerts.
SPIDERS AND SPACE WEATHER: Did you know that spiders can fly? Biologists call it "ballooning." Spiders spin a strand of silk, it juts into the air, and off they go. Airborne arachnids have been found as high as 4 km off the ground. Originally, researchers thought spiders were riding currents of air, but there's a problem with that idea. Spiders often take flight when the air is calm, and large spiders fly even when air currents are insufficient to support their weight. It's a mystery.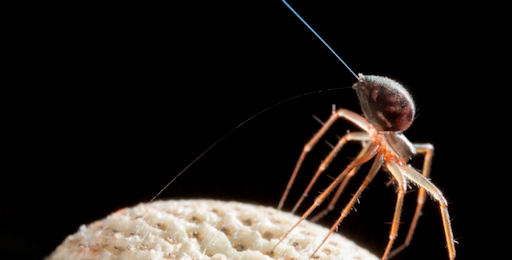 Above: Just before ballooning, spiders adopt a posture shown here called "tiptoeing."
Scientists from the University of Bristol may have found the solution. In a paper published in the July 5th edition of Current Biology, they proved that spiders can propel themselves using electric fields.
"We exposed adult Linyphiid spiders (Erigone) to electric fields similar to those which naturally occur in Earth's atmosphere," explains the paper's lead author, Erica Morley. "Spiders showed a significant increase in ballooning in the presence of electric fields." A remarkable video of their experiment shows one spider flying when the fields were switched on, then sinking when the fields were off again.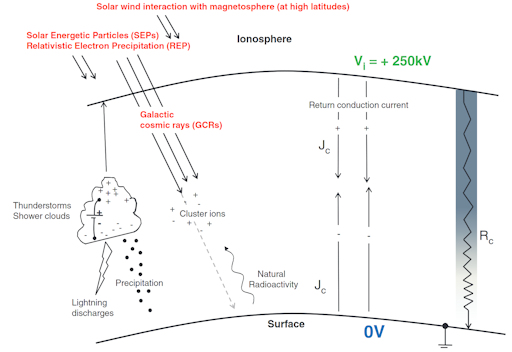 Above: This diagram, borrowed from K. A. Nicoll's review paper "Space Weather influences on Atmospheric Electricity," illustrates the role of thunderstorms and cosmic rays in creating Earth's electric fields.
The electric fields spiders use for propulsion are part of Earth's global atmospheric electric circuit (GEC)–a planet-sized circuit of electricity that researchers have known about since the 1920s. In a nutshell, thunderstorms help build up a charge difference between the ground and the ionosphere 50 km overhead. The voltage drop is a staggering 250,000 volts. This sets up electric fields linking Earth to the edge of space. Cosmic rays ionize Earth's atmosphere, turning it into a weak conductor that allows currents to flow through the GEC.
Scroll down for the rest of the story.....
A MAGIC RING IN THE STRATOSPHERE: There are only a few left. Last month, the students of Earth to Sky Calculus launched a space weather balloon to the stratosphere over New Zealand. In the payload, alongside cosmic ray sensors, were rings of power.  Here's one flying 108,345 feet above Hobbiton, the movie set for the Lord of the Rings: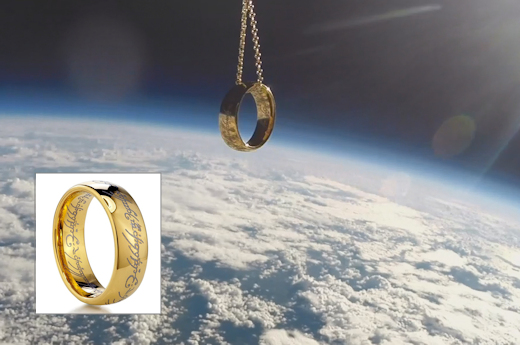 You can have one for $149.95. The ring is made of golden-colored tungsten and inscribed with the authentic Mordor script of the One Ring. This far out gift comes with a greeting card showing the ring in flight and telling the story of its journey to the edge of space. Sales support the Earth to Sky Calculus cosmic ray ballooning program and hands-on STEM research.
Far Out Gifts: Earth to Sky Store
All sales support hands-on STEM education
SPIDERS AND SPACE WEATHER, CONTINUED..... Spiders evolved inside the global electric circuit, so it's no surprise that they have learned to tap into it. But how? Peter W. Gorham of the Dept. of Physics and Astronomy at the University of Hawaii notes that "the complex protein structure of spider silk includes charge-bearing amino acids glutamic acid and arginine, which might be generated in a charged state as part of the spinning process." [ref]

This video shows a spider flying in respond to laboratory electric fields. From "Electric Fields Elicit Ballooning in Spiders."
Researchers have long wondered about the role of electricity in spider flight. Charles Darwin may have been the first. He wrote about it during his voyages on the HMS Beagle (1831-1836). One day, the ship was 60 miles off the coast of Argentina when the deck was inundated by ballooning spiders.
"The day was hot and apparently quite calm," Darwin wrote. Yet "I repeatedly observed the same kind of small spider, either when placed or having crawled on some little eminence, elevate its abdomen, send forth a thread, and then sail away horizontally, but with a rapidity which was quite unaccountable."
He was particularly struck by spiders using multiple strands of silk that splayed out in fan-like shapes. Instead of tangling as they moved through the air, the strands remained separate. Were they repelled by an electrostatic force? Darwin wondered in his writings. The work of Erica Morley and her collaborator Daniel Robert closes the loop on a train of thought almost 200 years old.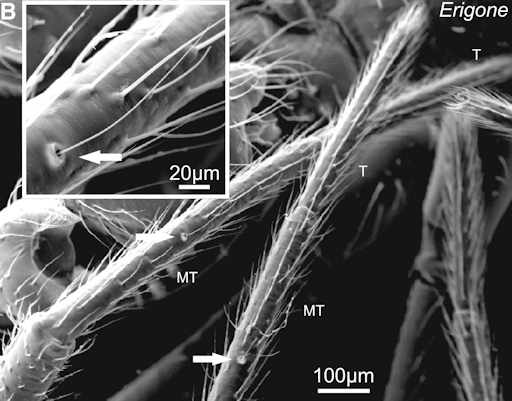 Above: Hairs on the legs of spiders called "trichobothria" twitch when electric fields are present–a signal to the spider that ballooning may commence. From "Electric Fields Elicit Ballooning in Spiders."

All of this raises the possibility that spiders may be affected by space weather as electric fields are perturbed by cosmic rays and solar activity. Research groups have demonstrated connections between space weather and atmospheric electricity on a variety of time scales:
Days: Coronal mass ejections (CMEs) from the sun can sweep aside cosmic rays as they pass by Earth, causing temporary reductions in atmospheric ionization as large as 30%. Our own Spaceweather.com/Earth to Sky cosmic ray balloons have measured these events. [ref]
Months: Measurements at the Reading University Atmospheric Observatory in the UK have shown that voltages can fluctuate +-15% as Earth dips in and out of the heliospheric current sheet (a huge corrugated magnetic structure centered on the sun) every ~27 days. [ref]
Years: During the 20th century, fair weather atmospheric voltages at sites in Scotland and the UK decreased by factors of ~25% due to a long-term decrease in cosmic rays. [ref] That slow trend is now reversing itself as cosmic rays intensify again.
Could the migration patterns of ballooning spiders be affected by space weather?
"It's entirely possible, but we simply don't yet know," says Morley. "The experiments we have carried out are mostly lab-based, which helps eliminate confounding variables. A next step in the project is to take this all into the field and look for patterns. Factoring in solar activity could be very interesting."
A sharable permalink to this article may be found here.
Realtime Space Weather Photo Gallery
---
---
Realtime Noctilucent Cloud Photo Gallery
---
Every night, a network of
NASA all-sky cameras
scans the skies above the United States for meteoritic fireballs. Automated software maintained by NASA's Meteoroid Environment Office calculates their orbits, velocity, penetration depth in Earth's atmosphere and many other characteristics. Daily results are presented here on Spaceweather.com.
On Jul. 20, 2018, the network reported 26 fireballs.
(26 sporadics)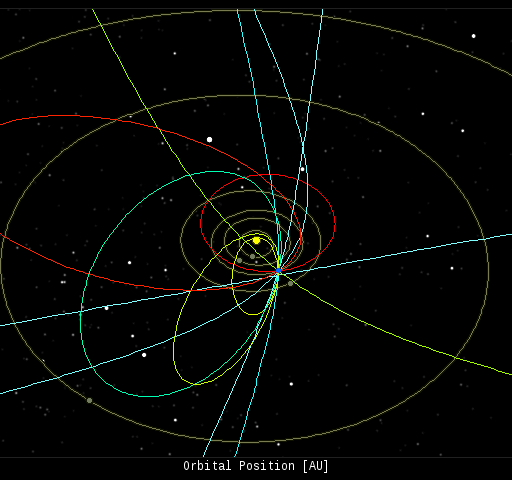 In this diagram of the inner solar system, all of the fireball orbits intersect at a single point--Earth. The orbits are color-coded by velocity, from slow (red) to fast (blue). [Larger image] [movies]
Potentially Hazardous Asteroids (
PHAs
) are space rocks larger than approximately 100m that can come closer to Earth than 0.05 AU. None of the known PHAs is on a collision course with our planet, although astronomers are finding
new ones
all the time.
On July 20, 2018 there were
1912
potentially hazardous asteroids.

Recent & Upcoming Earth-asteroid encounters:
Asteroid

Date(UT)

Miss Distance

Velocity (km/s)

Diameter (m)

2018 OM

2018-Jul-15

12.2 LD

24.4

66

2018 NV2

2018-Jul-15

10.1 LD

15.1

41

2018 NM

2018-Jul-17

1.4 LD

6.7

19

2018 NL4

2018-Jul-18

10.4 LD

12.7

53

2018 NQ1

2018-Jul-19

16.4 LD

6

32

2018 OF

2018-Jul-19

14.7 LD

14

49

2018 NE1

2018-Jul-21

10.1 LD

14.2

73

2018 NF4

2018-Jul-21

18.8 LD

12.8

114

2018 OL

2018-Jul-22

11.5 LD

16.1

57

2018 NR1

2018-Jul-27

17.1 LD

5.1

35

2018 LQ2

2018-Aug-27

9.4 LD

1.5

39

2016 GK135

2018-Aug-28

16.8 LD

2.8

9

2016 NF23

2018-Aug-29

13.3 LD

9

93

1998 SD9

2018-Aug-29

4.2 LD

10.7

51

2018 DE1

2018-Aug-30

15.2 LD

6.5

28

2001 RQ17

2018-Sep-02

19.3 LD

8.3

107

2015 FP118

2018-Sep-03

12.3 LD

9.8

490

Notes: LD means "Lunar Distance." 1 LD = 384,401 km, the distance between Earth and the Moon. 1 LD also equals 0.00256 AU. MAG is the visual magnitude of the asteroid on the date of closest approach.

| | |
| --- | --- |
| | Cosmic Rays in the Atmosphere |




Readers, thank you for your patience while we continue to develop this new section of Spaceweather.com. We've been working to streamline our data reduction, allowing us to post results from balloon flights much more rapidly, and we have developed a new data product, shown here:

This plot displays radiation measurements not only in the stratosphere, but also at aviation altitudes. Dose rates are expessed as multiples of sea level. For instance, we see that boarding a plane that flies at 25,000 feet exposes passengers to dose rates ~10x higher than sea level. At 40,000 feet, the multiplier is closer to 50x. These measurements are made by our usual cosmic ray payload as it passes through aviation altitudes en route to the stratosphere over California.

What is this all about? Approximately once a week, Spaceweather.com and the students of Earth to Sky Calculus fly space weather balloons to the stratosphere over California. These balloons are equipped with radiation sensors that detect cosmic rays, a surprisingly "down to Earth" form of space weather. Cosmic rays can seed clouds, trigger lightning, and penetrate commercial airplanes. Furthermore, there are studies ( #1, #2, #3, #4) linking cosmic rays with cardiac arrhythmias and sudden cardiac death in the general population. Our latest measurements show that cosmic rays are intensifying, with an increase of more than 13% since 2015:




Why are cosmic rays intensifying? The main reason is the sun. Solar storm clouds such as coronal mass ejections (CMEs) sweep aside cosmic rays when they pass by Earth. During Solar Maximum, CMEs are abundant and cosmic rays are held at bay. Now, however, the solar cycle is swinging toward Solar Minimum, allowing cosmic rays to return. Another reason could be the weakening of Earth's magnetic field, which helps protect us from deep-space radiation.

The radiation sensors onboard our helium balloons detect X-rays and gamma-rays in the energy range 10 keV to 20 MeV. These energies span the range of medical X-ray machines and airport security scanners.

The data points in the graph above correspond to the peak of the Reneger-Pfotzer maximum, which lies about 67,000 feet above central California. When cosmic rays crash into Earth's atmosphere, they produce a spray of secondary particles that is most intense at the entrance to the stratosphere. Physicists Eric Reneger and Georg Pfotzer discovered the maximum using balloons in the 1930s and it is what we are measuring today.

| | |
| --- | --- |
| | The official U.S. government space weather bureau |

| | |
| --- | --- |
| | The first place to look for information about sundogs, pillars, rainbows and related phenomena. |

| | |
| --- | --- |
| | Researchers call it a "Hubble for the sun." SDO is the most advanced solar observatory ever. |

| | |
| --- | --- |
| | 3D views of the sun from NASA's Solar and Terrestrial Relations Observatory |

| | |
| --- | --- |
| | Realtime and archival images of the Sun from SOHO. |

| | |
| --- | --- |
| | from the NOAA Space Environment Center |

| | |
| --- | --- |
| | fun to read, but should be taken with a grain of salt! Forecasts looking ahead more than a few days are often wrong. |

| | |
| --- | --- |
| | from the NOAA Space Environment Center |

| | |
| --- | --- |
| | the underlying science of space weather |

| | |
| --- | --- |
| | To find reviews of new online casino sites in the UK try The Casino DB where there are hundreds of online casino reviews complete with bonuses and ratings. |

| | |
| --- | --- |
| | These links help Spaceweather.com stay online. Thank you to our supporters! |