| | | |
| --- | --- | --- |
| All-inclusive Northern Lights trips in Tromsø, Norway. Small groups, big experiences! Highly qualified guides ensure unique and unforgettable adventures with a personal touch. Visit Explore the Arctic | | |
CHANCE OF STORMS: NOAA forecasters estimate a 45% chance of G1-class geomagnetic storms today, March 26th, as a stream of solar wind blows around Earth. The gaseous material is flowing from a southern hole in the sun's atmosphere. Polar sky watchers should remain alert for auroras. Free: Aurora Alerts
CHINA'S DOOMED SPACE STATION: China's Tiangong-1 space station is about to return to Earth--as a massive fireball. According to the European Space Agency (ESA), the 8-ton spacecraft will re-enter the atmosphere sometime between March 30th and April 2nd. Tiangong-1 is about the size of a European cargo spacecraft, such as the ATV-1 which itself re-entered in 2008. This re-entry video of the ATV-1 shows what the Tiangong-1 fireball might look like:
Tiangong-1 was launched in Sept. 2011 to establish a foothold in Earth orbit for China's fledgling space program. It served as a temporary home in space for two crews, including China's first female astronauts, and provided a testbed for automated rendezvous and docking procedures. China lost control of Tiangong-1 in 2016 when a telemetry link failed. This made it impossible for mission controllers to guide the station to a re-entry over the South Pacific Ocean as originally planned. Instead, Tiangong-1 would re-enter on its own schedule as aerodynamic friction with Earth's upper atmosphere slowly drained the station's orbital energy.

Initially, Chinese officials speculated that re-entry would occur in late 2017. However, low solar activity delayed the splashdown. Sunspot numbers have plummeted recently as the solar cycle heads toward a deep solar minimum: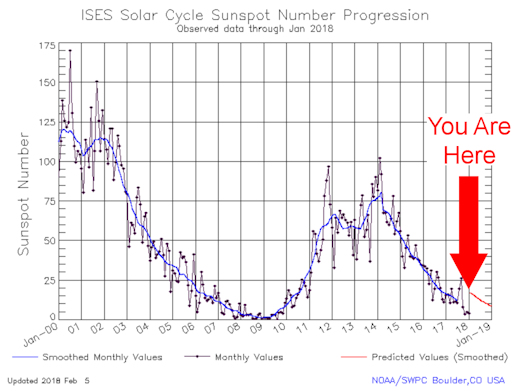 Without sunspots, the sun's extreme ultraviolet radiation decreased. Earth's upper atmosphere cooled and contracted, reducing aerodynamic friction that would otherwise bring Tiangong-1 down. "Late 2017" became the spring of 2018.

At the moment it is impossible to predict exactly where Tiangong-1 will re-enter. All we know is that it will disintegrate somewhere between +42.8 and -42.8 degrees latitude, the upper and lower limits of the station's tilted orbit. This map from the ESA shows the re-entry zone: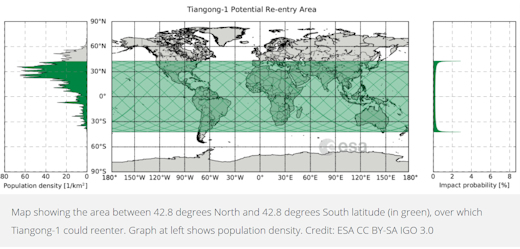 Even with an uncontrolled re-entry, the odds strongly favor a descent over uninhabited land or ocean. According to the ESA, "[surviving fragments] will be scattered over a curved ellipsoid that is thousands of km in length and tens of km wide. The personal probability of being hit by a piece of debris from the Tiangong-1 is actually 10 million times smaller than the yearly chance of being hit by lightning."

In other words, don't worry. You'll be lucky just to see the fireball. Approximately one day before the reentry, it will become possible to roughly predict re-entry ground tracks, and hence which regions on Earth might witness the disintegration. Stay tuned for updates.
Realtime Space Weather Photo Gallery
THE LONGEST HOME RUN: Move over, Mickey Mantle. The students of Earth to Sky Calculus have just set a new home run record. According to the Guinness Book of World Records, Mantle hit a 565 foot blast on April 17, 1953. Eclipsing that mark, a Dodger ball launched by the students on March 17, 2018, sailed 700 times farther. The baseball traveled to the stratosphere on board a cosmic ray balloon: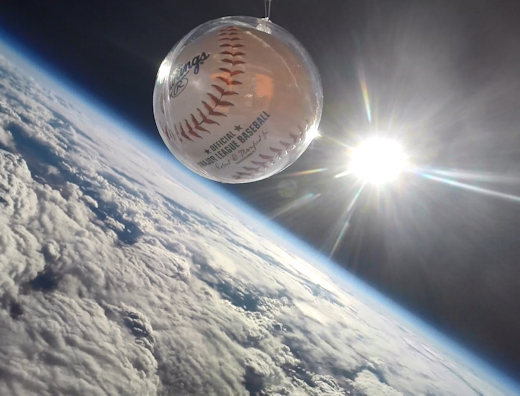 After the balloon exploded 35.4 km (116,000 ft) above the Sierra Nevada mountains of central California, the payload parachuted back to Earth, landing in the desert near Gemfield, NV, more than 123 km from the launch site. Now that's a homer!

The payload carried commemorative baseballs for the following teams: Dodgers, Cubs, Red Sox, Yankees, Padres, and Giants. You can have one for $139.95.  During checkout, enter your preferred team in the COMMENTS section. We will send you the corresponding baseball. If your home team is not on the list, let us know and we will fly it for you on an upcoming flight.

Each baseball comes with a greeting card showing the ball in flight and telling the story of its journey to the stratosphere. They make great gifts for baseball fans, and all proceeds support STEM education.
Far Out Gifts: Earth to Sky Store
All proceeds support hands-on STEM education
STRANGE AURORA-LIKE ARC SIGHTED OVER ALASKA: On Saturday night, something happened at the edge of space over Alaska. More than 200 km above Anchorage, a hot ribbon of ionized gas sliced through Earth's magnetosphere, creating a luminous arc that rivaled the Moon in brightness. Sanjana Greenhill witnessed the apparition: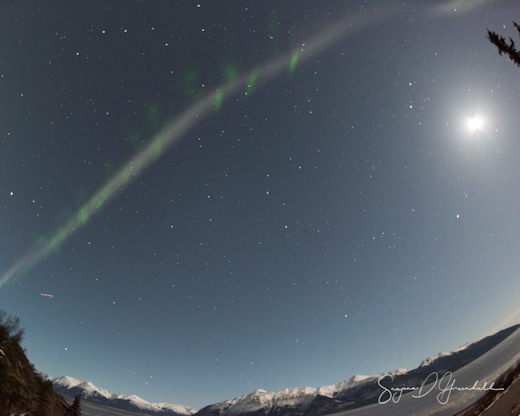 "We noticed this perfect arc developing across the sky," says Greenhill. "It didn't seem like the aurora since it wasn't moving much. The arc got brighter and then faded and then got brighter again. And then it dawned on me, this is STEVE!"
STEVE is an aurora-like phenomenon that researchers are only beginning to understand. For many years, northern sky watchers reported the form occasionally dancing alongside auroras. It was widely called a "proton arc" until researchers pointed out that protons had nothing to do with it. So members of the Alberta Aurora Chasers group gave it a new name: "Steve" (since upgraded to STEVE, an acronym for 'Strong Thermal Emission Velocity Enhancement').
The first clues to the nature of STEVE came in 2016 when one of the European Space Agency's Swarm satellites encountered the phenomenon. "As the satellite flew straight though 'Steve,' the temperature jumped by 3000°C and the data revealed a 25 km-wide ribbon of gas flowing westwards at about 6 km/s (13,000 mph)," reports Eric Donovan from the University of Calgary.

This ESA animation shows Swarm satellites orbiting Earth above ground cameras observing STEVE
Donovan and a team of colleagues led by Elizabeth MacDonald of NASA's Goddard Space Flight Center have just published a paper on STEVE. In it, they confirm that STEVE is distinct from ordinary auroras, usually forming to the south of active Northern Lights. The mauve and purple colored arcs, they say, are related to supersonic rivers of gas called "subauroral ion drifts" (SAIDs), which flow through Earth's magnetic field. Earth-orbiting satelites have tracked thousands of SAIDs: they tend to appear near latitude +60 degrees, and occur more frequently during spring and fall than summer and winter.
This last point means that now is the season for STEVE. The onset of northern spring seems to lure the arc out of winter hiding.
"I saw STEVE for the first time on March 18th," reports Giuseppe Petricca , who took this sequence of pictures from the Isle of Lewis in Scotland: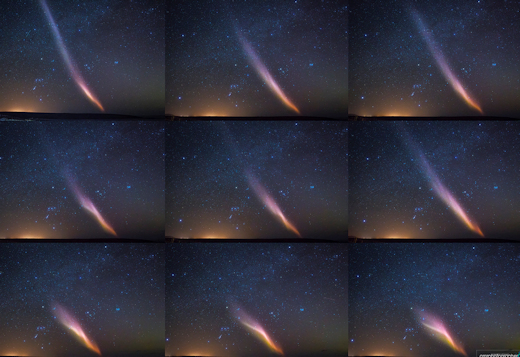 "It was an ever-changing tornado, with violet tones, always in movement, always with different shapes," he says. "Another wonder of Nature!"
The mystery of STEVE is far from solved. Researchers still don't understand why STEVE is purple--or for that matter why the underlying rivers of gas should glow at all. "Further spectral analysis and modeling are needed," say MacDonald et al.
In other words, keep an eye out for STEVE.
Realtime "Steve" Photo Gallery
---
---
Every night, a network of
NASA all-sky cameras
scans the skies above the United States for meteoritic fireballs. Automated software maintained by NASA's Meteoroid Environment Office calculates their orbits, velocity, penetration depth in Earth's atmosphere and many other characteristics. Daily results are presented here on Spaceweather.com.
On Mar. 26, 2018, the network reported 6 fireballs.
(6 sporadics)
In this diagram of the inner solar system, all of the fireball orbits intersect at a single point--Earth. The orbits are color-coded by velocity, from slow (red) to fast (blue). [Larger image] [movies]
Potentially Hazardous Asteroids (
PHAs
) are space rocks larger than approximately 100m that can come closer to Earth than 0.05 AU. None of the known PHAs is on a collision course with our planet, although astronomers are finding
new ones
all the time.
On March 26, 2018 there were
1882
potentially hazardous asteroids.

Recent & Upcoming Earth-asteroid encounters:
Asteroid

Date(UT)

Miss Distance

Velocity (km/s)

Diameter (m)

2018 FG1

2018-Mar-21

4.5 LD

9.7

12

2018 FU4

2018-Mar-21

17 LD

8.4

29

2018 ED9

2018-Mar-21

1.6 LD

6.1

14

2018 FR3

2018-Mar-22

3.2 LD

7.7

13

2018 EV1

2018-Mar-22

7.7 LD

11.2

28

2018 FF3

2018-Mar-23

1.1 LD

12

17

2018 FL2

2018-Mar-23

9 LD

17.7

27

2018 FA2

2018-Mar-23

11.2 LD

8.2

15

2018 FZ3

2018-Mar-23

0.5 LD

14.1

11

2018 FC3

2018-Mar-23

5.3 LD

15.3

11

2018 FW1

2018-Mar-24

9.2 LD

7.3

34

2018 FB3

2018-Mar-25

9.3 LD

15.9

33

2018 FQ1

2018-Mar-25

5.7 LD

5.9

15

2018 FR1

2018-Mar-26

6.2 LD

12.2

17

2018 DH1

2018-Mar-27

9.2 LD

14.4

224

2016 SR2

2018-Mar-28

18.7 LD

7.3

20

2018 FU1

2018-Mar-28

12.3 LD

5.9

15

2018 FO4

2018-Mar-28

7.7 LD

6.3

11

2018 FU3

2018-Mar-29

17.7 LD

8.4

20

2018 FE4

2018-Mar-29

13.3 LD

20.7

35

2018 FB

2018-Mar-29

4.9 LD

8.5

57

2018 FB2

2018-Mar-30

10 LD

6.7

26

2010 GD35

2018-Mar-31

15.5 LD

11.6

45

2018 EM4

2018-Apr-01

6.2 LD

6.2

31

2004 FG29

2018-Apr-02

4 LD

14.9

22

2018 ER1

2018-Apr-02

15.6 LD

4

26

2018 EB

2018-Apr-04

10.4 LD

15.1

165

2018 FW4

2018-Apr-05

9.8 LD

11.6

32

363599

2018-Apr-12

19.3 LD

24.5

224

2014 UR

2018-Apr-14

9.3 LD

4.4

17

2016 JP

2018-Apr-20

12 LD

12.7

214

2012 XL16

2018-Apr-23

15.8 LD

6.1

28

2013 US3

2018-Apr-29

10.1 LD

7.7

214

2018 FV4

2018-Apr-29

17.7 LD

6.5

61

2002 JR100

2018-Apr-29

10.8 LD

7.7

49

1999 FN19

2018-May-07

9.7 LD

5.7

118

2016 JQ5

2018-May-08

6.3 LD

10.4

9

388945

2018-May-09

6.5 LD

9

295

1999 LK1

2018-May-15

13.3 LD

10

141

Notes: LD means "Lunar Distance." 1 LD = 384,401 km, the distance between Earth and the Moon. 1 LD also equals 0.00256 AU. MAG is the visual magnitude of the asteroid on the date of closest approach.

| | |
| --- | --- |
| | Cosmic Rays in the Atmosphere |




Readers, thank you for your patience while we continue to develop this new section of Spaceweather.com. We've been working to streamline our data reduction, allowing us to post results from balloon flights much more rapidly, and we have developed a new data product, shown here:

This plot displays radiation measurements not only in the stratosphere, but also at aviation altitudes. Dose rates are expessed as multiples of sea level. For instance, we see that boarding a plane that flies at 25,000 feet exposes passengers to dose rates ~10x higher than sea level. At 40,000 feet, the multiplier is closer to 50x. These measurements are made by our usual cosmic ray payload as it passes through aviation altitudes en route to the stratosphere over California.

What is this all about? Approximately once a week, Spaceweather.com and the students of Earth to Sky Calculus fly space weather balloons to the stratosphere over California. These balloons are equipped with radiation sensors that detect cosmic rays, a surprisingly "down to Earth" form of space weather. Cosmic rays can seed clouds, trigger lightning, and penetrate commercial airplanes. Furthermore, there are studies ( #1, #2, #3, #4) linking cosmic rays with cardiac arrhythmias and sudden cardiac death in the general population. Our latest measurements show that cosmic rays are intensifying, with an increase of more than 13% since 2015:




Why are cosmic rays intensifying? The main reason is the sun. Solar storm clouds such as coronal mass ejections (CMEs) sweep aside cosmic rays when they pass by Earth. During Solar Maximum, CMEs are abundant and cosmic rays are held at bay. Now, however, the solar cycle is swinging toward Solar Minimum, allowing cosmic rays to return. Another reason could be the weakening of Earth's magnetic field, which helps protect us from deep-space radiation.

The radiation sensors onboard our helium balloons detect X-rays and gamma-rays in the energy range 10 keV to 20 MeV. These energies span the range of medical X-ray machines and airport security scanners.

The data points in the graph above correspond to the peak of the Reneger-Pfotzer maximum, which lies about 67,000 feet above central California. When cosmic rays crash into Earth's atmosphere, they produce a spray of secondary particles that is most intense at the entrance to the stratosphere. Physicists Eric Reneger and Georg Pfotzer discovered the maximum using balloons in the 1930s and it is what we are measuring today.

| | |
| --- | --- |
| | The official U.S. government space weather bureau |

| | |
| --- | --- |
| | The first place to look for information about sundogs, pillars, rainbows and related phenomena. |

| | |
| --- | --- |
| | Researchers call it a "Hubble for the sun." SDO is the most advanced solar observatory ever. |

| | |
| --- | --- |
| | 3D views of the sun from NASA's Solar and Terrestrial Relations Observatory |

| | |
| --- | --- |
| | Realtime and archival images of the Sun from SOHO. |

| | |
| --- | --- |
| | from the NOAA Space Environment Center |

| | |
| --- | --- |
| | fun to read, but should be taken with a grain of salt! Forecasts looking ahead more than a few days are often wrong. |

| | |
| --- | --- |
| | from the NOAA Space Environment Center |

| | |
| --- | --- |
| | the underlying science of space weather |

| | |
| --- | --- |
| | Reviews here can help you to pick up best memory foam mattresses. |

| | |
| --- | --- |
| | These links help Spaceweather.com stay online. Thank you to our supporters! |