Autumn is here, and it's a wonderful time for stargazing. Find out what's up from Spaceweather PHONE.
BIG SUNSPOT: Sunspot 921 is still growing. Now as wide as the planet Jupiter, it presents an attractive and fast-changing target for solar telescopes. Forecasters estimate a 5% chance of M-class flares during the next 24 hours. Stay tuned!
SOLAR FARSIDE: Meanwhile, on the far side of the sun, another sunspot has popped up. It appears in this holographic image taken by the SOHO spacecraft on Halloween: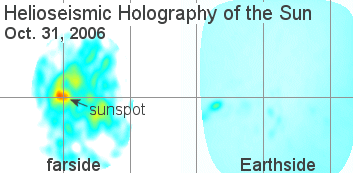 If the farside spot holds together, it will join sunspot 921 on the Earthside on or about Nov. 7th. (The sun spins on its axis once every 27 days, carrying sunspots from farside to Earthside and back again.) Then the sun will be truly spotty.
What is helioseismic holography? It's a technique astronomers use to see the sun's farside without actually flying around to take a look. The basis is sound: Convective motions in the sun's outer layers make a kind of rhythmic noise. This causes the sun's surface to vibrate like the skin of a drum. By analyzing vibrations seen on the Earthside, astronomers can deduce what must be on the farside: details.
CLOUD SHADOWS: The shadows in this picture are not coming from the fingers of photographer David Williams, but rather from clouds miles overhead: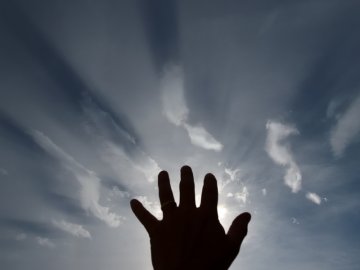 "I walked outside this morning and noticed a faint halo around the sun," says Williams. "Then I saw a whole lot more--rays and shadows mixed in. It was a remarkable sight and a bit confusing, but definitely worth photographing!"
EXTRA: Look carefully at Dave's photo of the sun halo (click here) and answer this question: Which is higher, the ice crystals that made the halo or the thick clouds that made the shadows?