WHAT'S FOLLOWING THE ISS? Several readers have reported seeing a "mysterious satellite" following the International Space Station. It trails the station by about one minute, relatively faint, but definitely there. Mystery solved: The follower is Progress 33, a Russian supply ship. On July 12th, it will come within meters of the ISS to test a new automated docking system. Check the Simple Satellite Tracker for flyby times--and get two spaceships for the price of one.
images: from Ralf Vandebergh of Wittem, the Netherlands; from Jun Lao of Deerfield Township, Ohio
SUBSIDING SUNSPOT: Sunspot 1024 is experiencing some decay and solar flare activity is subsiding. Nevertheless, by recent standards it is still a behemoth. "Now approaching the western limb, the region provides a tremendous richness of detail through amateur solar telescopes," says Pete Lawrence who sends this picture from his backyard observatory in Selsey UK: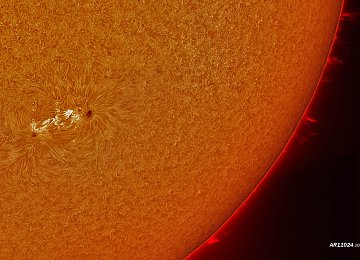 Many readers are writing to ask if this sunspot is going to produce a major solar storm today, July 7th. Such a storm was "predicted" by a set of crop circles in England, and the solar blogosphere has been abuzz with speculation. The answer is "no." A major storm is not in the offing. Sunspot 1024 is relatively large, but it does not have the kind of complex magnetic field that poses a threat for major eruptions. Crop circles, it turns out, are not a useful tool for forecasting solar activity.
more images: from Mike Borman of Evansville, Indiana; from Stuart Thomson of Melbourne, Australia; from Fulvio Mete of Rome, Italy; from Mustafa Erol of Antalya, Turkey; from Raffaele Filannino of Barletta, Puglia, Italia; from Gary Colwell of Ardooch Ontario; from Tom Jorgenson of Neenah, Wisconsin; from Therese van Nieuwenhoven of Laukvik, Lofoten islands, Norway; from T. Emerson and J. Stetson of South Portland, Maine; from Pavol Rapavy of Observatory Rimavska Sobota, Slovakia;
FULL MOON: Tonight's full Moon is more than just a source of light and beauty. It also makes a good footrest: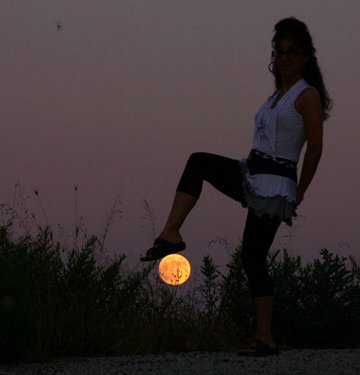 Greek photographer P.Nikolakakos took the picture from a Spartan beach on July 7th. "I used an off-the-shelf Canon 40D," he says. After the model's feet were sufficiently rested, she bent down and cradled the Moon in her hands. "The Moon offers so many good photo-ops if only you are ready to take advantage of them."
Photographers, that sounds like a challenge. What will you do with tonight's full Moon? Submit your photos here.
---
2009 Sarychev Sunset Gallery
[See also: 2008 Kasatochi Sunset Photo Gallery]
---
2009 Noctilucent Photo Gallery
[previous years: 2008, 2007, 2006, 2005, 2004, 2003]
---