| | | |
| --- | --- | --- |
| BEHOLD THE SUN: Would you like to see fiery prominences and new-cycle sunspots with your own eyes? On sale now: Personal Solar Telescopes. | | |
THE DAY THE WORLD DIDN'T END: Last month, when scientists switched on the Large Hadron Collider, the world did not come to an end. In today's story from Science@NASA, a particle physicist explains why not--and why Earth is safe from black holes when the collider is reactivated in the months ahead.
SPOOKY COLORS: "The Ghost of Kasatochi still haunts the skies above eastern Kansas," reports Doug Zubenel. The latest sighting came on Oct. 8th when "the soft violet glow of volcanic aerosols could be seen 30 degrees above western horizon." He took this picture using his Canon Rebel XTi: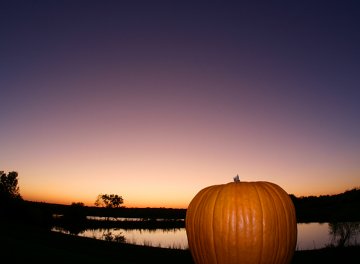 When it erupted in early August, Alaska's Kasatochi volcano spewed more than a million tons of sulfur dioxide and ash into the stratosphere. Dense plumes of the material circled Earth's northern hemisphere, producing spectacular purple and orange sunsets. Two months later, the aerosols are still there, mostly, but they've spread out into a wide and thin layer that yields sunsets of more subtle beauty. The clear skies and flat horizons of rural Kansas form the perfect stage for such displays.
Readers, look west at the end of the day. You may experience a visitation of your own.
more images: from Rick Schrantz of Nicholasville, Kentucky
THE SOURCE: MESSENGER's high-precision flyby of Mercury on Monday yielded a surprise: one side of the planet looks like a peeled tangerine: photo. The illusion is created by globe-straddling rays, which emerge from a crater near Mercury's north pole: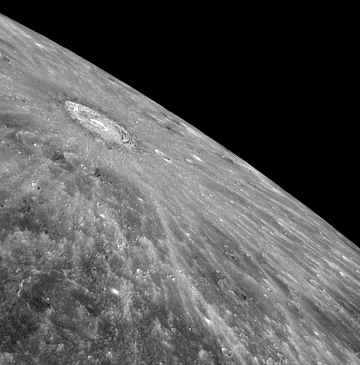 This high-resolution snapshot, taken as MESSENGER was flying away from the planet, shows the "tangerine stripes" converging on their source. It is a young, unnamed crater about 68 miles in diameter. Radars on Earth had seen this crater before, but never in much detail. MESSENGER's close-up photography has revealed its fruity nature for the first time.
No one knows what made the crater (a comet? an asteroid?) or why the debris flew so far from the impact site. Answers may emerge as mission scientists analyze additional photos and sensor readings MESSENGER is beaming back now. Meanwhile, it's a Mercury mystery; browse the flyby gallery for more.
---
Oct. 2008 Aurora Gallery
[Previous Octobers: 2007, 2006, 2004, 2003, 2002, 2001, 2000]