| | | |
| --- | --- | --- |
| NEW AND IMPROVED: Turn your iPhone or iPod Touch into a field-tested global satellite tracker. The Satellite Flybys app now works in all countries. | | |
EXTENDED MISSION: Space shuttle Discovery's mission to the International Space Station has been extended by one day. Landing now is targeted for 8:54 a.m. EDT on Monday, April 19th. Until then, be alert for the two spacecraft streaking across the night sky. They are so bright, even your iPod can find them.
SUNGRAZING COMET: On Saturday morning, the sun had a comet for breakfast. The icy visitor from the outer solar system appeared with no warning on April 9th and plunged into the sun during the early hours of April 10th. One comet went in, none came out. The Solar and Heliospheric Observatory (SOHO) had a good view of the encounter:
The comet was probably a member of the Kreutz sungrazer family. Named after a 19th century German astronomer who studied them in detail, Kreutz sungrazers are fragments from the breakup of a giant comet at least 2000 years ago. Several of these fragments pass by the sun and disintegrate every day. Most are too small to see but occasionally a big fragment like today's attracts attention.
This has been an active year for big, bright sungrazers. There was one on Jan. 4th, one on March 12th, and now one today. Normally we see no more than 3 or 4 bright ones in a whole year; now we're seeing them almost once a month. It could be a statistical fluctuation or, maybe, a swarm of Kreutz fragments is nearing perihelion (closest approach to the sun). Stay tuned for doomed comets!
AURORA WATCH: "Here in the Swedish Lapland, the Northern Lights have been amazing lately," reports Peter Rosén of Abisko, Sweden. "They were so bright on April 7th, I just had to step out of my tent to take this picture."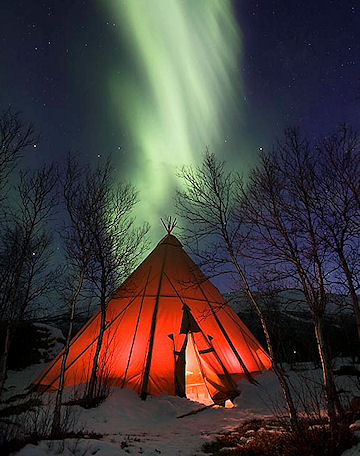 The solar wind storm that sparked the display has subsided, but another show could be in the offing. A coronal mass ejection (CME) is heading toward Earth, due to arrive on or about April 12th. NOAA forecasters estimate a 25% chance of polar geomagnetic activity when the cloud hits. High-latitude sky watchers should remain alert for auroras.
UPDATED: April Northern Lights Gallery
[previous Aprils: 2009, 2008, 2007, 2006, 2005, 2004, 2003, 2002]