| | | |
| --- | --- | --- |
| When is the best time to see auroras? Where is the best place to go? And how do you photograph them? These questions and more are answered in a new book, Northern Lights - a Guide, by Pal Brekke & Fredrik Broms. | | |
DECAYING SUNSPOT: Formerly-huge sunspot AR1785 is decaying, but it still has a 'beta-gamma-delta' magnetic field that harbors energy for X-class solar flares. It's noteworthy that AR1785 has posed a flare-threat for days without actually exploding. Decaying could undermine the stability of the sunspot's magnetic field and make a flare more likely. Solar flare alerts: text, voice.
CONTINUED MINOR STORMING: Intermittent geomagnetic storms are underway as Earth passes through the wake of a CME that arrived on July 9th. Auroras have been sighted in New Zealand, Canada, and several northern-tier US states. Shawn Malone sends this picture from Marquette, Michigan, where the auroras appeared at sunrise on July 11th: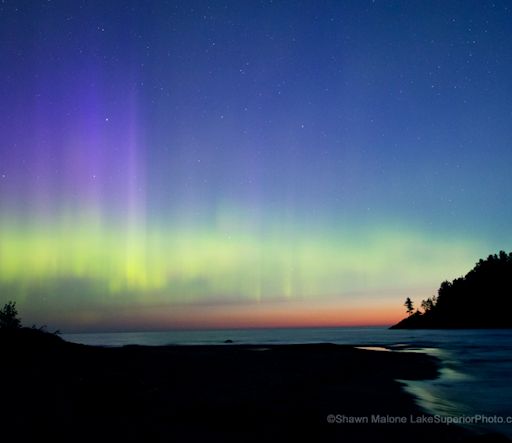 "We got some nice activity right before the sunlight washed out the sky this morning," says Malone. "July auroras are such a treat."
The instigating CME was a minor one, and its impact was weak. Nevertheless, it has been effective in sparking high-latitude auroras because its wake contains a south-pointing magnetic field. This "negative Bz" opens a crack in Earth's magnetosphere, allowing solar wind to pour in and fuel the Northern and Southern Lights.
So far the storms in this episode have maxed out at Kp=5, the lowest level of geomagnetic storming. Fitful displays of high-latitude auroras could continue for the next 24 hours as CME effects subside. Aurora alerts: text, voice.
GREEN SKIES OVER TEXAS: Not all green lights in the sky are the aurora borealis. Astrophotographer Kenneth Edwards discovered this for himself on July 4th when he was taking a long exposure of the Milky Way over Big Bend National Park, Texas: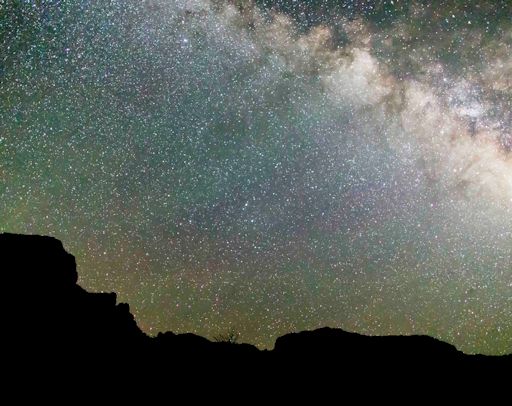 "For the long 4th of July weekend I went with my daughter to Big Bend National Park to try some time lapse photography of the Milky Way," says Edwards. "After getting back home, I was creating a time lapse video when I noticed the green colors. They were not visible to the naked eye but it sure was clear in the pictures and videos."
The green light is called "
airglow
." Airglow is a luminous bubble that surounds our entire planet, fringing the top of the atmosphere with
aurora-like color
. Although airglow resembles the aurora borealis, its underlying physics is different. Airglow is caused by
an assortment
of chemical reactions in the upper atmosphere driven mainly by solar ultraviolet radiation; auroras, on the other hand, are ignited by gusts of solar wind.
Green airglow is best photographed from extremely dark sites on nights when the Moon is new or below the horizon. It often shows up in long exposures of the Milky Way: more airglow.
Realtime Space Weather Photo Gallery
---
Realtime Noctilucent Cloud Photo Gallery
[previous years: 2003, 2004, 2005, 2006, 2007, 2008, 2009, 2011]
---