| | | |
| --- | --- | --- |
| AURORA ALERTS: Did you miss the Northern Lights? Next time get a wake-up call from Space Weather PHONE | | |
CME ACTIVITY: The sun has produced three bright coronal mass ejections (CMEs) this weekend. None is heading directly for Earth, although the CME of Aug. 14th might deliver a glancing blow to Earth's magnetic field on August 17th. Click here for CME snapshots fro the Solar and Heliospheric Observatory (SOHO).
PERSEID RECAP: According to the International Meteor Shower, the Perseid meteor shower peaked on August 12th around 1800 UT with a maximum of 117 meteors per hour (ZHR). The nearly new Moon provided dark skies for excellent viewing, so the shower was widely observed. Browse the updated gallery for snapshots from around the world.
SUNSPOTS ERUPT IN TANDEM: On August 14th around 1005 UT, magnetic fields connecting sunspot 1093 and 1099 erupted, producing a two-sunspot solar flare (C4-class) and hurling a huge blob of plasma into space. Click on the image to launch a Solar Dynamics Observatory (SDO) movie of the event: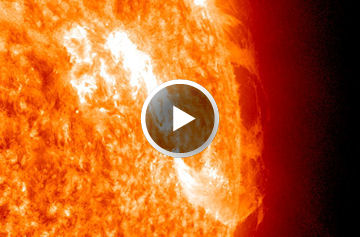 movie formats: 2.4 MB mpeg; 0.9 MB iPhone; 0.7 MB iPad
The explosion lasted for more than two hours, giving many amateur astronomers time to catch the eruption in action. UPDATE: New data from the Solar and Heliospheric Observatory (SOHO) show a coronal mass ejection (CME) emanating from the blast site. The cloud is not heading directly for Earth, but it could deliver a glancing blow to Earth's magnetic field on August 17th. NOAA forecasters estimate a 40% chance of high-latitude geomagnetic activity when it arrives.
more images: from Kristian Molnar of Blahova, Slovakia; from Cai-Uso Wohler of Bispingen, Germany; from Z. Roy and J.Stetson of South Portland, Maine; from Jan Timmermans of Valkenswaard, The Netherlands;
IONOSPHERIC DISTURBANCE: The C4-class solar flare of Aug. 14th bathed Earth's upper atmosphere in X-rays and caused a wave of ionization to sweep over Europe. This improved the propagation of low-frequency radio signals which use the ionosphere as a reflector to skip over the horizon. A SID monitor operated by Jan Karlovsky of Hlohovec, Slovakia, recorded the effect: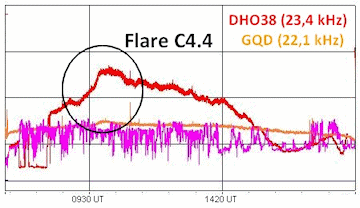 "SID" stands for Sudden Ionospheric Disturbance, and a "SID monitor" is a radio receiver that monitors ~20 kHz signals from distant transmitters. "My system easily detected the effects of the solar flare," says Karlovsky. "I monitor two stations: DHO38 in Germany (23.4 kHz) and GQD in Great Britian (22.1 kHz). The German signal was most strongly boosted."
With solar activity on the rise, sudden ionospheric disturbances will become more common. Interested? Stanford University tells you how to build your own SID monitor.
---
2010 Perseid Photo Gallery
[meteor radar] [Perseid fireball cam]
---
August 2010 Northern Lights Gallery
[previous Augusts: 2009, 2008, 2007, 2006, 2005, 2004, 2003]