| | | |
| --- | --- | --- |
| ANDROID FLYBYS: Our field-tested satellite tracker is now available for Android phones. Features: Global predictions and flyby alarms! Learn more. | | |
SUN-EARTH CONNECTION: The Earth and sun are 93 million miles apart, but they are hardly separated. Magnetic lines of force connect our planet's poles directly to the stellar surface, forming a "sun-Earth system" that researchers are only beginning to understand. Ultimately, the accuracy of space weather forecasts hinges on their progress, and it may require an international effort to succeed. Read more in today's story from Science@NASA.
BEAR CLAW SUNSPOT: Observers are likening new sunspot 1089 to a giant paw print or bear claw. It would take a mighty big bear, however, to make this print: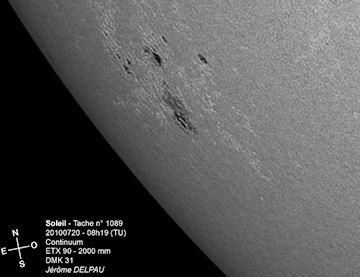 Photo credit: Jérôme Delpau of Chateau du Loir, France
The toes alone are each as wide as Earth. This fast-growing spot will probably look different tomorrow as it continues to make tracks across the face of the sun. Readers with solar telescopes are encouraged to monitor developments.
more images: from John C McConnell of Maghaberry Northern Ireland; from Howard Eskildsen of Ocala, Florida; from Pavol Rapavy of Observatory Rimavská Sobota; from Francois Rouviere of Mougins, France; from Peter Paice of Belfast, Northern Ireland; from J. Stetson of South Portland, Maine; from Cai-Uso Wohler of Bispingen, Germany; from Ingmar Glass of Germany, Bavaria, München; from Gianfranco Meregalli of Milano Italy
IRIDESCENT HAIR DAY: "I was playing mini-golf with my daughter today when we noticed a beautiful iridescent corona around the sun," reports Jesper Grønne of Denmark. Kneeling in his daughter's shadow on the 7th green, he recorded the phenomenon: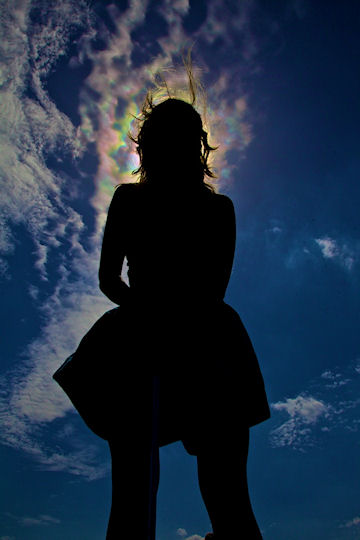 "The breeze lifted her hair toward the clouds, making my daughter herself appear to be part of the display."
Coronas appear when the sun shines through tiny droplets of water or sometimes small ice crystals in high clouds. Diffraction of sunlight creates rings of pastel color, which crowd around the disk of the sun. Look for them any time thin clouds drift across the sun.
---
Solar Eclipse Photo Gallery
[NASA: South Pacific Eclipse] [animated map]