| | | |
| --- | --- | --- |
| Metallic photos of the sun by renowned photographer Greg Piepol bring together the best of art and science. Buy one or a whole set. They make a stellar gift. | | |
SUNSET CONJUNCTION: When the sun goes down tonight, step outside and look west. Venus and the crescent Moon are shining side-by-side through the twilight. It's a beautiful way to end the day.
GEOMAGNETIC STORM: Earth is passing through the wake of a CME, and this is causing geomagnetic storms at high latitudes. Last night, auroras were spotted in more than a dozen US states including Michigan, Nebraska, Kansas, Wisconsin, North Dakota, South Dakota, Iowa, Illinois, and Colorado. Here is what the sky looked like over Grand Portage, Minnesota: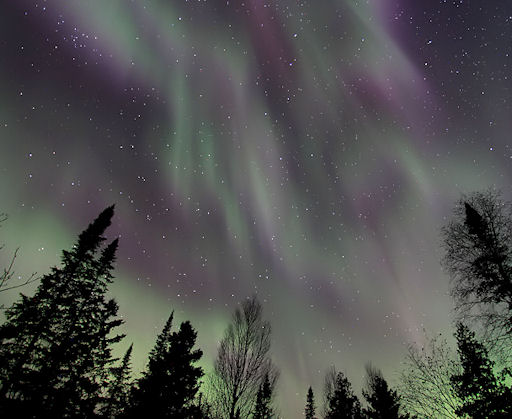 "The auroras were incredible!" says photographer Travis Novitsky.
Europeans witnessed a good show, too: "My girlfriend and I were on the Co. Antrim coast of Northern Ireland, and the auroras we saw were sublime!" reports Martin McKenna. "It's the best I've seen here since 2005, with vertical green pillars of light some 60 degrees high accompanied by amazing pulsating motions like the beating of a heart. We could even see the beams reflecting on the ocean forming their own glitter paths - what a night!"
The storm is subsiding now. Nevertheless, high-latitude sky watchers should remain alert for auroras as a fast solar wind stream continues to buffet Earth's magnetic field. Aurora alerts: text, phone.
more images: from Steve Milner of Ft St John BC Canada; from Paul Martin at the Beaghmore Stone Circles, County Tyrone, N.Ireland; from Yuichi Takasaka of Lumby, British Columbia, Canada; from Paul Kerr of Ballyliffin, Co. Donegal, Ireland; from Peter Gorman of Shroove, North Donegal, Ireland; from Jon Cooper of Hardendale, Cumbria, UK; from Douglas Kiesling of Fergus Falls, MN
SIERRA FIREBALL DECODED: On Sunday morning, April 22nd, just as the Lyrid meteor shower was dying down, a spectacular fireball exploded over California's Sierra Nevada mountain range. The loud explosion rattled homes from central California to Reno, Nevada, and beyond. According to Bill Cooke, head of NASA's Meteoroid Envronment Office, the source of the blast was a meteoroid about the size of a minivan.
"Elizabeth Silber at Western University has searched for infrasound signals from the explosion," says Cooke. "Infrasound is very low frequency sound which can travel great distances. There were strong signals at 2 stations, enabling a triangulation of the energy source at 37.6N, 120.5W. This is marked by a yellow flag in the map below."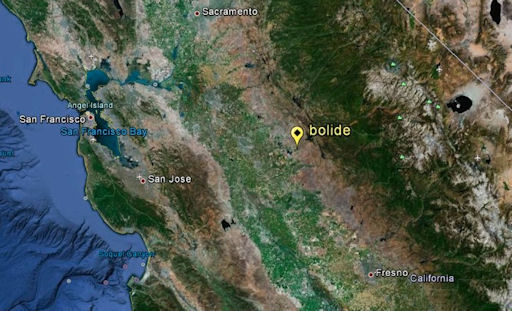 "The energy is estimated at a whopping 3.8 kilotons of TNT, so this was a big event," he continues. "I am not saying there was a 3.8 kiloton explosion on the ground in California. I am saying that the meteor possessed this amount of energy before it broke apart in the atmosphere. [The map] shows the location of the atmospheric breakup, not impact with the ground."
"The fact that sonic booms were heard indicates that this meteor penetrated very low in atmosphere, which implies a speed less than 15 km/s (33,500 mph). Assuming this value for the speed, I get a mass for the meteor of around 70 metric tons. Hazarding a further guess at the density of 3 grams per cubic centimeter (solid rock), I calculate a size of about 3-4 meters, or about the size of a minivan."
"This meteor was probably not a Lyrid; without a trajectory, I cannot rule out a Lyrid origin, but I think it likely that it was a background or sporadic meteor."
News and eyewitness reports: #1, #2, #3, #4.
CRESCENT MOON ALERT: When the sun goes down tonight, step outside and look west into the twilight. You might see something like this: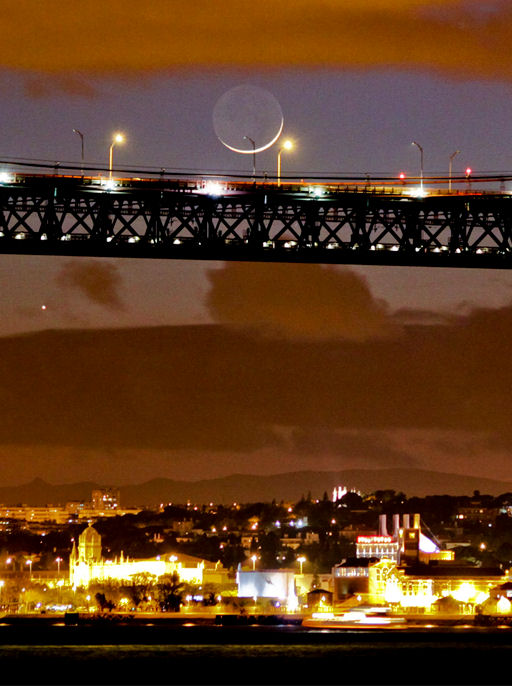 Miguel Claro photographed the crescent moon from Almada, Portugal. "Look just below the bridge," he points out. "You can also see Jupiter."
The slender crescent will be beaming through the twilight for the next few evenings. On Tuesday, April 24th, it will glide by Venus for a spectacular sunset conjunction. Don't miss it!
more images: from Stefano De Rosa of Turin, Italy; from Robert Arn of Fort Collins, CO; from Russell Vallelunga of Phoenix, Arizona; from M. Raşid Tuğral of Ankara, Turkiye; from Zain Ahmed of Karachi, Pakistan