| | | |
| --- | --- | --- |
| FLYBY ALERT! Space shuttle Discovery launches on May 31st. Get your flyby alerts from Space Weather PHONE | | |
CARTWHEEL CME: Imagine a billion-ton cloud of gas launching itself off the surface of the sun and then ... doing a cartwheel. That's exactly what happened on April 9, 2008, when a coronal mass ejection or "CME" pirouetted over the sun's limb in full view of an international fleet of spacecraft. The cartwheel set off a chain of events that amazed even veteran solar physicists: full story.
UPDATE: On May 22nd, NASA's STEREO-A spacecraft photographed another cartwheel CME even more dramatic than the one on April 9th: movie. The sun is rocking and rolling.
LOOK OUT BELOW! In the 50+ year history of the Space Age, no spacecraft from Earth has ever photographed another spacecraft landing on an alien planet--until last Sunday. High above Mars, the powerful HiRISE camera onboard NASA's Mars Reconnaissance Orbiter watched Phoenix parachuting safely to its landing site in the martian arctic: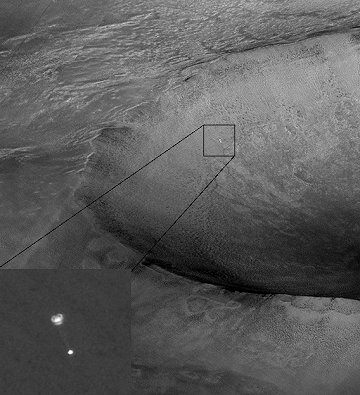 Click to view the full panorama
Although Phoenix seems to be descending into a 10-km-wide crater named Heimdall, "that is just an optical illusion," says Alfred McEwen, HiRISE principal investigator at the University of Arizona. In fact, "the lander is 20 km in front of the crater" and in no danger of tumbling down its rocky slopes. After this photo was taken, Phoenix drifted on by and landed in a rock-free field of icy polygons--just where mission planners wanted it to go. [more photos]
LISTEN TO PHOENIX DESCEND: As Phoenix descended, the European Space Agency's Mars Express orbiter monitored the lander's radio transmissions. The eerie-sounding tones have just been beamed back to Earth and you can listen to them here.
TRICKY MOON SHADOWS: Amateur astronomer Mike Salway of Central Coast, Australia, woke up before dawn on May 25th to photograph Jupiter. The giant planet materialized in the eyepiece of his 12-inch telescope along with giant moon Ganymede and a deep, dark moon shadow just behind it on Jupiter's cloudtops. Contrary to appearances, however, the shadow did not come from Ganymede. Scroll down to find the source.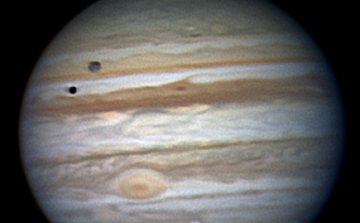 Salway's panoramic photo reveals the responsible moon: Europa.
"As Ganymede was transiting Jupiter, Europa cast a shadow apparently nearby. Meanwhile, off to the right, Io was about to be eclipsed by the much larger shadow of Jupiter itself," he says. So many moons, so many shadows! It can get a little tricky, "especially at 5 o'clock in the morning."
Yet 5 o'clock in the morning is the best time to see Jupiter. Train your telescope on the brilliant "morning star" in the constellation Sagittarius and see if you can sort things out: sky map.
---