| | | |
| --- | --- | --- |
| FLYBY ALERT! Space shuttle Discovery launches on May 31st. Get your flyby alerts from Space Weather PHONE | | |
LIFTOFF! Discovery has left the planet. The space shuttle blasted off from Cape Canaveral today at 5:02 pm EDT on a construction mission to the International Space Station. Loaded aboard was Japan's $1 billion addition for the station and a new pump for the station's finicky toilet. Three spacewalks are planned during Discovery's 14-day flight: updates.
SIGHTING: Twenty minutes after liftoff, Discovery, with its external fuel tank trailing behind, passed over Europe. Michel Vandeputte of Ronse, Belgium, photographed the pair: image. "Both were around magnitude -2," he says. "Amazing!"
ICE UNDERFOOT? NASA's Phoenix lander is on a mission to find ice in the martian arctic. Mission accomplished? Without even digging into the ground, Phoenix may have already spotted a slab of ice practically underfoot: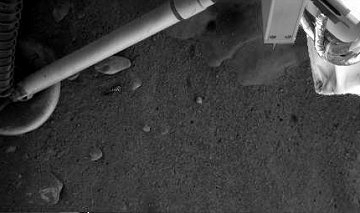 This contrast-enhanced image was taken on May 29th by Phoenix's Robotic Arm Camera (RAC). Mission scientists believe the exhaust from Phoenix's descent engine has blown off a layer of topsoil to reveal a portion of frozen water beneath.
On the other hand, it could be a rock. "We'll test the two possibilities by getting more data, including color data, from the robotic arm camera," says Ray Arvidson of Washington University in St. Louis, a co-investigator for Phoenix's arm. "If the hard features are ice, they should become brighter [in the days ahead] because atmospheric water vapor will collect as new frost on the ice."
Stay tuned for updates.
IN THE SHADOW OF A SPIDERWORT: Yesterday, photographer Shane Finnigan of Ottawa, Ontario, knelt down in the grass, and with the shadow of a purple spiderwort falling across his camera, he snapped this picture: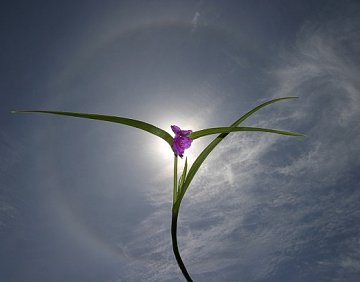 Photo details: Canon 10D, ISO 100, 16mm lens, 1/200 sec at f22
The petals of the flower blotted out the sun, revealing a delicate 22o halo. In the photo's lower right corner we see the source of the display: icy cirrus clouds. Ice crystals in high, cold clouds catch the rays of the sun and bend them as shown. Very pretty!
Says Finnigan, "the halo lasted for nearly 5 hours," which is a long time to crouch in the flowers. Fortunately, it is possible to see these common rings of light while standing up.
more images: from Doug Zubenel of Johnson Co., Kansas; from Darrell Oake of Dartmouth Nova Scotia, Canada; from Michael Boschat of Halifax, Nova Scotia; from Peter Delincak of Slovakia; from Brian Larmay of Oak Creek, Wisconsin; from Francesc Pruneda of Palamos, Girona, Spain; from Tina Olholm of Bergen, Norway; from Daniel Fernández of Oulu, Finland;
CORRECTION: An earlier version of this story misidentified the spiderwort as a day lilly.
---