Where's Saturn? Is that a UFO--or the ISS? What's the name of that star? Get the answers from mySKY--a fun new astronomy helper from Meade. .

ARSENIC FUMES: What made Peruvian villagers sick on Sept 16th when a meteorite struck near Lake Titicaca? Arsenic fumes. According to Peru's Mining, Metallurgy, and Geology Institute, the crash site coincides with a natural underground deposit of arsenic. Visitors to the crater inhaled fumes resulting in headaches and nausea. Sensational reports attributing the crater and the illnesses to a downed radioactive spy satellite were unfounded.

DRIVING INTO THE EQUINOX: Ouch! Do you find yourself squinting more than normal while driving to work in the morning? Blame the equinox. At this time of year, the sun rises and sets almost due east and west--the same direction as almost half of all roadways. This morning's photo from Richard Pirko of Youngstown, Ohio, illustrates the effect: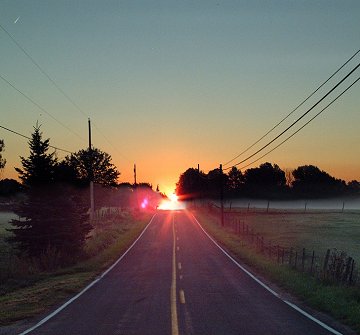 In the full-sized image, "Venus is visible between the phone wires, above and to the right of the Sun," points out Pirko. "A small jet trail is on the left."
Autumn is also the season for auroras. Browse the gallery below to enjoy some of the extraordinary lights that have appeared in recent days over the polar circle.
September 2007 Aurora Gallery
[August 2007 Aurora Gallery] [Aurora Alerts]
SHADOWS OF VENUS: Venus is so bright, it actually casts shadows. You just have to stare a while to see them. This 6-minute exposure at ISO 800 comes from Tenho Tuomi of Lucky Lake, Saskatchewan, Canada: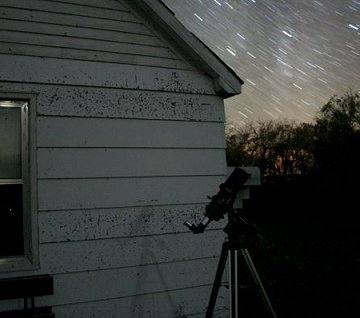 "Venus projected the shadow of my telescope on the house wall," he marvels.
To experience your own Venus shadow, chose a dark place--very dark--away from city lights. Go there just before dawn. No sky map is necessary to find Venus glaring in the east. Let your eyes fully dark-adapt as the silvery light of the Morning Star illuminates your face. Now turn around. What do you see?
BONUS: Got a backyard telescope? Point it at Venus. Like the Moon, Venus has phases, and at the moment it is a beautifully slender crescent. Take a look!