| | | |
| --- | --- | --- |
| SATELLITE FLYBYS APP: Turn your iPhone or iPod into a field-tested satellite tracker! Spaceweather.com presents the Satellite Flybys app. | | |
THE SUN IS A VARIABLE STAR: The Solar Dynamics Observatory (SDO), slated for liftoff on Feb. 9th, will make IMAX-quality movies of solar explosions, peer beneath the stellar surface to see the sun's inner dynamo, and--researchers hope--unravel the mysteries of solar variability. Get the full story from Science@NASA.
BIG NEW SUNSPOT: A big new sunspot is rapidly emerging in the sun's northern hemisphere. Rogerio Marcon sends this picture taken just hours ago from his backyard observatory in Campinas, Brasil: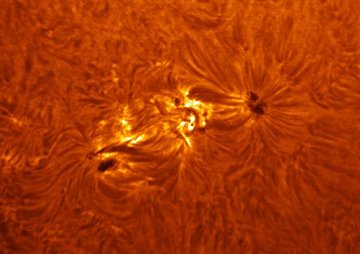 The active region is crackling with solar flares. The strongest so far is an M2-class eruption at 1900 UT on Feb. 6th. (See the movie from NASA's STEREO-B spacecraft.) Each of the spot's dark cores is about twice as wide as Earth, which makes it an easy target for backyard solar telescopes. Stay tuned for solar activity!
more images: from Pete Lawrence of Selsey, West Sussex, UK; from Geir Øye of Ørsta, Norway; from Robert Arnold of Isle of Skye, Scotland; from Keith Davies of Swansea, South Wales, United Kingdom;
LAST NIGHT LAUNCH OF THE SHUTTLE PROGRAM: On Sunday morning, February 7th, at 4:39 am EST, space shuttle Endeavour is scheduled lift off from Kennedy Space Center on a 13-day mission to the ISS. There are only five missions left before NASA ends the shuttle program, and this will be the last one to launch at night. Endeavour's previous night launch looked like this: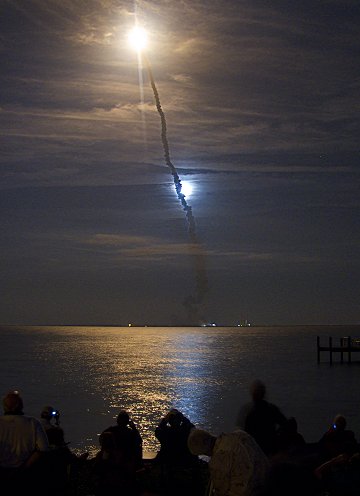 The spectacle attracted sightseers from hundreds of miles around. If you plan to be in Florida this weekend, here are some places you can watch the launch in person. Otherwise, tune in to NASA TV for full coverage.
EXTRA: "And if you can arrange to be at azimuth 40 degrees (WNW) of the launch site, you'll have a crescent moon in the background," notes University of Kentucky astronomer Timothy Knauer. "Photo-Op alert!"
Endeavour Launch Blog
[recommended viewing sites] [NASA TV]
---
February Northern Lights Gallery
[previous Februarys: 2009, 2008, 2007, 2006, 2004, 2003, 2002]