A SUNSPOT IN THE OFFING? Astronomers are watching the edge of the sun, waiting for the emergence of an active region that produced a bright CME on May 5th: movie. At the time of the explosion, the blast site was hidden behind the sun's eastern limb, but now solar rotation is turning the region toward Earth for a better view. Will a sunspot appear to break the monotony of the blank sun? Stay tuned.
ISS COMPANION: This morning, May 7th, the International Space Station flew directly over the Netherlands. Astronomer Ralf Vandebergh was watching and noticed, about 90 seconds later, another spacecraft following the ISS. He photographed the pair using his backyard 10-inch telescope: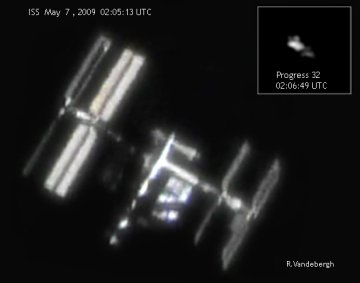 "The second spacecraft was the Progress 32 rocket, which undocked from the ISS yesterday," he says. The Russian rocket delivered a load of supplies to the ISS in February and now it is taking away a load of trash. The Progress and its contents are scheduled to re-enter Earth's atmosphere and disintegrate over the Pacific Ocean on May 18th. Meanwhile, the rocket can be seen tagging along behind the ISS; check the Simple Satellite Tracker for flyby times.
NAME THAT PLANET: Glance at the photo. The technicolor streak is one of the planets in our Solar System. Can you guess which one? Scroll down for the answer.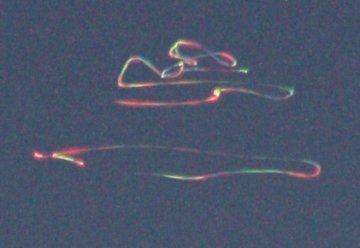 It's Mercury. Photographer Darren Baskill of East Sussex, UK, explains: "Mercury was low on the horizon and its light had to travel through a large amount of air." Refraction by thermal irregularities in the atmosphere caused Mercury to scintillate (twinkle) with all the colors of the rainbow. "So, at one moment Mercury appeared red, at others green, and at other moments, blue. I took a half-second-long photograph of Mercury, moving the camera around during that half-second, so that the changing colours of Mercury could be caught on camera. This image is a combination of three such exposures simply overlayed on top of each other."
This phenomenon is even easier to see in the Dog Star, Sirius, which is more luminous than Mercury and also near the horizon after sunset. Point your optics southwest as the twilight fades to black: sky map.
---
April 2009 Aurora Gallery
[previous Aprils: 2008, 2007, 2006, 2005, 2004, 2003, 2002]
---