| | | |
| --- | --- | --- |
| Turn your cell phone into a field-tested satellite tracker. Works for Android and iPhone. | | |
APPROACHING ACTIVE REGION: A sunspot located just behind the sun's eastern limb erupted during the waning hours of May 9th, hurling a spectacular coronal mass ejection into space: movie. NASA's Solar Dynamics Observatory photographed hot magnetic loops towering over the edge of the sun in the aftermath of the explosion: must-see. Earth was not in the line of fire this time, but the active region is approaching the Earthside of the sun, so future blasts could be geoeffective. Stay tuned.
PLANETS AT DAWN: No coffee? No problem. To wake up any morning this week, all you need to do is look out the window. Mars, Jupiter, Venus and Mercury are aligning in the eastern sky for a spectacular dawn conjunction. Mariano Ribas photographed the gathering on May 9th from his home in Buenos Aires, Argentina: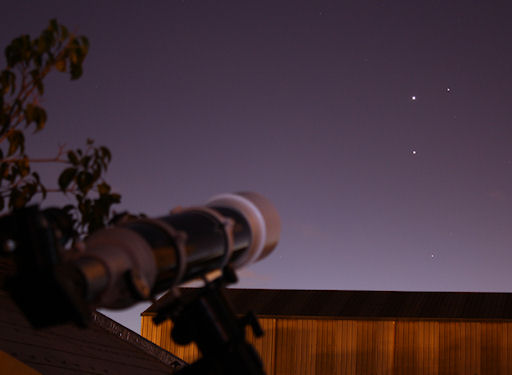 "It was an awesome morning with an unforgettable view: four planets packed in just a 7º piece of sky," says Ribas. "The very compact Venus-Mercury-Jupiter triangle was simply hypnotic. And Mars, below them, was faint but still clearly visible to naked eye. Marvelous planetary gathering, but the best is yet to come."
Indeed, on May 11th, Venus and Jupiter, the two brightest planets in the Solar System, will converge to form a pair less than 1/2 degree apart. Set your alarm for Wednesday morning and begin the day with an eye-opener--no caffeine required.
more images: from Danny Ratcliffe of Deception Bay, Queensland, Australia; from Alan Dyer near San Pedro de Atacama, Chile; from M. Raþid Tuðral of Ankara, Turkiye;
SUNDOG: Are you Sirius? "No," says John Stetson of Falmouth, Maine. "This puppy's name is Otis; he belongs to my daughter-in-law Amanda who is visiting from North Carolina." On May 9th, Otis blocked the glare so Stetson could photograph this lovely ring around the sun: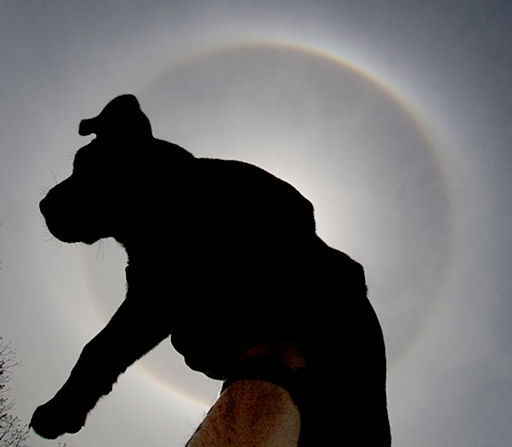 "It was a dog day afternoon," says Stetson.
The ring around the sun, visible thanks to Otis, was created by sunlight shining through ice crystals in high cirrus clouds. When the geometry is right, those same ice crystals can create genuine sundogs. Look for them whenever the sky is hazy with cirrus. And if you don't have a puppy to block the glare... well...browse the links below.
puppy alternatives: from Doug Showell of Bellevue, Nebraska; from Brandon Fell of Seattle WA; from Pamela Williams-Gifford of Portland, Oregon; from Alan Atwood of Cedar Rapids, Iowa; from Craig Haugen of Americus, Missouri;
---
April 2011 Aurora Gallery
[previous Aprils: 2010, 2009, 2008, 2007, 2006, 2005, 2004, 2003, 2002]