| | | |
| --- | --- | --- |
| Lights Over Lapland has a brand-new website full of exciting adventures in Abisko National Park, Sweden! Take a look at our aurora activities and book your once-in-a-lifetime trip with us today! | | |
THE FIRST PRIVATE LUNAR LANDER CRASHES: Landing would have been nice, but even crashing on the Moon is an impressive accomplishment for a private company. That's what happened on April 11th when Israel's Beresheet lunar lander plunged into Mare Serenitatis following a main engine malfunction. "Well, we didn't make it, but we definitely tried," said Morris Kahn, chairman of SpaceIL, the first private company to attempt a lunar landing. Next time!
EXPERTS PREDICT A LONG, DEEP SOLAR MINIMUM: If you like solar minimum, good news: It could last for years. That was one of the predictions issued last week by an international panel of experts who gathered at NOAA's annual Space Weather Workshop to forecast the next solar cycle. If the panel is correct, already-low sunspot counts will reach a nadir sometime between July 2019 and Sept 2020, followed by a slow recovery toward a new Solar Maximum in 2023-2026.
"We expect Solar Cycle 25 will be very similar to Cycle 24: another fairly weak maximum, preceded by a long, deep minimum," says panel co-chair Lisa Upton, a solar physicist with Space Systems Research Corp.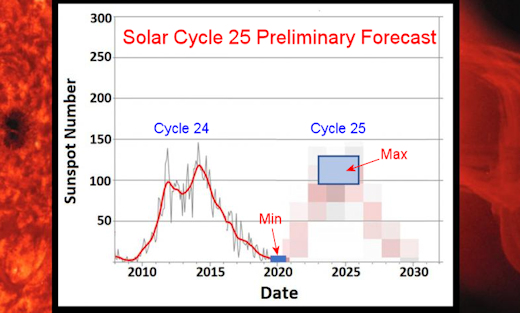 The solar cycle is like a pendulum, swinging back and forth between periods of high and low sunspot number every 11 years or so. Researchers have been tracking the cycle since it was discovered in the 19th century. Not all cycles are alike. Some are intense, with lots of sunspots and explosive solar flares; the Space Age began with a big booming solar maximum. Others are weak, such as the most recent, Solar Cycle 24, which peaked in 2012-2014 with relatively little action.
Researchers are still learning to predict the ebb and flow of solar activity. Forecasting techniques range from physical models of the sun's inner magnetic dynamo to statistical methods akin to those used by stock market analysts.
"We assessed ~61 predictions in the following categories: Climatology, Dynamo, Machine Learning/Neural Networks, Precursor Methods, Spectral/Statistical Methods, Surface Flux Transport, and Other," says Upton. "The majority agreed that Solar Cycle 25 would be very similar to Solar Cycle 24."
"Here," she says, "is a figure showing the last minimum and where we are with the current minimum."

"As you can see – we haven't quite reached the lowest levels of the last cycle – where we experienced several consecutive months with no sunspots. However, the panel expects that we should reach those levels [between now and the end of 2020]."
In recent years, the Internet has buzzed with the idea that a super-deep solar minimum such as the 70-year Maunder Minimum of the 17th century might cool the Earth, saving us from climate change. That's not what the panel is saying, however.
"There is no indication that we are currently approaching a Maunder-type minimum in solar activity," says Upton. Solar minimum will be deep, but not that deep.
Story continues after the advertisement...
A MOTHER'S DAY GIFT FROM THE EDGE OF SPACE: It's sterling silver and it comes from space. On March 5th, the students of Earth to Sky Calculus flew a cosmic ray balloon to the stratosphere, more than 94,000 feet above Earth's surface. This "Loving Hands" pendant went along for the ride: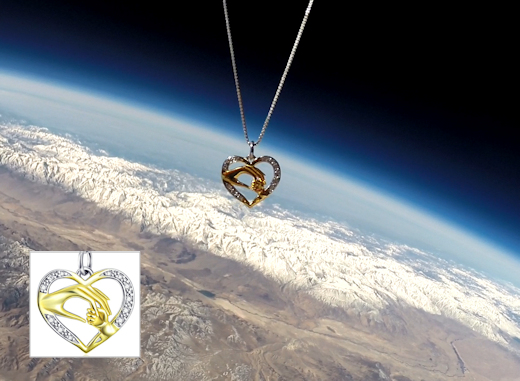 You can have one for $129.95. The students are selling these pendants as a fund-raiser for their cosmic ray monitoring program. All proceeds support atmospheric radiation measurements and hands-on STEM education.
Each pendant comes with a greeting card showing the jewelry in flight and telling the story of its journey to the stratosphere and back again.
Far Out Gifts: Earth to Sky Store
All sales support hands-on STEM education
SOLAR MINIMUM, CONTINUED: The panel predicts a "fairly weak" Solar Cycle 25. What does that mean? Saying that a solar cycle is "weak" is a bit like saying hurricane season will be "weak." In other words, there may be fewer storms, but when a storm comes, you'd better batten down the hatches. "Weak" Solar Cycle 24 produced a number of intense X-class solar flares, strong geomagnetic storms, and even a Ground Level Event (GLE) when solar energetic particles reached Earth's surface. An equally "weak" Solar Cycle 25 could do the same 3 or 4 years hence.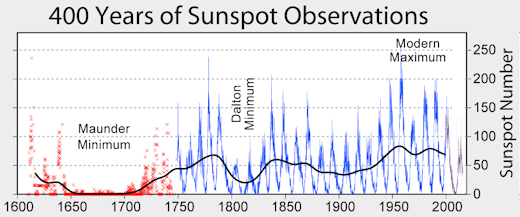 Meanwhile, we have solar minimum. This is a widely misunderstood phase of the solar cycle. Many people think it brings a period of dull quiet. In fact, space weather changes in interesting ways. As the sun's magnetic field weakens, holes open in the sun's atmosphere. Emerging streams of solar wind buffet Earth's magnetic field, sustaining auroras even without solar flares and sunspots. Some observers believe that Solar Minimum auroras have a distinctive palette, pinker than during other phases of the solar cycle.
The sun's weakening magnetic field also allows cosmic rays to enter the solar system. Energetic particles from deep space penetrate Earth's atmosphere with a myriad of possible effects ranging from changes in upper atmospheric electricity to extra doses of radiation for people on airplanes.
Finally, the sun dims, especially at extreme ultraviolet wavelengths. This, in turn, causes the upper atmosphere to cool and contract. Aerodynamic drag that would normally cause satellites to decay is reduced; space junk accumulates. This effect makes solar minimum a terrible time to blow up satellites–although people do it anyway.
The Solar Cycle Prediction Panel is comprised of scientists representing NOAA, NASA, the International Space Environment Services, and other U.S. and international scientists. Their April 5th prediction was preliminary, and they plan to issue a refined forecast by the end of 2019.
A sharable version of this story is available here. Aurora alerts: SMS text, email.
---
Realtime Space Weather Photo Gallery
---
---
Every night, a network of
NASA all-sky cameras
scans the skies above the United States for meteoritic fireballs. Automated software maintained by NASA's Meteoroid Environment Office calculates their orbits, velocity, penetration depth in Earth's atmosphere and many other characteristics. Daily results are presented here on Spaceweather.com.
On Apr. 11, 2019, the network reported 10 fireballs.
(10 sporadics)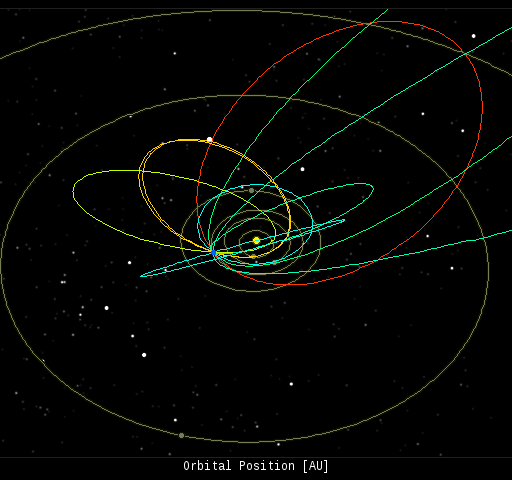 In this diagram of the inner solar system, all of the fireball orbits intersect at a single point--Earth. The orbits are color-coded by velocity, from slow (red) to fast (blue). [Larger image] [movies]
Potentially Hazardous Asteroids (
PHAs
) are space rocks larger than approximately 100m that can come closer to Earth than 0.05 AU. None of the known PHAs is on a collision course with our planet, although astronomers are finding
new ones
all the time.
On April 11, 2019 there were
1967
potentially hazardous asteroids.

Recent & Upcoming Earth-asteroid encounters:
Asteroid

Date(UT)

Miss Distance

Velocity (km/s)

Diameter (m)

2019 GU1

2019-Apr-06

1.6 LD

17.4

12

2019 FV

2019-Apr-06

15 LD

7.7

59

2019 GU5

2019-Apr-06

6.1 LD

4.8

10

2019 GJ3

2019-Apr-06

3.1 LD

5.9

8

2019 FY2

2019-Apr-07

19.5 LD

3.9

12

2019 GT

2019-Apr-07

3.5 LD

15.6

18

2019 GS

2019-Apr-07

1.1 LD

12.7

16

2019 FS2

2019-Apr-08

3.2 LD

6.2

12

2019 GR

2019-Apr-08

11.4 LD

5.7

27

2019 GC

2019-Apr-08

6.2 LD

6.6

17

2019 FU

2019-Apr-09

5.3 LD

14.2

85

2014 UR

2019-Apr-09

13 LD

4.6

17

2014 HD177

2019-Apr-10

6.1 LD

14

102

2016 GW221

2019-Apr-10

10.4 LD

5.3

39

2019 GQ

2019-Apr-10

5.2 LD

8.4

17

2019 GV5

2019-Apr-11

1.7 LD

3.9

5

2019 GE1

2019-Apr-11

3.9 LD

6.5

13

2019 GY5

2019-Apr-11

5.9 LD

27.3

26

2019 FB3

2019-Apr-12

11.9 LD

14.2

43

2019 GC4

2019-Apr-12

5.1 LD

33.5

37

2019 GL4

2019-Apr-12

14.4 LD

13.2

85

2019 GQ1

2019-Apr-12

13.4 LD

12.7

40

2019 GN

2019-Apr-13

1.7 LD

11.9

13

2019 GO4

2019-Apr-13

5 LD

23.5

31

2019 FO1

2019-Apr-13

14.4 LD

9.7

28

2019 FH1

2019-Apr-13

18 LD

3.8

31

2019 GN4

2019-Apr-13

7.4 LD

18.4

40

2019 GC6

2019-Apr-18

0.6 LD

5.6

16

2012 XO134

2019-Apr-18

14.8 LD

11

56

2019 FN2

2019-Apr-18

4.1 LD

7.7

68

522684

2019-Apr-19

19 LD

11.5

214

2019 GZ3

2019-Apr-20

10.1 LD

14.2

23

2019 GM

2019-Apr-21

19.4 LD

10.3

34

2019 FV2

2019-Apr-22

15.6 LD

2.3

33

2019 GM4

2019-Apr-23

9.1 LD

8.4

74

2019 GF1

2019-Apr-27

4.7 LD

1.9

11

2019 GX5

2019-Apr-28

7.2 LD

10.7

27

2018 KK1

2019-May-05

13.9 LD

13.9

71

2017 RC

2019-May-09

14.5 LD

10.6

9

2008 HS3

2019-May-09

14.6 LD

5.3

162

2018 VX8

2019-May-12

6.2 LD

15.5

118

2019 GT1

2019-May-17

6.1 LD

4

36

2012 KT12

2019-May-18

3.3 LD

3.9

20

2015 KQ18

2019-May-25

10.7 LD

13.1

30

66391

2019-May-25

13.5 LD

21.5

1780

2003 LH

2019-May-28

15.6 LD

7.4

32

2011 HP

2019-May-30

12.3 LD

8.4

135

2014 MF18

2019-Jun-06

8.8 LD

3

22

Notes: LD means "Lunar Distance." 1 LD = 384,401 km, the distance between Earth and the Moon. 1 LD also equals 0.00256 AU. MAG is the visual magnitude of the asteroid on the date of closest approach.

| | |
| --- | --- |
| | Cosmic Rays in the Atmosphere |

SOMETHING NEW! We have developed a new predictive model of aviation radiation. It's called E-RAD--short for Empirical RADiation model. We are constantly flying radiation sensors onboard airplanes over the US and and around the world, so far collecting more than 22,000 gps-tagged radiation measurements. Using this unique dataset, we can predict the dosage on any flight over the USA with an error no worse than 15%.

E-RAD lets us do something new: Every day we monitor approximately 1400 flights criss-crossing the 10 busiest routes in the continental USA. Typically, this includes more than 80,000 passengers per day. E-RAD calculates the radiation exposure for every single flight.

The Hot Flights Table is a daily summary of these calculations. It shows the 5 charter flights with the highest dose rates; the 5 commercial flights with the highest dose rates; 5 commercial flights with near-average dose rates; and the 5 commercial flights with the lowest dose rates. Passengers typically experience dose rates that are 20 to 70 times higher than natural radiation at sea level.

To measure radiation on airplanes, we use the same sensors we fly to the stratosphere onboard Earth to Sky Calculus cosmic ray balloons: neutron bubble chambers and X-ray/gamma-ray Geiger tubes sensitive to energies between 10 keV and 20 MeV. These energies span the range of medical X-ray machines and airport security scanners.

Column definitions: (1) The flight number; (2) The maximum dose rate during the flight, expressed in units of natural radiation at sea level; (3) The maximum altitude of the plane in feet above sea level; (4) Departure city; (5) Arrival city; (6) Duration of the flight.

SPACE WEATHER BALLOON DATA: Approximately once a week, Spaceweather.com and the students of Earth to Sky Calculus fly space weather balloons to the stratosphere over California. These balloons are equipped with radiation sensors that detect cosmic rays, a surprisingly "down to Earth" form of space weather. Cosmic rays can seed clouds, trigger lightning, and penetrate commercial airplanes. Furthermore, there are studies ( #1, #2, #3, #4) linking cosmic rays with cardiac arrhythmias and sudden cardiac death in the general population. Our latest measurements show that cosmic rays are intensifying, with an increase of more than 18% since 2015:

The data points in the graph above correspond to the peak of the Reneger-Pfotzer maximum, which lies about 67,000 feet above central California. When cosmic rays crash into Earth's atmosphere, they produce a spray of secondary particles that is most intense at the entrance to the stratosphere. Physicists Eric Reneger and Georg Pfotzer discovered the maximum using balloons in the 1930s and it is what we are measuring today.

En route to the stratosphere, our sensors also pass through aviation altitudes:

In this plot, dose rates are expessed as multiples of sea level. For instance, we see that boarding a plane that flies at 25,000 feet exposes passengers to dose rates ~10x higher than sea level. At 40,000 feet, the multiplier is closer to 50x.

The radiation sensors onboard our helium balloons detect X-rays and gamma-rays in the energy range 10 keV to 20 MeV. These energies span the range of medical X-ray machines and airport security scanners.

Why are cosmic rays intensifying? The main reason is the sun. Solar storm clouds such as coronal mass ejections (CMEs) sweep aside cosmic rays when they pass by Earth. During Solar Maximum, CMEs are abundant and cosmic rays are held at bay. Now, however, the solar cycle is swinging toward Solar Minimum, allowing cosmic rays to return. Another reason could be the weakening of Earth's magnetic field, which helps protect us from deep-space radiation.

| | |
| --- | --- |
| | The official U.S. government space weather bureau |

| | |
| --- | --- |
| | The first place to look for information about sundogs, pillars, rainbows and related phenomena. |

| | |
| --- | --- |
| | Researchers call it a "Hubble for the sun." SDO is the most advanced solar observatory ever. |

| | |
| --- | --- |
| | 3D views of the sun from NASA's Solar and Terrestrial Relations Observatory |

| | |
| --- | --- |
| | Realtime and archival images of the Sun from SOHO. |

| | |
| --- | --- |
| | from the NOAA Space Environment Center |

| | |
| --- | --- |
| | fun to read, but should be taken with a grain of salt! Forecasts looking ahead more than a few days are often wrong. |

| | |
| --- | --- |
| | from the NOAA Space Environment Center |

| | |
| --- | --- |
| | the underlying science of space weather |

To find reviews of new online casino sites in the UK try The Casino DB where there are hundreds of online casino reviews complete with bonuses and ratings.

Looking for a new online casino? Try Casimpo the new site dedicated to making online casino simple and easy for all.

| | |
| --- | --- |
| | These links help Spaceweather.com stay online. Thank you to our supporters! |