| | | |
| --- | --- | --- |
| Thirty-five new items have just been added to our Meteorite Jewelry collection. Browse the Space Weather Store for something out of this world. | | |
GREEN COCKPIT: Earth is entering a solar wind stream that could spark high-latitude auroras during the next 24-48 hours. The first stirrings of Northern Lights were sghted this morning over Wisconsin and from the cockpit of an air ambulance flight over Canada. Aurora alerts: text, phone.
ARCTIC MIX: Something magical is happening around the Arctic Circle this week. The blue midnight skies of spring are intermingling with the gray snow clouds of winter--with a dash of green cutting through the mix. Anne Birgitte Fyhn photographed the phenomenon last night from Ringvassøya island, north of Tromsø, Norway: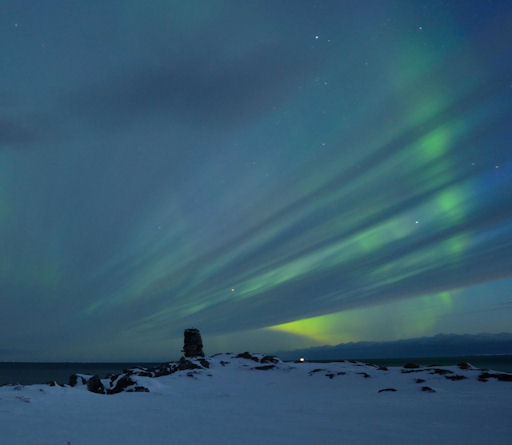 Fyhn was on an overnight kayaking trip with friends. "This is how the sky looked just before the weather turned cloudy and a snow storm started," she says.
The midnight sun was also present. "It's just amazing to see auroras dancing across blue sky with the glow of the sun on the horizon," says fellow kayaker Gunnar Hildonen. Altogether, the ensemble was a nice surprise, adds Harald Albrigtsen, who was there, too.
More lights are possible on April 12-14 when a high-speed solar wind stream is expected to hit Earth's magnetic field. NOAA forecasters estimate a ~20% chance of geomagnetic storms around the poles. Aurora alerts: text, phone.
more images: from Frank Olsen of Blokken in Sortland, Norway; from Ole C. Salomonsen of Tromsø, Norway; from Anne Fyhn of Grøtfjord, Tromsø, Norway; from Harald Albrigtsen of Grøtfjorden, Norway; from Sylvain Serre of Ivujivik, Nunavik, Quebec, Canada; from Göran Strand of Rörvattnet, Sweden;
SEVEN ICE HALOES: As spring unfolds, Arctic daylight will soon wrap all the way around the clock, chasing away midnight displays of aurora borealis. There are compensations, however, for 24-hour sunlight. It increases the odds of witnessing ice haloes around the sun. On April 4th, Fredrik Broms photographed this display over Rovaniemi, Finland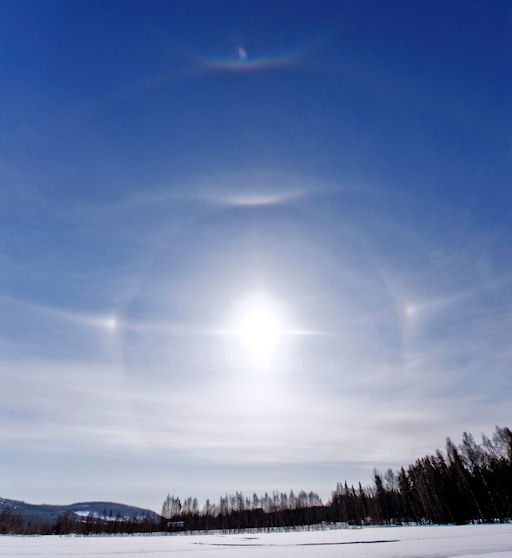 "Looking up at the sky during daytime can be rewarding," says Broms. "In the cold crisp air in Finland a beautiful ice halo display was visible a few days ago."
The luminous rays, rings, and arcs he photographed are caused by sunlight shining through ice crystals in the air. Looking carefully, Broms counted at least seven distinct ice halos around the sun: labeled image.
You don't have to be in the Arctic to witness displays like this. Temperatures are freezing all around the world in clouds ~10km above the ground. Sunlight shining through icy clouds can produce haloes anywhere. Browse the links for more examples: from Ivo Dinsbergs of Riga, Latvia; from Heiko Ulbricht of Freital, Saxony, Germany; from Juha Ojanperä of Lapinjärvi, Finland.