| | | |
| --- | --- | --- |
| Listen to radar echoes from satellites and meteors, live on listener-supported Space Weather Radio. | | |
GROWING QUIET: A sharp drop in solar activity is expected now that sunspot AR1429 has rotated onto the far side of the sun. No major flares are in the offing this weekend.
CME IMPACT: As expected, the flank of a CME hit Earth's magnetic field on March 15th around 1300 UT. The impact sparked a moderate (Kp=6) geomagnetic storm with perfect timing for sky watchers in New Zealand. "The CME arrived at 2 o'clock in the morning here in Queenstown," says photographer Minoru Yoneto. In the dark, he drove to his favorite spot on a mountain overlooking the city and recorded the storm: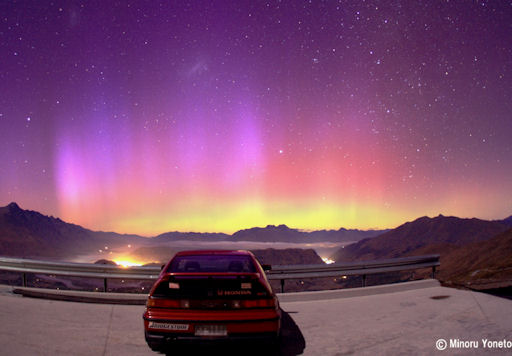 "The auroras danced until sunrise," says Yoneto.
The CME also sparked aurora australis over Antarctica. "Our overwintering at the German Antarctic Research Station Neumayer III has just begun," reports Stefan Christmann. "We were watching a movie when, all of a sudden, our meteorologist coes in with the news. We rushed outside and experienced our first auroras of the season with green and red lights dancing across the moonlit sky."
The storm is subsiding now. Nevertheless, high-latitude sky watchers should remain alert for auroras as the wake of the CME continues to buffet Earth's magnetic field. Aurora alerts: text, phone.
more images: from Andrei Penescu of Kangerlussuaq, Greenland; from Iurie Belegurschi of Þingvellir National Park, Iceland; from Brian Whittaker flying 36,000 feet over Greenland; from Göran Strand of Östersund, Sweden; from Brandon Lovett of Fairbanks, Alaska; from Petra Martinkovicova of Thingvellir National Park, Iceland; from Dirk Obudzinski of Cleary Summit, Alaska; from Travis Novitsky of Grand Portage, MN; from Lance Parrish of Skiland, Alaska; from Matt Melnyk of Edmonton, Alberta, Canada; from Lars Poort of Nuuk, Greenland;
SUNSET CONJUNCTION: When the sun goes down tonight, step outside and look west. Venus and Jupiter are beaming through the twilight less than 4o apart. Sky watchers of all ages, and species, are enjoying the show: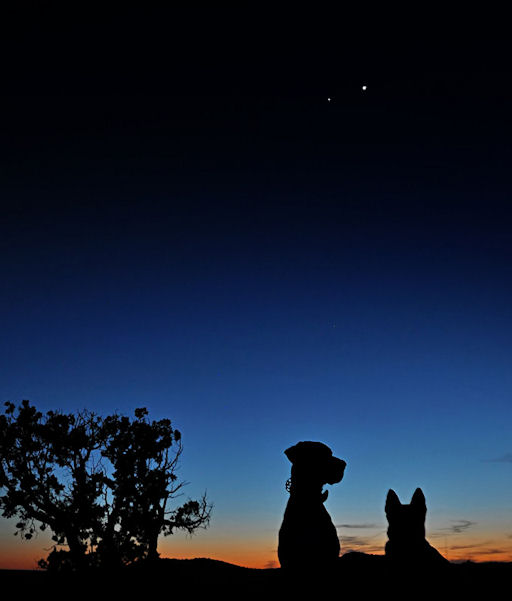 "I was out last night walking the dogs," explains photographer Robert Hanelt of Santa Fe, New Mexico. "We just had to stop to admire the planets."
Observing tip: Try to catch the duo before the sky fades completely black. Venus and Jupiter surrounded by twilight blue is a barking-good sight.
more images: from Neal Brown north of Cold Foot, Alaska; from Raghunathan Krishnarao of Chennai, India; from Darrell Spangler of Rocky Mountain National Park, Colorado;
COMET, DELETED: Sungrazing Comet SWAN, which dove into the sun's atmosphere during the late hours of March 14th, apparently did not survive. In the following 10 hour movie, Comet SWAN enters the solar corona but does not exit again: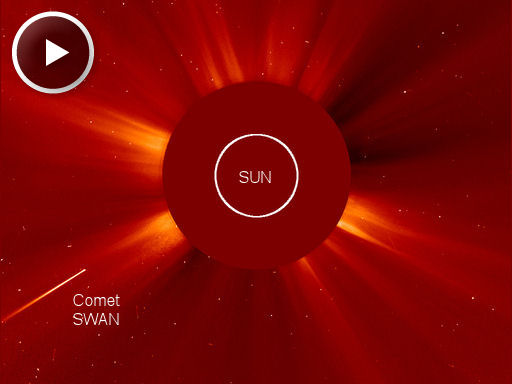 Comet SWAN was a Kreutz sungrazer, a fragment of the same ancient comet that produced sungrazing Comet Lovejoy in Dec. 2011. Comet Lovejoy famously survived its brush with the sun and put on a flamboyant show after it emerged from the solar fire. While Comet SWAN was cut from the same cloth, it was a smaller fragment that has completely evaporated.
The CME emerging from the sun's northwestern limb near the end of the movie was not caused by this tiny comet's impact. It is just another eruption of active sunspot 1429.
Stay tuned to comet expert Karl Battam's blog for updates.
---
February 2012 Aurora Gallery
[previous Februaries: 2011, 2010, 2009, 2008, 2007, 2006, 2004, 2003, 2002]