| | | |
| --- | --- | --- |
| Listen to radar echoes from satellites and meteors, live on listener-supported Space Weather Radio. | | |
CHANCE OF FLARES: NOAA forecasters estimate a 25% chance of M-class solar flares and a 5% chance of X-flares today. The most likely sources would be sunspots AR1610 and AR1614, which have unstable 'beta-gamma' magnetic fields. Eruptions from AR1614 would likely be Earth-directed. Solar flare alerts: text, voice.
HUMONGOUS ERUPTION: A truly gigantic explosion happened on the sun today. Magnetic fields snaking halfway across the sun's southern hemisphere erupted in tandem, producing a prominence so big, it doesn't fit inside this image from NASA's Solar Dynamics Observatory (SDO):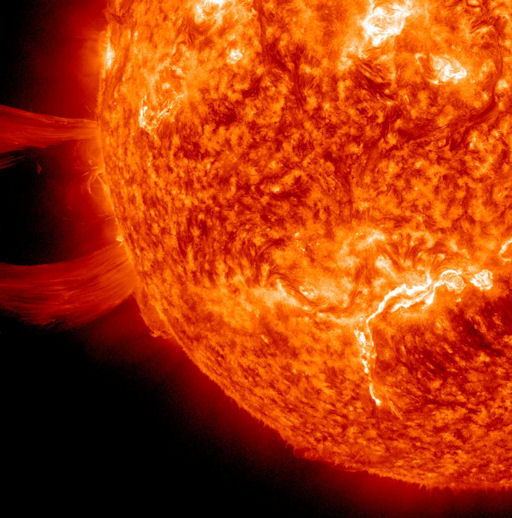 The blast hurled a CME into space, but the cloud does not appear to be heading for Earth.
A movie of the event, prepared by Steele Hill of the Goddard Space Flight Center, shows magnetic fields in concerted motion across an expanse of solar "terrain" more than 700,000 km wide. Observations by SDO have shown that such wide-ranging eruptions are not uncommon on the sun--the great Global Eruption of August 2010 being the iconic example.
RED AURORAS: Auroras are usually green, and sometimes purple, but seldom do sky watchers see much red. The geomagnetic storm of Nov. 13/14 was different. It produced auroras with a distinctly rosy hue. David E. Cartier, Sr. photographed the phenomenon near Marsh Lake, about 40 km east of Whitehorse in Canada's Yukon Territory: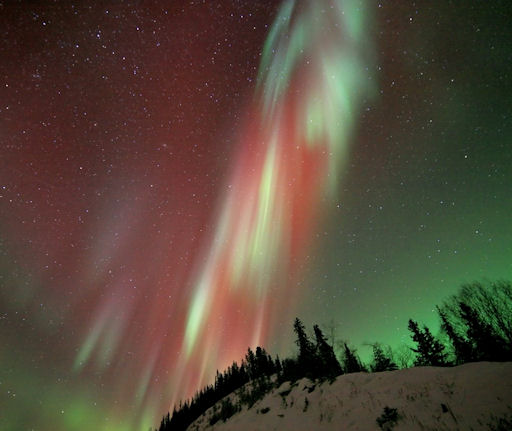 "I was amazed by the deep scarlet color, which was immediately recognizable to the unaided eye," says Cartier. Similar splashes of candy-cane red were spotted over Norway, Wisconsin, and Michigan.
The apparition might be related to rare all-red auroras sometimes seen during intense geomagnetic storms. They occur some 300 to 500 km above Earth's surface and are not yet fully understood. Some researchers believe the red lights are linked to a large influx of low-energy electrons. When such electrons recombine with oxygen ions in the upper atmosphere, red photons are emitted. At present, space weather forecasters cannot predict when this will occur.
Could more reds be in the offing? NOAA estimates a 30% to 35% chance of polar geoagnetic storms on Nov. 16th and 17th. Sky watchers seeing red should submit their images here. Aurora alerts: text, voice.
SOLAR ECLIPSE FOR BREAKFAST: What do you do when the Moon covers the sun just after sunrise? Have a solar eclipse for breakfast! Janne Pyykkö sends these pictures of people "eating" this week's sunrise total eclipse over Queensland, Australia: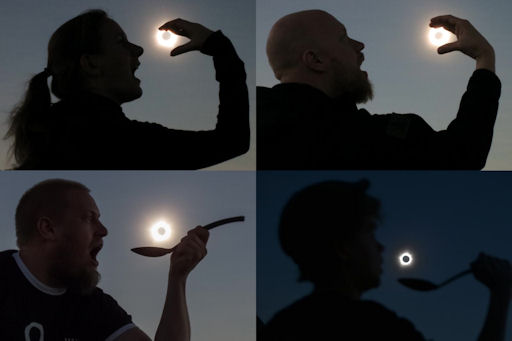 Credits: from top-left to bottom-right are Saul Lehtonen (model Johanna Hoffrén), Johanna Hoffrén (model Saul Lehtonen), Ville Nikula (model Mikael Holappa), Anna Snellman (model Otto Snellman).
"Our Finnish group of 45 eclipse chasers, organized by Tähdet ja avaruus magazine, watched the total solar eclipse on Nov. 14th from the dry desert 150 km north-west of Cairns, Australia," explains Pyykkö. "I coordinated a project to catch photos where people are eating the total solar eclipse; there was no strict guidance about the choice of camera or overall arrangements. Quite a few of us took the challenge. Here is a behind-the-scenes shot that describes the idea."
Browse the photo gallery for more images:
Realtime Eclipse Photo Gallery
---
Realtime Space Weather Photo Gallery
---
Realtime Noctilucent Cloud Photo Gallery
[previous years: 2003, 2004, 2005, 2006, 2007, 2008, 2009, 2011]