| | | |
| --- | --- | --- |
| NEW AND IMPROVED: Turn your iPhone or iPod into a field-tested global satellite tracker. The Satellite Flybys app now works in all countries. | | |
ENDEAVOUR HAS LANDED: Space shuttle Endeavour returned to Earth on Sunday night, concluding a two-week mission to tthe International Space Station (ISS): full story.
MAGNIFICENT MAGNETISM: NASA spacecraft and amateur astronomers alike are monitoring a staggeringly-long filament of magnetism on the sun. It stretches more than a million kilometers around the sun's southeastern limb:

Image credit: Solar and Heliospheric Observatory (SOHO)
As this movie shows, the filament has remained mostly stable for at least two days. However, similar filaments in the past have been known to collapse, and when they hit the surface of the sun--bang! A tremendous explosion called a "Hyder flare" results, sometimes rivaling the strongest flares produced by sunspots. Solar physicists have not yet learned to predict Hyder flares, so we cannot estimate the odds of one now. Readers with solar telescopes are encouraged to monitor developments.
more images: from C. Swiger and J. Stetson of South Portland, Maine; from Mark Townley of Brierley Hill, West Mids, UK; from Cai-Uso Wohler of Bispingen, Germany; from Alan Friedman of downtown Buffalo, NY; from Michael Wilk of Augsburg, Germany
AURORAL ROAR: Listen to this. The sounds you just heard came from the loudspeaker of a radio receiver tuned to 2.7 MHz during a display of Northern Lights. "We call it 'auroral roar'," says Prof. Jim Labelle of Dartmouth College. "It's a natural radio emission caused by a cyclotron resonance between auroral electrons and plasma waves in Earth's ionosphere."
On Feb. 16th, Labelle and colleagues launched a Black Brant XII sounding rocket from the Poker Flat Research Range in Alaska to study the process in action: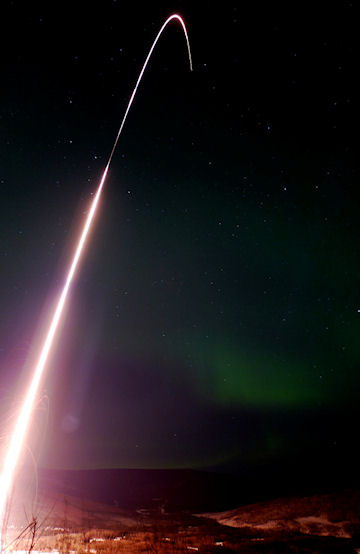 Dartmouth graduate student Micah Dombrowski took the picture. "We flew into some of the best auroras seen in years," he says.
The mission, named "CHARM II," short for Correlation of High-Frequencies and Auroral Roar Measurements, is a collaboration between Dartmouth College, the University of Iowa, and the French National Center for Scientific Research. It aims to decipher the mysteries of auroral roar and related phenomena "using the ionosphere as a natural laboratory for studying electron beam-plasma interactions," says Labelle.
"Preliminary inspection of the data says that the mission was a great success," adds Dombrowski. "Now I have a lot of data to reduce! Many thanks to the NASA NSROC, NEMS, and PFRR teams--and to Nature for such a great show!"
February Northern Lights Gallery
[previous Februarys: 2009, 2008, 2007, 2006, 2004, 2003, 2002]