SUNSET SKY SHOW: When the sun goes down tonight, step outside and look southwest. Venus and the crescent Moon are having a lovely close encounter. They're so bright, you can see them even before the sky fades to black. Venus and the Moon framed by twilight blue is a scene of special beauty. Don't miss it! [sky map]
Geir Øye sends this photo of the pair converging over Ørsta, Norway, just hours ago: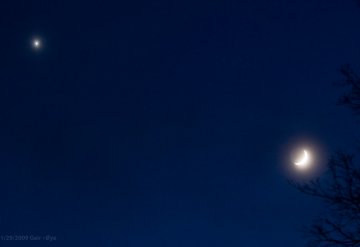 "A thin layer of fog gave both of them a ghostly halo," says Øye. "I took the picture using a Canon 450D on a tripod."
more images: from Mustafa Erol of Antalya, Turkey; from Dave P Smith of Bluebell Hill, Chatham, Kent, England; from Martin Mc Kenna of Maghera, Co. Derry, N. Ireland; from Stephen Welch on the Hayward hills overlooking San Francisco Bay;
SOLAR ECLIPSE: The jagged spires of Candi Prambanan, an ancient Hindu temple in Java, never fail to make a deep impression on visitors. An atmosphere of celestial expectation swirls through the grounds as the architecture itself draws attention to the heavens. It feels like something amazing is about to happen.
On Monday, Jan. 26th, something did. The disk of the sun transformed into a ring: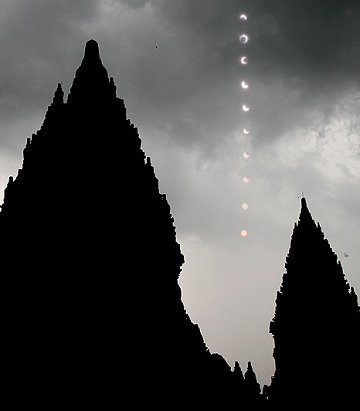 "It was an annular solar eclipse," explains photographer Sangku Kim of Merak, Indonesia. The Moon passed in front of the sun--dead center--covering 93% of the solar disk. "I photographed the event at 10 minute intervals using my Canon 5D and a Baader solar filter."
Similar rings of fire, crescent suns, and strangely-shaped shadows were witnessed along an "path of annularity" spanning the Indian Ocean from the waters off South Africa to the islands of Indonesia, Malaysia and the Philippines. Browse the gallery for the latest photos:
UPDATED: Jan. 26 Solar Eclipse Gallery
[Submit your photos] [Animated eclipse maps]
---
Comet Lulin Photo Gallery
[Comet Hunter telescope] [sky map] [ephemeris]
---