He already has a neck tie. This year give Dad something truly heavenly for Father's Day: SpaceWeather PHONE.

STORM WARNINGS: Astronauts can breathe a little easier. A scientist using the Solar and Heliospheric Observatory (SOHO) has found a way to predict dangerous solar radiation storms. The new alert system offers as much as one hour advance warning, giving astronauts on EVA extra time to seek shelter and avoid radiation sickness. Get the full story from Science@NASA.

DARK FILAMENT: Today, astronomers with solar telescopes are monitoring a dark filament on the sun. This picture comes from the observing team J. Raschack, A. Royer and John Stetson of South Portland, Maine: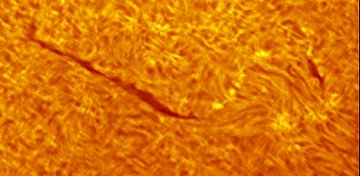 Filaments are ribbon-shaped clouds of hydrogen held above the sun's surface by magnetic fields. The appear dark because they are slightly cooler than the surface of the sun below. In reality, however, they are hot and bright. If you snipped off a solar filament and placed it in the night sky far from the sun, it would shine like a full moon. Imagine that!
FIND THE MOON: On May 23rd, when photographer Guillaume Bertrand looked at the sky over Saint Laurent sur Sèvre, France, he was transported thousands of light years away. "The scene reminded me of a star-forming region in the Small Magnellanic Cloud," he says. (continued below)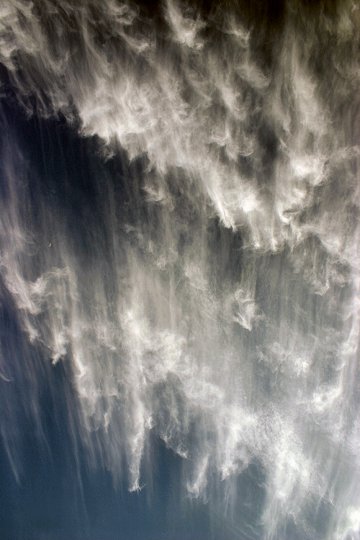 Photo details: Canon 300D
But when he took the picture and examined it closely, he found no stars--only the Moon! "Can you find it?" he asks. Click here to search.
When you locate the Moon, note how its surface brightness compares favorably to that of bright white clouds. That's why, contrary to popular belief, the Moon is so easy to see during the day.
more images: from Pete Lawrence of Selsey, West Sussex, UK; from Günther Strauch of Borken, NRW, Germay; from Anthony Ayiomamitis of Athens, Greece; from Ralph Nevins of Ottawa, Ontario