| | | |
| --- | --- | --- |
| SATELLITE FLYBYS APP: Turn your iPhone or iPod into a field-tested satellite tracker! Spaceweather.com presents the Satellite Flybys app. | | |
TERRESTRIAL GAMMA-RAY FLASHES: There's a mystery in the skies of Earth. Something is producing bright flashes of gamma radiation in the upper atmosphere of our own planet. A spacecraft called 'Firefly' is going to investigate: full story.
BIGGEST FULL MOON OF THE YEAR: Last night's full Moon was the biggest (+14%) and brightest (+30%) full Moon of 2010--and it caught the attention of sky watchers around the world. Dan Frissora sends this snapshot from Cascade Twp, Minnesota: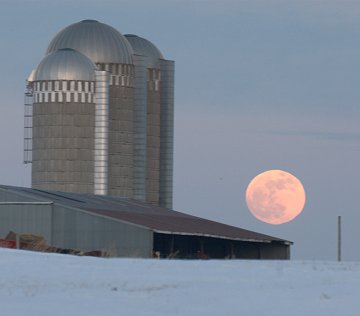 "On a frozen Minnesota evening (-12o C), I found the Moon rising behind a nearby shed and silo," says Frissora. "It looked huge."
In the Netherlands, "pedestrians stopped at the Philippus Lansbergen public observatory for a closer look at the big full Moon and orange Mars," reports astronomer Jan Koeman of Middelburg. "With the fast moving clouds, it seemed they were really gliding side by side through the sky."
In Iran, bright moonlight flooded the Vank church ("The Church of the Saintly Sisters") in the Armenian quarter of Isfahan. "This church was built in the reign of Shah Abbas II in 1663 AD," says photographer Mohammad Rahimi. "It has never looked better than it did last night."
The Moon's remarkable luminosity sprung from its proximity--about 50,000 km closer to Earth than other full Moons of the year. This can happen because the Moon's orbit is not a circle but an ellipse: diagram. Last night, the Moon was on the near side of the ellipse--a place astronomers call "perigee"--making it a big, bright perigee Moon.
more moonshots: from Anthony Ayiomamitis of Athens, Greece; from Bob Clark of Goldcoast, Queensland, Australia; from Marek Nikodem of Szubin, Poland; from Peter von Bagh of Porvoo, Finland; from Michael Evenmo of Eagan, Minnesota; from Tomasz Adam of Staszów, Poland; from Monika Landy-Gyebnar of Veszprem, Hungary; from Mark Seibold of Portland, Oregon; from Andy Burns of Allington, Wiltshire, UK; from Henry F. Mendt of Maracaibo, Venezuela; from Jimmie Weeks of Anchorage, Alaska; from Azhy Chato Hasan of Erbil, Kurdistan, Iraq; from Mahdi Zamani of Cheshmeh-Ali, Damghan, Semnan, Iran; from Daisuke Tomiyasu of Egenoyama, Ashiya, Hyogo, Japan
---
January Northern Lights Gallery
[previous Januarys: 2009, 2008, 2007, 2005, 2004, 2001]