| | | |
| --- | --- | --- |
| SATELLITE FLYBYS APP: Turn your iPhone or iPod into a field-tested satellite tracker! Spaceweather.com presents the Satellite Flybys app. | | |
BLUE MOON ON NEW YEAR'S EVE: Believe it or not, tonight's full Moon is a "Blue Moon." It's the second full Moon this month and the first Blue Moon to fall on New Year's Eve in nearly 20 years. Sounds like a rare excuse for a party...
There's more. In Europe, Africa and Asia, the Blue Moon will dip into Earth's shadow for a partial lunar eclipse. At maximum eclipse, around 19:24 Universal Time, approximately 8% of the Moon will be darkly shadowed: animated preview.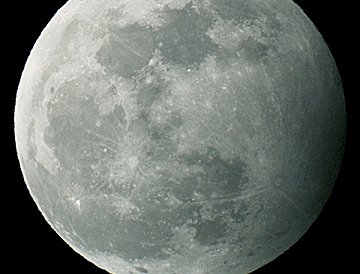 Above: A similar eclipse in 2006. Credit: John Stetson. [more]
Blue Moons are rare (once every 2.5 years). Blue Moons on New Year's Eve are rarer still (once every 19 years). How rare is a lunar eclipse of a Blue Moon on New Year's Eve?
A search of NASA's Five Millennium Catalogue of Lunar Eclipses provides an approximate answer. In the next 1000 years, Blue Moons on New Year's Eve will be eclipsed only 11 times (once every 91 years). A year of special note is 2848 when there will be two lunar eclipses in December--on Dec. 1st and Dec. 31st. Such a double-Blue Moon-lunar eclipse ending on New Year's Eve appears to be a millennium-level event. That's rare.
Go outside and enjoy the moonlight!
SUNSPOT SURGE: 2009 is ending with a flurry of sunspots. Indeed, if sunspot 1039 holds together for the rest of today (prediction: it will), the month of December will accumulate a total of 22 spotted days and the final tally for the year will look like this: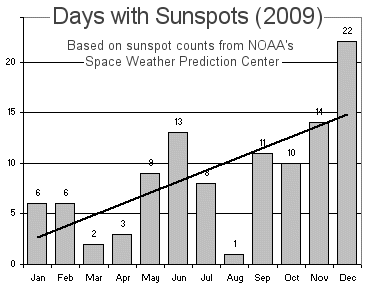 The dark line is a linear least-squares fit to the data. If the trend continues exactly as shown (prediction: it won't), sunspots will become a non-stop daily occurance no later than February 2011. Blank suns would cease and solar minimum would be over.
If the past two years have taught us anything, however, it is that the sun can be tricky and unpredictable. Stay tuned for surprises.
---
December Northern Lights Gallery
[previous Decembers: 2008, 2007, 2006, 2005, 2001, 2000]
---