Did you sleep through the auroras of Dec. 14th? Next time get a wake-up call: Spaceweather PHONE.
AURORA WATCH: A solar wind stream will hit Earth on Jan 2nd or 3rd, and the impact may cause a mild geomagnetic storm. Northern sky watchers should be alert for auroras.
CORRECTION: Contrary to what you may have read on Spaceweather.com earlier today, this sunspot is not sunspot 930: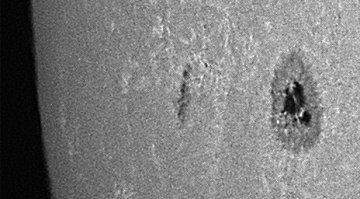 Photo credit: John Nassr of the Philippines.
It looks like sunspot 930, it's where 930 should be (almost), but it is not 930. It is sunspot 933.
The real sunspot 930 is just now emerging over the sun's eastern limb, as shown in this image from Franck Charlier of Marines, Val d'Oise, France. We care about sunspot 930 because last month it unleashed four X-flares and sparked intense auroras. For the past two weeks it has been transiting the far side of the sun, but now it's back, possibly to stir up more space weather.
While sunspot 930 was on the sun's far side, a look-a-like sunspot sprouted up just ahead of it--hence the confusion. Apologies from Dr. Tony Phillips!
COTTONWOOD SUNRISE: Why wake up at dawn? Because you never know what's waiting outside...
"On Dec. 23rd, the pink rays of the early morning sun lit up the ice-covered branches of our cottonwood tree," reports Lois Reinert of Tracy, Minnesota. "The spectacular sight lasted about two minutes before the sun rose into a cloud bank. What a magical moment during this special season!"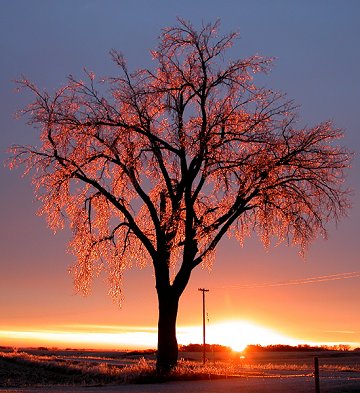 Photo details: Nikon Coolpix 5700, 1/82 sec, f/3.5
Cottonwood trees are perfect for this kind of display. They thrive where the ground is moist and the air is humid. In winter, frost and ice love to accumulate on their widely-spaced branches.
Got a cottonwood? Get behind it at dawn. There may be a magical moment waiting in the shade.