Did you sleep through the auroras of Dec. 14th? Next time get a wake-up call: Spaceweather PHONE.
AURORA WATCH: A solar wind stream is buffeting Earth's magnetic field and causing mild geomagnetic storms. Sky watchers from Scandinavia to Alaska should be alert for auroras.
WOLF MOON HALO: According to folklore, tonight's full moon is the Wolf Moon. So this must be a Wolf Moon Halo: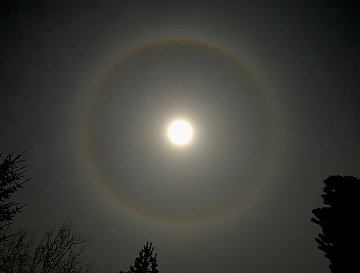 Photo details: Nikon D200, ISO100, 2 sec
"A bright and colorful ice halo surrounded the Moon tonight (Jan. 2nd)," says photographer Stachu Strzyzewski of Lesko, Poland. "It lasted for hours and people really paid attention on it. It was great to see on our frosty, starry Carpathian night!"
more images: from Andy Skinner of Yosemite National Park, California; from Koen Miskotte of Ermelo, the Netherlands; from Tim Reinman of Detroit, Michigan; from Chuck Hunt of Brook Park, Ohio; from Daniel Beaulne of Belle River, Ontario.
BONUS: You don't need a camera to take a good picture of the Moon. Here's proof. Artist Erika Rix of Zanesville, Ohio, made the sketch at the eyepiece of her telescope using nothing but black paper and white crayons.
SPACE STATION FLARE: On New Year's Day, "the International Space Station (ISS) made a nice pass over Devil's Tower, Wyoming," reports Tom A. Warner. "There was a brief period lasting about 10 seconds when the ISS grew significantly brighter"--it flared: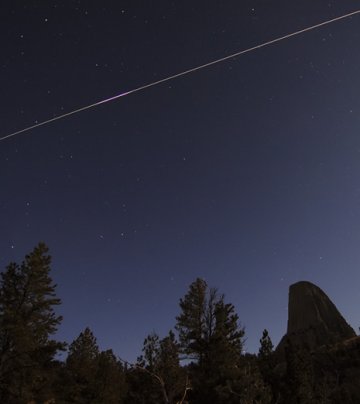 Photo details: Nikon D2X, 12 mm lens, f/4, 400 ISO, 3 x 30 sec
What would make a space station flare? Probably sunlight glinting off a flat surface. Lots of flat surfaces have been added to the ISS lately. In Sept. 2006, the crew of the space shuttle Atlantis (STS-115) unfurled a new thermal radiator and added two 112-foot solar wings to the station. As the station grows, glints and flares are increasingly likely.
See for yourself: Check Heavens Above for ISS flyby times or get a personalized phone call when the station is about to fly over your home town.