ISS SIGHTINGS: The International Space Station and space shuttle Discovery are docked in Earth orbit, and together they outshine every star in the night sky. Check the Simple Satellite Tracker for flybys of your hometown.
NOT-HARVEST MOON: The full Moon of September is often called the "Harvest Moon" because farmers pre-Edison used its light to harvest crops late into the night. But tonight's full Moon is not the Harvest Moon. It occurs too many days before the autumnal equinox, Sept 22nd, to have that name. Instead, the Harvest Moon of 2009 will be on Oct. 4th.
Go outside and enjoy the view anyway. The Not-Harvest Moon is a thing of beauty, lighting up the night sky with its temporary companion Jupiter: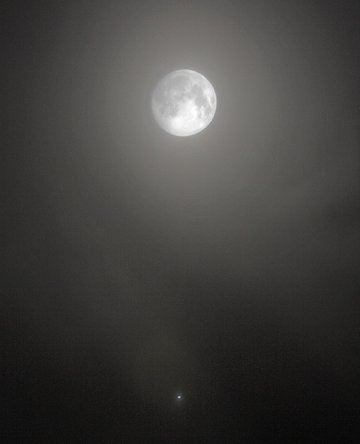 "I took a look outside before bedtime and saw this beautiful sight!" says photographer P-M Hedén of Vallentuna, Sweden. "Going to bed was out of the question. Instead I took my camera (a Canon 450D) outside, made three exposures, and combined them to create the image shown above."
more images: from Karzaman Ahmad of Langkawi National Observatory, Malaysia; from Mohammad Mehdi Asgari of Arak, Iran; from David Marshall of Clapham, Christ Church, Barbados; from Jeff Warvel of Carmel, Indiana; from Niloofar Khavari of Dehkade, Karaj, Iran; from Jeff Berkes of West Chester, Pennsylvania; from Tamas Ladanyi of Veszprem (Hungary); from John Foster of Portland, Oregon;
GEOMAGNETIC MEGA-STORM: On Sept. 2nd, a billion-ton coronal mass ejection (CME) slammed into Earth's magnetic field. Campers in the Rocky Mountains woke up in the middle of the night, thinking that the glow they saw was sunrise. No, it was the Northern Lights. People in Cuba read their morning paper by the red illumination of aurora borealis. Earth was peppered by particles so energetic, they altered the chemistry of polar ice.
Hard to believe? It really happened 150 years ago. This map shows where auroras were sighted in the early hours of Sept. 2, 1859: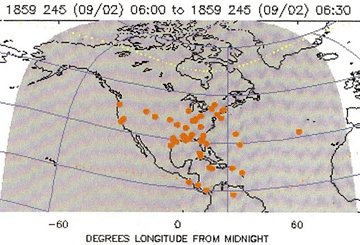 Above: Aurora sightings, Sept. 2, 1859. Image courtesy J.L. Green, NASA
As the day unfolded, the gathering storm electrified telegraph lines, shocking technicians and setting their telegraph papers on fire. The "Victorian Internet" was knocked offline. Magnetometers around the world recorded strong disturbances in the planetary magnetic field for more than a week.
The cause of all this was an extraordinary solar flare witnessed the day before by British astronomer Richard Carrington. His sighting marked the discovery of solar flares and foreshadowed a new field of study: space weather. According to the National Academy of Sciences, if a similar flare occurred today, it would cause $1 to 2 trillion in damage to society's high-tech infrastructure and require four to ten years for complete recovery.
A repeat of the Carrington Event seems unlikely from our low vantage in a deep solar minimum--but don't let the quiet fool you. Strong flares can occur even during weak solar cycles. Indeed, the Carrington flare itself occured during a relatively weak cycle similar to the one expected to peak in 2012-2013. Could it happen again? Let's hope not.
August 2009 Aurora Gallery
[previous Augusts: 2008, 2007, 2006, 2005, 2004, 2003, 2002, 2001]
---