AURORA WATCH: High latitude sky watchers should be alert for auroras tonight. Earth is entering a solar wind stream and this could cause geomagnetic storms around the Arctic Circle.
GREAT CONJUNCTION: In the Adirondack mountains of New York, artist Sally J. Smith creates environmental sculptures, a natural artform of wood, rock, light and shadow. This one she calls Planet Portal: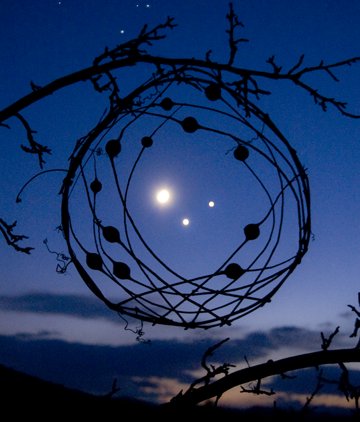 "I wanted to celebrate the triple conjunction of Venus, Jupiter and the Moon," says Smith, "so on Dec. 1st I positioned myself behind the portal with my Nikon D40. It was cloudy all afternoon. The sun set ... still cloudy! Then, right around 5:30 local time, the clouds parted and the glorious event was framed in the sculpture. I could not have asked for more!"
But there is more. In the 10-year history of Spaceweather.com, no single event has generated more photos than this "Great Conjunction." Submissions have poured in from six continents, dozens of countries, kingdoms, democracies, theocracies, ships, planes, cars, and even from a military aircraft refueling 35,000 feet over Iraq. Browse the gallery for highlights and daily new additions:
Great Conjunction Photo Gallery
ISS AND SIDEKICK: The International Space Station (ISS) and its famous sidekick the ISS Toolbag are making a series of evening passes over North America and Europe. Last night Janusz Krysiak of Koluszki, Poland, trained his backyard telescope on the bright star-like ISS and this is what he saw: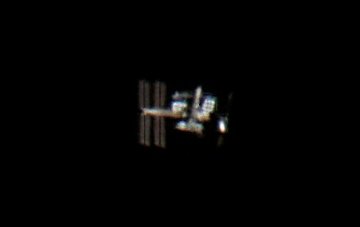 Photo details: Canon 400D, ISO 400, 1/400s
The backpack-sized toolbag is absent from the scene. Since astronaut Heidemarie Stefanyshyn-Piper dropped it on Nov. 18th, the bag has drifted far from the station and it now precedes the ISS across the sky by approximately 30 minutes. It can still be seen, however, though binoculars or a small telescope, if you know when to look. Check the Simple Satellite Tracker for flyby times.
more images: from Dirk Ewers of Hofgeismar, Germany; from Ralf Vandebergh of the Netherlands;
---
Nov. 2008 Aurora Gallery
[Previous Novembers: 2007, 2006, 2004, 2003, 2001, 2000]