| | | |
| --- | --- | --- |
| Lights Over Lapland is excited to announce that our Customizable Aurora Adventures are available for immediate booking! Reserve your adventure of a lifetime in Abisko National Park, Sweden today! | | |
MORNING CONJUNCTION OF PLANETS: Set your alarm for dawn. Venus and Mars are converging for a close encounter, appearing low in the eastern sky just before the rising sun. At closest approach on Thursday morning, Oct 5th, the bright Goddess of Love and the dimmer God of War will lie no more than 0.25 degrees apart. Take a look! It's a nice way to begin the day. Sky maps: Oct. 4th, 5th, 6th.
MAJOR SPACE WEATHER EVENT ON MARS: More than 150 years after it happened, scientists are still taking about the Carrington Event—a solar storm in Sept. 1859 that sparked Northern Lights as far south as Cuba and sprayed the entire surface of Earth with high energy radiation.
On our planet, such global events are rare. On Mars, they happen surprisingly often—in fact, there was one just a few weeks ago.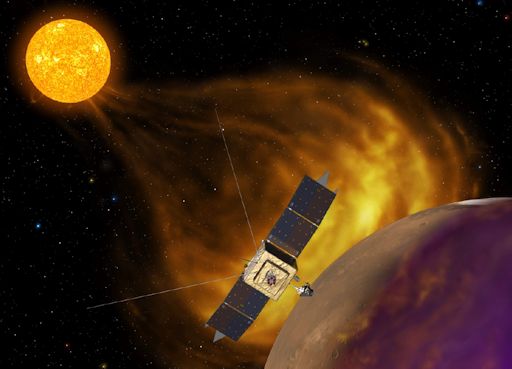 The storm began on Sept. 10, 2017--a day the sun was supposed to be quiet: The solar cycle is currently at low ebb, near Solar Minimum, and strong flares are rare. Nevertheless, sunspot AR2673 erupted, producing a powerful X8-class solar flare that accelerated a potent spray of charged particles into space.
In a matter of hours, a "ground level event" (GLE) was underway on Mars. GLEs occur when energetic particles normally held at bay by a planet's atmosphere or magnetic field penetrate all the way to the ground. Mars rover Curiosity detected the radiation spike as it crawled just south of the Martian equator.
"Radiation levels suddenly doubled and they remained high for nearly two days," says Don Hassler of the Southwest Research Institute, principal investigator for Curiosity's Radiation Assessment Detector (RAD). "This is the largest event we have seen since Curiosity landed in 2012."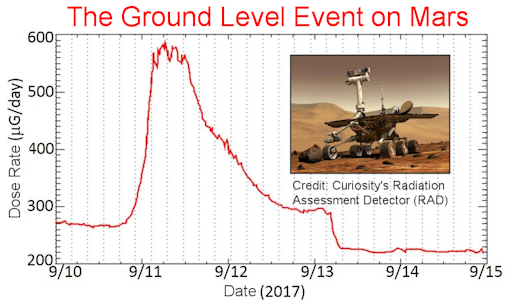 Earth was in the line of fire, too, but our planet's magnetic field and thick atmosphere mitigated the effect of the storm. The terrestrial GLE on Sept. 10th was restricted to polar regions and amounted to a meager 6% increase–a tiny fraction of what happened on Mars.
Mars got walloped because, simply put, it is more vulnerable to space weather. The Red Planet has no global magnetic field to protect it, and an atmosphere only 1% as thick as Earth's. Energetic particles from the Sept. 10th explosion peppered the entire dayside surface of Mars while auroras fringed the upper atmosphere all around the globe.
NASA's MAVEN spacecraft saw the auroras using its ultraviolet imager. "If a human had been present, with eyes sensitive to visible light, they would have probably seen Mars lit up in green light (557.7nm) much like auroras on Earth," says Sonal Jain of the Laboratory for Atmospheric and Space Physics (LASP) at the University of Colorado.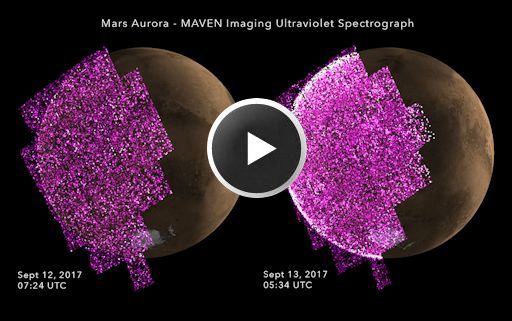 Click to play a movie of the UV auroras on Mars
"Sonal had the excitement of being blown away when the raw data come in," says his colleague Nick Schneider, also of LASP. "The auroras were 25 times brighter than the previous record." Both scientists work with MAVEN data and specialize in Martian auroras.
"These global events are really interesting," says Schneider. "On Earth It takes a truly extreme solar storm to cause global havoc thanks to the strength of our magnetic field. Mars' lack of a global magnetic field means that planet-wide events are far more common. Indeed, since MAVEN went into Mars-orbit 3 years ago, we've seen a bunch of auroral displays that were probably global, even though this has been a really wimpy solar cycle."
Hassler agrees. "Curiosity has seen 5 ground level events since 2012. They are not uncommon," he says, "and they will probably grow stronger in the years ahead as we move through Solar Minimum and return to a more active phase of the solar cycle."
Planners of future human missions to Mars will have to take into account the frequency of these "Martian Carrington Events," increasingly revealed by rovers and orbiters of the Red Planet. Meanwhile, researchers are still poring over data from the latest, hoping to learn more. "Analysis of these observations, both at Mars and Earth, is just beginning," says Hassler, "so stay tuned." Free: Aurora Alerts

Realtime Space Weather Photo Gallery
SOLAR ECLIPSE IN THE STRATOSPHERE: On Aug. 21st during the Great American Solar Eclipse, the students of Earth to Sky Calculus launched 11 space weather balloons from the path of totality. They aimed to photograph the Moon's shadow from the stratosphere--and they succeeded. Looking down from a point more than 100,000 feet above Earth's surface, this GoPro video shows the inky-black shadow of the Moon darkening a 70-mile-wide patch of Wyoming and Nebraska:
This video was assembled and edited by filmmaker Ginger Perez, a founding student member of Earth to Sky Calculus. The payload was sponsored by the Southern Maine Community College with Maine students joining the launch team as space weather balloon "trainees."
Our next solar eclipse mission is already set: We plan to launch space weather balloons from Chile into a total eclipse on July 2, 2019. That one will be a sunset eclipse with the sun low on the horizon during the flight. The teams are looking forward to photographing the Moon's stretched-out shadow fringed by lovely sunset colors. Stay tuned for that!
Far Out Gifts: Earth to Sky Store
All proceeds support hands-on STEM education

---
Every night, a network of
NASA all-sky cameras
scans the skies above the United States for meteoritic fireballs. Automated software maintained by NASA's Meteoroid Environment Office calculates their orbits, velocity, penetration depth in Earth's atmosphere and many other characteristics. Daily results are presented here on Spaceweather.com.
On Oct. 4, 2017, the network reported 22 fireballs.
(18 sporadics, 3 Southern Taurids, 1 Daytime kappa Leonid)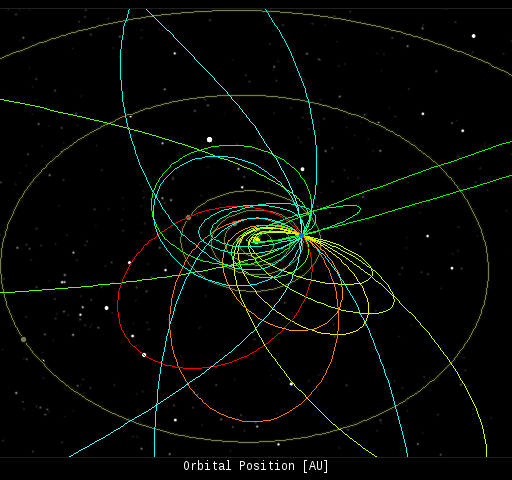 In this diagram of the inner solar system, all of the fireball orbits intersect at a single point--Earth. The orbits are color-coded by velocity, from slow (red) to fast (blue). [Larger image] [movies]
Potentially Hazardous Asteroids (
PHAs
) are space rocks larger than approximately 100m that can come closer to Earth than 0.05 AU. None of the known PHAs is on a collision course with our planet, although astronomers are finding
new ones
all the time.
On October 4, 2017 there were
1803
potentially hazardous asteroids.

Recent & Upcoming Earth-asteroid encounters:
Asteroid

Date(UT)

Miss Distance

Velocity (km/s)

Diameter (m)

2017 SQ12

2017-Sep-29

17.2 LD

7

28

1989 VB

2017-Sep-29

7.9 LD

6.3

408

2017 RP15

2017-Sep-30

14.8 LD

5.6

18

2017 SH16

2017-Sep-30

9.2 LD

13.7

32

2017 SK14

2017-Oct-01

19.2 LD

8.3

24

2017 OD69

2017-Oct-01

13.2 LD

7.6

213

2017 SG20

2017-Oct-02

15.3 LD

11.4

31

2017 SX17

2017-Oct-02

0.2 LD

7.3

8

2017 SK20

2017-Oct-02

12.4 LD

9.7

23

2017 SS16

2017-Oct-03

5.4 LD

16.3

19

2017 SJ19

2017-Oct-04

17.2 LD

5.5

12

2017 SO10

2017-Oct-04

16.7 LD

8.4

41

2004 RE84

2017-Oct-04

15.3 LD

16.1

129

2017 ST14

2017-Oct-04

16 LD

17.3

73

2017 SB20

2017-Oct-11

9 LD

7.1

38

2017 RV1

2017-Oct-12

17.8 LD

10.9

347

2012 TC4

2017-Oct-12

0.1 LD

7.6

16

2005 TE49

2017-Oct-13

8.5 LD

11.2

16

2013 UM9

2017-Oct-15

17 LD

7.8

39

2006 TU7

2017-Oct-18

18.7 LD

13.3

148

2017 SY20

2017-Oct-20

18.9 LD

7.1

54

2017 SH14

2017-Oct-20

15.3 LD

6.8

43

171576

2017-Oct-22

5.8 LD

21.2

677

2003 UV11

2017-Oct-31

15 LD

24.5

447

444584

2017-Nov-17

8.7 LD

14.8

324

Notes: LD means "Lunar Distance." 1 LD = 384,401 km, the distance between Earth and the Moon. 1 LD also equals 0.00256 AU. MAG is the visual magnitude of the asteroid on the date of closest approach.

| | |
| --- | --- |
| | Cosmic Rays in the Atmosphere |




Readers, thank you for your patience while we continue to develop this new section of Spaceweather.com. We've been working to streamline our data reduction, allowing us to post results from balloon flights much more rapidly, and we have developed a new data product, shown here:

This plot displays radiation measurements not only in the stratosphere, but also at aviation altitudes. Dose rates are expessed as multiples of sea level. For instance, we see that boarding a plane that flies at 25,000 feet exposes passengers to dose rates ~10x higher than sea level. At 40,000 feet, the multiplier is closer to 50x. These measurements are made by our usual cosmic ray payload as it passes through aviation altitudes en route to the stratosphere over California.

What is this all about? Approximately once a week, Spaceweather.com and the students of Earth to Sky Calculus fly space weather balloons to the stratosphere over California. These balloons are equipped with radiation sensors that detect cosmic rays, a surprisingly "down to Earth" form of space weather. Cosmic rays can seed clouds, trigger lightning, and penetrate commercial airplanes. Furthermore, there are studies ( #1, #2, #3, #4) linking cosmic rays with cardiac arrhythmias and sudden cardiac death in the general population. Our latest measurements show that cosmic rays are intensifying, with an increase of more than 13% since 2015:




Why are cosmic rays intensifying? The main reason is the sun. Solar storm clouds such as coronal mass ejections (CMEs) sweep aside cosmic rays when they pass by Earth. During Solar Maximum, CMEs are abundant and cosmic rays are held at bay. Now, however, the solar cycle is swinging toward Solar Minimum, allowing cosmic rays to return. Another reason could be the weakening of Earth's magnetic field, which helps protect us from deep-space radiation.

The radiation sensors onboard our helium balloons detect X-rays and gamma-rays in the energy range 10 keV to 20 MeV. These energies span the range of medical X-ray machines and airport security scanners.

The data points in the graph above correspond to the peak of the Reneger-Pfotzer maximum, which lies about 67,000 feet above central California. When cosmic rays crash into Earth's atmosphere, they produce a spray of secondary particles that is most intense at the entrance to the stratosphere. Physicists Eric Reneger and Georg Pfotzer discovered the maximum using balloons in the 1930s and it is what we are measuring today.

| | |
| --- | --- |
| | The official U.S. government space weather bureau |

| | |
| --- | --- |
| | The first place to look for information about sundogs, pillars, rainbows and related phenomena. |

| | |
| --- | --- |
| | Researchers call it a "Hubble for the sun." SDO is the most advanced solar observatory ever. |

| | |
| --- | --- |
| | 3D views of the sun from NASA's Solar and Terrestrial Relations Observatory |

| | |
| --- | --- |
| | Realtime and archival images of the Sun from SOHO. |

| | |
| --- | --- |
| | from the NOAA Space Environment Center |

| | |
| --- | --- |
| | fun to read, but should be taken with a grain of salt! Forecasts looking ahead more than a few days are often wrong. |

| | |
| --- | --- |
| | from the NOAA Space Environment Center |

| | |
| --- | --- |
| | the underlying science of space weather |

| | |
| --- | --- |
| | Reviews here can help you to pick up best memory foam mattresses. |

| | |
| --- | --- |
| | These links help Spaceweather.com stay online. Thank you to our supporters! |