The space station is visible in the night sky this month. Would you like to see it? Sign up for SpaceWeather PHONE.
AURORA MEGA-GALLERY: Have you ever wondered what it would be like to fly through the aurora borealis? Can you see auroras from Florida? Is there a season for geomagnetic storms? Answers await in the new Aurora Mega-Gallery.
VENUSIAN RAINBOW: Venus is hanging low in the sunset sky: map. Amateur astronomers who've looked at it lately have noticed something extraordinary: Venus looks like a rainbow. This picture comes from Ron Wayman of Tampa, Florida: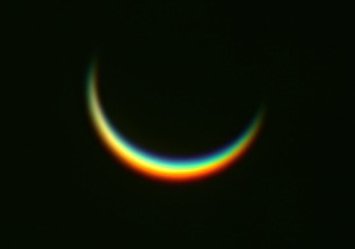 Venus on Jan. 3rd, seen through an 8-inch telescope: video.
Venus has phases, and at the moment it is a crescent. That explains the shape. But what about the colors?
Atmospheric optics expert Les Cowley has the answer: "Our atmosphere is curved around the Earth and acts as a huge lens," he explains. "It bends the rays from objects close to the horizon so that they appear higher in the sky than they actually are. Blue and green light are bent more than red light. The result: the blue/green image of Venus rides highest in the sky while the red image hangs lowest, producing an upper blue/green rim and a lower red rim. Our giant lens is also unsteady and sometimes we see Venus rippling and flashing all the colors of the rainbow."
To illustrate the unsteadiness of the atmosphere, Ron Wayman prepared a video. "This is what I saw in the telescope and the LCD screen of my Nikon CP995 camera," says Wayman. [video]
more images: from Frédéric Caron of Victoriaville, Quebec (Jan. 3); from Denis Joye near Paris, France (Jan. 2); from Ron Hodges of Midland, Texas (Jan. 2);
EARTH AT PERIHELION: Don't look, but the Sun is bigger than usual this week. That's because Earth is at perihelion. Earth's orbit is not a perfect circle, it is an ellipse. Our distance from the Sun therefore varies throughout the year. Perihelion is the least distance: 147 million km on Jan. 4th.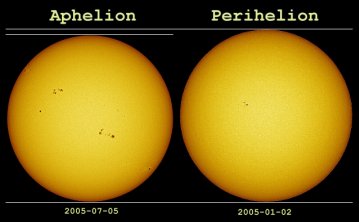 For comparison, aphelion is the greatest distance: 152 million km on July 4th. The picture above, contributed by Anthony Ayiomamitis of Athens, Greece, shows how the sun's apparent diameter varies throughout the year. He took the pictures on the dates of aphelion and perihelon 2005. [more]