Where's Saturn? Is that a UFO--or the ISS? What's the name of that star? Get the answers from mySKY--a fun new astronomy helper from Meade.

FIRST AURORAS: A solar wind stream hit Earth on Jan. 5th sparking the first auroras of Solar Cycle 24. "I was outside with my camera and caught the first light of the new cycle," says Tom Eklund of Akaa, Finland, who sends these photos. The display could carry on tonight as the solar wind continues to blow. High-latitude aky watchers, remain alert for auroras.

more images: from Aleksander Chernucho of the Kolyskia peninsula, Russia; from Calvin Hall of Palmer, Alaska;

SOLAR CYCLE 24 BEGINS: Solar physicists have been waiting for the appearance of a reversed-polarity sunspot to signal the start of the next solar cycle. The wait is over. On Jan. 4th, a magnetically reversed sunspot emerged at solar latitude 30 N, shown in this photo taken by Greg Piepol of Rockville, Maryland: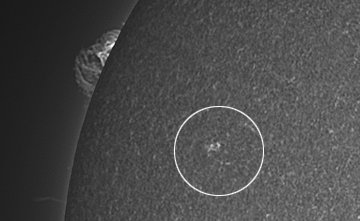 Photo details: Coronado SolarMax90 CaK, Lumenera SKYnyx 2-2 CCD
For reasons explained in a recent Science@NASA story, this marks the beginning of Solar Cycle 24 and the first step toward a new solar maximum. Intense solar activity won't begin right away. Solar cycles usually take a few years to build from solar minimum (where we are now) to Solar Max (expected in 2011 or 2012). It's a slow journey, but we're on our way!
more images: from Cai-Uso Wohler of Bispingen, Germany; from Howard Eskildsen of Ocala, Florida; from Pete Lawrence of Selsey, West Sussex, UK; from John Nassr of Baguio, Philippines;
QUADRANTID METEORS: On Friday morning, Jan. 4th, the skies above Guffey, Colorado, were streaked with meteors. Chris Peterson caught 46 of them with his all-sky camera at the Cloudbait Observatory:
"All were brighter than 1st magnitude," says Peterson, "and a number of these meteors were fireballs (brighter than magnitude -4)."
The source of the display: near-Earth asteroid 2003 EH1. Every year in early January, Earth passes through a stream of dust trailing the asteroid, giving rise to the annual Quadrantid meteor shower. Studies of these early-January showers suggest that 2003 EH1 is not really an asteroid, but rather the largest fragment of a comet that broke apart circa 1490 AD. Debris from the breakup drifted toward our planet for ~500 years and now appears in the form of Quadrantid meteors.
---
Comet 17P/Holmes Photo Gallery
[World Map of Comet Sightings]
[sky map] [ephemeris] [orbit] [comet binoculars]