| | | |
| --- | --- | --- |
| SPACESHIP SIGHTINGS: Would you like a call when the space station is about to fly over your backyard? Sign up for Spaceweather PHONE. | | |
GEMINID METEOR SHOWER: Mark your calendar. The Geminid meteor shower peaks on Dec. 13th and 14th when Earth passes through a stream of debris from extinct comet 3200 Phaethon. The Geminids have been intensifying in recent years, and 2009 could be the best year yet. Forecasters expect 140+ meteors per hour under the dark skies of a new Moon. [sky map]
MIDNIGHT MOON: With the approach of winter, people of the Arctic have said their goodbyes to the midnight sun. Now it's time to say "hello to the midnight Moon." Claus Vogel reports from Baffin Island in far-northern Canada: "The long dark days and nights many of us are enduring in the Canadian Arctic are not necessarily gloomy. Take last night, for example, when the Moon cast its warm glow over the Baffin Island community of Pangnirtung."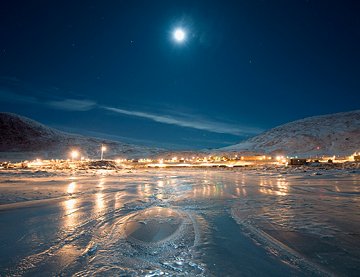 "The combination of newly formed sea ice and lack of snow created for some stellar photo ops as the ice reflected lights from the town and the Moon. It was a good night to be out despite the -26o C temperatures!"
He also caught some green Northern Lights sparked by the impact of a weekend solar wind stream, so it was a good night, indeed. Browse the gallery for more:
December Northern Lights Gallery
[previous Decembers: 2008, 2007, 2006, 2005, 2001, 2000]
MAXIMUM WARP: Nothing inspires an astrophotographer like the sight of Orion the Hunter coming up sideways on a crisp December evening. "Orion is my favorite constellation," says Jan Koeman of Kloetinge, the Netherlands, who took this picture on Saturday night, entitled Maximum Warp: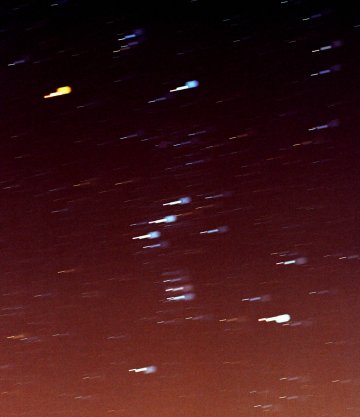 It's a special effect worthy of Star Trek. How did he do it? "It was easy," says Koeman. "I used an ordinary DLSR with an adjustable 50mm Nikkor lens. During the one-minute exposure, I reduced the focal distance of the lens in three steps from infinity to 10 meters to 5 meters. Note the vivid colors of the stars! It's great fun to experiment with astrophotography without an expensive mount and telescope. Anyone can do it."
Ready to create your own special effect? Look east after sunset for inspiration: sky map.
---