Autumn is here, and it's a wonderful time for stargazing. Find out what's up from Spaceweather PHONE.
SOLAR ACTIVITY: As expected, a big sunspot is emerging over the sun's eastern limb. Even before it rotated into view, the spot made itself known by hurling clouds of gas over the limb and unleashing intense bursts of radio waves. What's next? The sunspot is turning toward Earth, so stay tuned for space weather.
TRANSIT OF MERCURY: The transit of Mercury has begun. Mercury's tiny black silhouette first "touched" the limb of the sun at 2:12 p.m. EST (11:12 a.m. PST) and it is now continuing across the face of the star. Click on the links below to watch it, live!
live webcasts: from Japan; from Kitt Peak; from Hawaii; from NASA.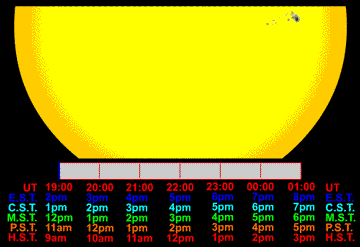 The Transit of Mercury, simulated by graphic artist Larry Koehn.
Because Mercury is so small, only a tiny fraction of the sun will be covered. So don't stare; the sun will be as blinding as ever. Instead, try to view the event through a properly-filtered solar telescope. Mercury's tiny, jet-black silhouette passing in front of solar prominences, filaments and sunspots should be a marvelous sight.
Seven years ago, in Nov. 1999, artist Mark Seibold observed a similar Transit of Mercury through an H-alpha telescope at the Oregon Museum of Science, and he made this pastel sketch: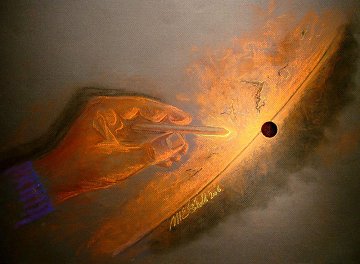 "I could see the planet hovering in the orange hazy fog of the solar photosphere," recalls Mark. "It was an awesome sight."