| | | |
| --- | --- | --- |
| Metallic photos of the sun by renowned photographer Greg Piepol bring together the best of art and science. Buy one or a whole set. They make a stellar gift. | | |
WEEKEND SUNSPOT: Over the weekend, sunspot AR1393 tripled in size, swelling into an active region more than five times as wide as Earth. NASA's Solar Dynamics Observatory recorded the two-day expansion: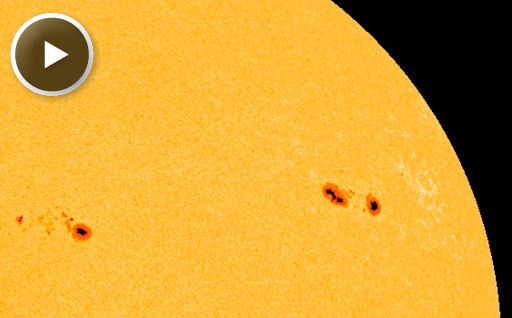 Despite the sunspot's rapid growth, solar activity remains low. Like all the other "active" regions on the solar disk, AR1393 has a simple, stable magnetic field that poses little threat for strong eruptions. NOAA forecasters say the chance of an X-class flare in the next 24 hours is no more than 1%. Stay tuned for quiet.
CANIS LUNUS? According to folklore, this week's full Moon is the Wolf Moon. Native Americans named it after packs of wolves they once heard singing in the deep snows of January. Folklore, however, doesn't always translate:
"Last night in Sweden, we heard no wolves," reports photographer P-M Hedén, "but we heard something else totally amazing - the song of the ice in the Dalriver!" He and his children enjoyed the Dalälven Moon around a campfire in Sweden's Färnebofjärdens National Park: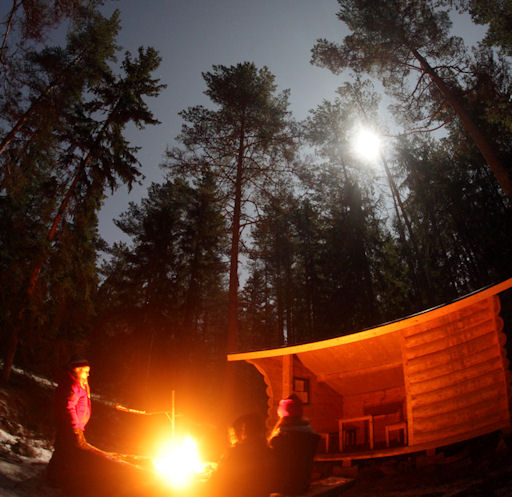 In Italy, the Wolf Moon reminded onlookers of a street lamp, while in Spain bright moonlight banished the night altogether. Even in New York, the Moon seemed more akin to waterfowl than to the wolf.
Which moon did you see? Browse the links for more options: from Nenne Åman of Arjeplog, Sweden; from Stefano De Rosa of Serralunga d'Alba, Italy; from Jim Saueressig II of Burlington, Kansas; from Göran Strand of Frösön, Sweden; from Rodney Hale of Houghton Conquest UK; from Sérgio Paulino of Alcochete, Portugal; from Timothy Boocock of Trysil,Norway; from Lyrics Some of Shiqi, Panyu, Guangzhou, China; from Ronny Tertnes of Bergen, Norway; from Kevin Witman of Cochranville, Pennsylvania; from Kevin Jung of Lowell Township, Michigan; from Lyle Anderson of Duluth, MN; from Paul Beebe of Upsala, Ontario, Canada; from Geoff Chester of Alexandria, Virginia;
GEOMAGNETIC ACTIVITY: Forecasters said a CME might deliver a glancing blow to Earth's magnetic field on Jan. 7th, and indeed it might have. There was no sharp change in the solar wind speed signaling a CME's passage. There was, however, a surge in ground currents in northern Norway during the late hours of Jan. 7th, which suggests that something did rattle Earth's magnetic field. Rob Stammes recorded the disturbance from his laboratory in Lofoten. Ground currents often herald auroras, and true to form the skies turned vivid green: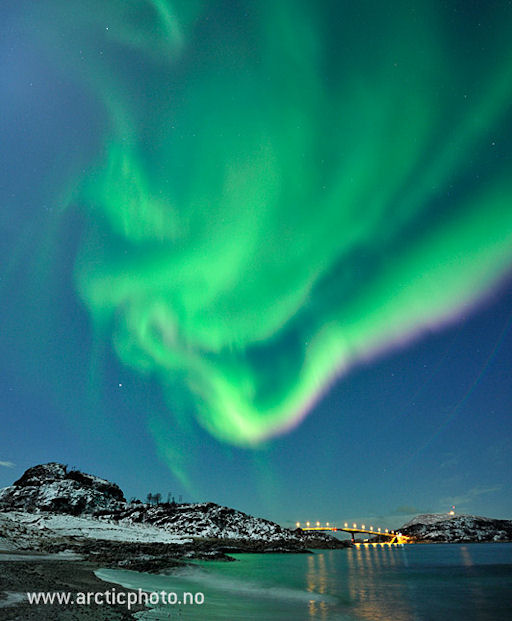 "We witnessed a brief but beautiful outburst of auroras," says photographer Bjørn Jørgensen of Sommaroy, Norway. "Even the sea turned green from the bright colors overhead." Aurora alerts: text, voice.
January 2012 Aurora Gallery
[previous Januaries: 2010, 2009, 2008, 2007, 2005, 2004]
---
New: Comet Lovejoy Gallery
[previous comets: McNaught, Holmes, Lulin, Tuttle, Ikeya-Zhang]