| | | |
| --- | --- | --- |
| SATELLITE FLYBYS APP: Turn your iPhone or iPod into a field-tested satellite tracker! Spaceweather.com presents the Satellite Flybys app. | | |
FINAL NIGHT LAUNCH OF THE SHUTTLE: On Feb. 7th at 4:39 am EST, space shuttle Endeavour will blast off from the Kennedy Space Center on a mission (STS-130) to the International Space Station. It will be the final night launch of NASA's soon-to-be-retired shuttle program. After STS-130, only four missions remain and all of them will leave Earth in broad daylight. Readers, if you are ever going to travel to Florida to witness a launch, Feb. 7th would be a good choice.
BIG SUNSPOT: Sunspot 1040 (a.k.a. old sunspot 1035) is growing again and is now at least four times wider than planet Earth. A blink comparison of SOHO images shows how the sunspot has expanded in the past 24 hours: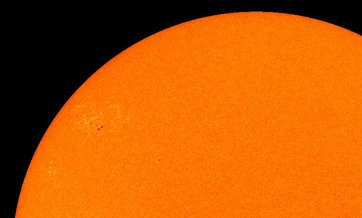 Backyard astronomers with solar telescopes are encouraged to monitor developments.
more images: from Mike Borman of Evansville, Indiana; from Matt Wastell of Brisbane, Australia; from Alcaria Rego of Almada, Portugal; from Monty Leventhal OAM of Sydney, Australia; from Karzaman Ahmad of Langkawi National Observatory, Malaysia; from Robert Arnold of Isle of Skye, Scotland; from Paul Schneider of Wilton, Connecticut; from J. Maciaszek, C. Cusack, J. Stetson of South Portland, Maine; from Gianfranco Meregalli of Milano, Italy
ISLAND SNOW: Last week when NASA's Terra satellite orbited over Europe, it saw something very unusual. The normally temperate British Isles were completely covered by snow. On Jan. 7th, from an altitude of 420 miles, Terra's MODIS (Moderate-resolution Imaging Spectroradiometer) camera snapped this picture: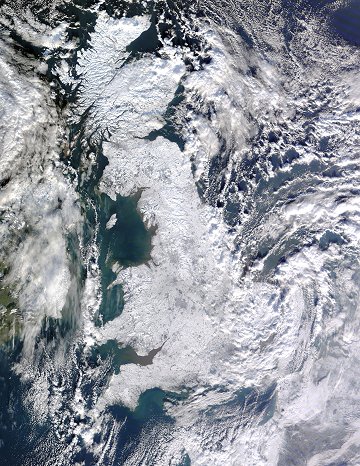 It's not only Britian. Heavy snowfall and record-low temperatures have spread across Europe, closing schools, paralyzing airports, and downing power lines. Much of North America and parts of Asia are experiencing the same brutal cold.
The cause of the phenomenon could be the Arctic Oscillation (AO). The AO is a seesawing strengthening and weakening of semi-permanent areas of low and high atmospheric pressure in the Arctic and the mid-latitudes. One consequence of the oscillation's negative phase is cold, snowy weather in Eurasia and North America during the winter months. The extreme negative dip of the Arctic Oscillation Index in December 2009 was the lowest monthly value observed for the past six decades.
On the bright side, these conditions are ideal for many forms of atmospheric optics and fantastic patterns of frost on the ground and other surfaces. Browse the links below for examples of what to look for.
more images: from Peter Rosén of Stockholm, Sweden; from Andrew Greenwood of Kerridge on the edge of the Peak District, UK; from Evan Ludes of Omaha, Nebraska; from Tyler Burg of Omaha, Nebraska; from Dan Bush of Albany, Missouri; from Doug Zubenel of De Soto, Kansas; from Julia Ponce of Papillion, Nebraska; from Kyle George of Omaha, Nebraska;
---
January Northern Lights Gallery
[previous Januarys: 2009, 2008, 2007, 2005, 2004, 2001]