| | | |
| --- | --- | --- |
| Lights Over Lapland is excited to announce that we now have TWO aurora webcams covering nearly a 200° view of Abisko National Park in Sweden! Watch the auroras dance live, all season long here. | | |
CHANCE OF STORMS TOMORROW: NOAA forecasters say there is a 35% chance of G1-class geomagnetic storms on Dec. 11th and 12th when a stream of solar wind reaches Earth. The gaseous material is flowing from a canyon-like hole in the sun's atmosphere. Arctic sky watchers should be alert for auroras. Free: Aurora Alerts.
A ROCK COMET APPROACHES EARTH: On Dec. 16, 2017, an unusual space rock named "3200 Phaethon" will fly past Earth only 10.3 million km away.  It's the closest approach in 40 years for this large object. Measuring 5 km across, 3200 Phaethon is half the size of the asteroid that wiped out the dinosaurs 65 million years ago. There's no danger of a collision, but it is close enough to see through backyard telescopes. On Dec. 8th, The Astronomy Club of the Sing Yin Secondary School in Hong Kong video-recorded 3200 Phaethon using a 4-inch refractor:
<
"We observed 3200 Phaethon, the parent body of the Geminid meteor shower, from the basketball court of our school campus," the club reports. "Our school is located close to the city center where the visual limiting magnitude is about 2 to 3. Despite the glare, we were able to record the motion of this object against the background stars for about 1 hour." (For others who wish to do this, Bob King of Sky & Telescope has written an excellent set of observing tips.)
What is 3200 Phaethon? Astronomers have struggled with this question for years.  When 3200 Phaethon was discovered in 1983 by NASA's IRAS satellite, astronomers quickly realized that they had found the source of the annual Geminid meteor shower. The orbit of 3200 Phaethon was such a close match to that of the Geminid debris stream, no other conclusion was possible. Yet here was a puzzler: Meteor showers are usually caused by comets. Everything about 3200 Phaethon suggests it is an asteroid.
In fact, 3200 Phaethon resembles main belt asteroid Pallas so much, it could well be a 5-kilometer chip off that 544 km block. If 3200 Phaethon broke apart from asteroid Pallas long ago, as some researchers believe, then Geminid meteoroids might be debris from the breakup: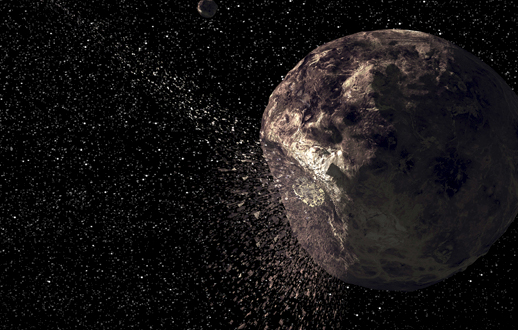 There is, however, another possibility: Perhaps 3200 Phaethon is a "rock comet." A "rock comet" is, essentially, an asteroid that comes very close to the sun--so close that solar heating scorches plumes of dust right off its rocky surface. Rock comets could thus grow comet-like tails made of gravely debris that produce meteor showers on Earth. 3200 Phaethon may well be this kind of object. It comes extremely close to the sun, only 0.14 AU away, less than half the distance of Mercury, so hot that lead would flow like water across its sun-blasted surface.

This year's close approach of 3200 Phaethon to Earth happens only days away from the peak of the Geminid meteor shower on Dec. 13th and 14th. Forecasters don't expect to see any extra Geminids, however. Meteoroids leaving 3200 Phaethon need time to drift over to the orbit of our planet. "It would take at least another revolution around the sun before material from this flyby could encounter Earth - probably longer," explains Bill Cooke of NASA's Meteoroid Environment Center.
Fortunately, the Geminids don't need any help.  As usual, more than 100 meteors per hour are expected on the nights of Dec. 13th and 14th when Earth crosses the debris stream. Stay tuned for more information about that as peak night approaches.
Realtime Space Weather Photo Gallery
FAR OUT CHRISTMAS GIFTS: Helium doesn't pay for itself. That's why the students of Earth to Sky Calculus fly cool things to the edge of space onboard their cosmic ray balloons--so you can buy them in our Christmas Store: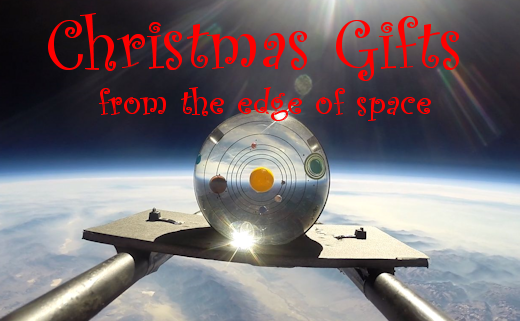 Crystal balls, solar eclipse pendants, pyramids, pickles and much more: they've all been to the edge of space and back, and they all make great holiday gifts. Every dollar spent in the store supports STEM education and high-altitude space weather research. Shop now!
Far Out Gifts: Earth to Sky Store
All proceeds support hands-on STEM education
DIAMOND DUST SKI HALOS: Ski resorts are some of the best places to see sun halos--rings and pillars of light that surround the sun when ice crystals fill the air. The most sublime halos are caused by jewel-like crystals called "diamond dust." On Dec. 7th, Kameron Barge was skiing in Whitefish, Montana, when he saw these specimens: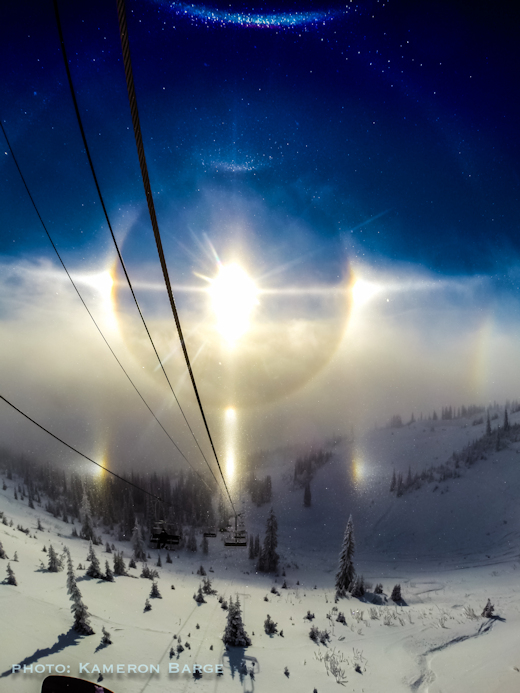 "As we rode the chair down into the clouds today, we begin seeing all sorts of halos, and sundogs!" says Barge. "It was an unforgettable display."
Ordinary sun halos are caused by ice crystals floating in high cirrus clouds. "Ski halos," on the other hand, are formed by ice crystals near the ground, kicked into the air by the action of skis and snow-making machines. A close look at Barge's picture shows specks of light in the air. Those are the glittering crystals of diamond dust which make these halos so beautiful.
Barge documented a rare variety of forms: a 22-degree halo, sundogs, sub-sundogs, a sub-sun, a lower sun pillar, an upper tangent arc, a 46-degree halo, a circumzenithal arc, and a partial parhelic circle--all sculpted from sunlight by floating diamond dust.
If you're on the slopes this weekend, and the sun dips behind a cloud of ice, be alert for "ski halos." They can make your day.
---
Every night, a network of
NASA all-sky cameras
scans the skies above the United States for meteoritic fireballs. Automated software maintained by NASA's Meteoroid Environment Office calculates their orbits, velocity, penetration depth in Earth's atmosphere and many other characteristics. Daily results are presented here on Spaceweather.com.
On Dec. 10, 2017, the network reported 34 fireballs.
(24 sporadics, 4 Geminids, 3 December Monocerotids, 2 sigma Hydrids, 1 Quadrantid)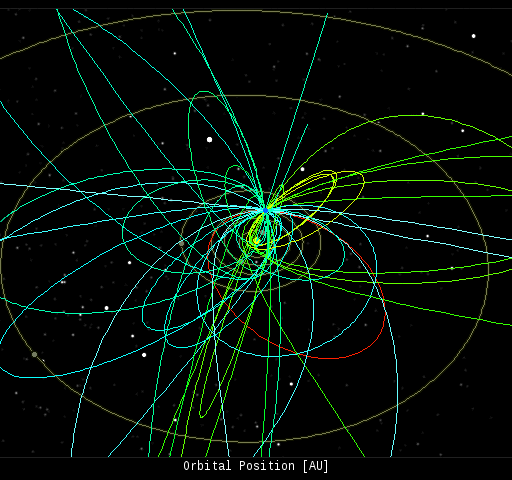 In this diagram of the inner solar system, all of the fireball orbits intersect at a single point--Earth. The orbits are color-coded by velocity, from slow (red) to fast (blue). [Larger image] [movies]
Potentially Hazardous Asteroids (
PHAs
) are space rocks larger than approximately 100m that can come closer to Earth than 0.05 AU. None of the known PHAs is on a collision course with our planet, although astronomers are finding
new ones
all the time.
On December 10, 2017 there were
1869
potentially hazardous asteroids.

Recent & Upcoming Earth-asteroid encounters:
Asteroid

Date(UT)

Miss Distance

Velocity (km/s)

Diameter (m)

2017 WS13

2017-Dec-05

9.5 LD

11.3

42

2017 WF28

2017-Dec-06

17.6 LD

7.6

21

2017 XE

2017-Dec-07

4 LD

6.2

20

2017 XS

2017-Dec-08

7.4 LD

10.6

105

2017 WV12

2017-Dec-09

3.4 LD

10.6

27

2017 WE13

2017-Dec-12

16.4 LD

5.3

27

2017 VS14

2017-Dec-12

15.8 LD

2.8

15

2017 WJ28

2017-Dec-13

12.8 LD

6

20

2015 XX169

2017-Dec-14

9.7 LD

6.3

11

2006 XY

2017-Dec-14

3.4 LD

4.9

56

2017 VT14

2017-Dec-17

3.8 LD

10.4

105

2011 YD29

2017-Dec-19

17.6 LD

7.7

20

2017 WX12

2017-Dec-21

10 LD

11.4

137

2017 TS3

2017-Dec-22

18.1 LD

10.2

137

418849

2017-Dec-22

15.3 LD

17.4

257

2015 YQ1

2017-Dec-22

17.3 LD

11.1

9

2017 WZ14

2017-Dec-24

7.6 LD

4.9

33

2017 QL33

2017-Dec-30

13.3 LD

8.2

190

2015 RT1

2018-Jan-02

19.7 LD

9

30

2004 FH

2018-Jan-10

20 LD

8.5

26

306383

2018-Jan-22

14.4 LD

17.4

178

2002 CB19

2018-Feb-02

10.5 LD

15.6

36

276033

2018-Feb-04

11 LD

34

646

Notes: LD means "Lunar Distance." 1 LD = 384,401 km, the distance between Earth and the Moon. 1 LD also equals 0.00256 AU. MAG is the visual magnitude of the asteroid on the date of closest approach.

| | |
| --- | --- |
| | Cosmic Rays in the Atmosphere |




Readers, thank you for your patience while we continue to develop this new section of Spaceweather.com. We've been working to streamline our data reduction, allowing us to post results from balloon flights much more rapidly, and we have developed a new data product, shown here:

This plot displays radiation measurements not only in the stratosphere, but also at aviation altitudes. Dose rates are expessed as multiples of sea level. For instance, we see that boarding a plane that flies at 25,000 feet exposes passengers to dose rates ~10x higher than sea level. At 40,000 feet, the multiplier is closer to 50x. These measurements are made by our usual cosmic ray payload as it passes through aviation altitudes en route to the stratosphere over California.

What is this all about? Approximately once a week, Spaceweather.com and the students of Earth to Sky Calculus fly space weather balloons to the stratosphere over California. These balloons are equipped with radiation sensors that detect cosmic rays, a surprisingly "down to Earth" form of space weather. Cosmic rays can seed clouds, trigger lightning, and penetrate commercial airplanes. Furthermore, there are studies ( #1, #2, #3, #4) linking cosmic rays with cardiac arrhythmias and sudden cardiac death in the general population. Our latest measurements show that cosmic rays are intensifying, with an increase of more than 13% since 2015:




Why are cosmic rays intensifying? The main reason is the sun. Solar storm clouds such as coronal mass ejections (CMEs) sweep aside cosmic rays when they pass by Earth. During Solar Maximum, CMEs are abundant and cosmic rays are held at bay. Now, however, the solar cycle is swinging toward Solar Minimum, allowing cosmic rays to return. Another reason could be the weakening of Earth's magnetic field, which helps protect us from deep-space radiation.

The radiation sensors onboard our helium balloons detect X-rays and gamma-rays in the energy range 10 keV to 20 MeV. These energies span the range of medical X-ray machines and airport security scanners.

The data points in the graph above correspond to the peak of the Reneger-Pfotzer maximum, which lies about 67,000 feet above central California. When cosmic rays crash into Earth's atmosphere, they produce a spray of secondary particles that is most intense at the entrance to the stratosphere. Physicists Eric Reneger and Georg Pfotzer discovered the maximum using balloons in the 1930s and it is what we are measuring today.

| | |
| --- | --- |
| | The official U.S. government space weather bureau |

| | |
| --- | --- |
| | The first place to look for information about sundogs, pillars, rainbows and related phenomena. |

| | |
| --- | --- |
| | Researchers call it a "Hubble for the sun." SDO is the most advanced solar observatory ever. |

| | |
| --- | --- |
| | 3D views of the sun from NASA's Solar and Terrestrial Relations Observatory |

| | |
| --- | --- |
| | Realtime and archival images of the Sun from SOHO. |

| | |
| --- | --- |
| | from the NOAA Space Environment Center |

| | |
| --- | --- |
| | fun to read, but should be taken with a grain of salt! Forecasts looking ahead more than a few days are often wrong. |

| | |
| --- | --- |
| | from the NOAA Space Environment Center |

| | |
| --- | --- |
| | the underlying science of space weather |

| | |
| --- | --- |
| | Reviews here can help you to pick up best memory foam mattresses. |

| | |
| --- | --- |
| | These links help Spaceweather.com stay online. Thank you to our supporters! |