| | | |
| --- | --- | --- |
| MOTHER'S DAY: Give your mom a truly heavenly gift on May 11th--a subscription to Space Weather PHONE! | | |
SPACE STATION TRICORDER: Astronauts are using a Star Trek tricorder-like device to keep track of microscopic life forms onboard the International Space Station. Get the full story from Science@NASA.
WHAT WOULD GALILEO SAY? Before you read any further, click here. That's what Galileo saw in 1610 when he turned his small telescope toward Jupiter: a fuzzy disk surrounded by four point-like moons. It wasn't much to look at, but his pioneering observations upended 17th century cosmology.
Fast forward 398 years to the backyard of amateur astronomer Paul Haese in Blackwood, South Australia: "I took this picture of Jupiter on May 10th using my peltier cooled 14-inch Celestron telescope."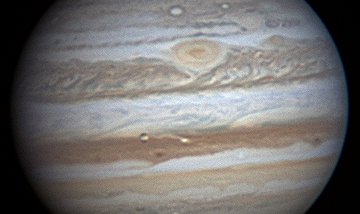 "The seeing was great," he says. Jupiter's moon Io appears in the foreground not as a dimensionless point of light, but a true 3D orb. The Great Red Spot, a hurricane twice as wide as Earth, reveals its inner swirls while two companion red spots turn nearby: labels. The overall detail is simply breathtaking.
"I'm a happy camper, says Haese. "This is my best picture of Jupiter yet." And it didn't even upend cosmology. What would Galileo say?
Readers, Jupiter is a wonderful target for any backyard telescope and it's easy to find. Before dawn, look south for a bright light in the constellation Sagittarius: sky map.
more images: from Mike Salway of Central Coast, NSW Australia; from Christopher Go of Cebu City, Philippines;
SUN RIMS: "The Golden Gate Bridge is one of the sun's favorite toys," says photographer Mila Zinkova, who offers two examples from May 6th. "When the sun was setting behind the South Tower of the bridge, a sundog danced just above the North Tower: photo. But the show was not over yet. A few minutes later, the sun displayed its red and green rims for the bridge and me to enjoy."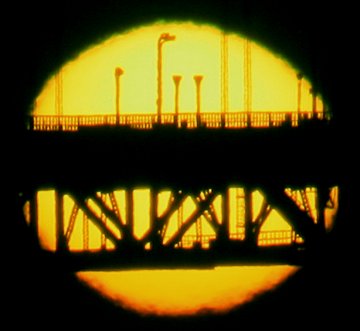 Red and green rims are caused by refraction of light in Earth's atmosphere, especially the low atmosphere where air density gradients produce strong light-bending effects. Green light is bent more than red, producing the observed separation of colors: diagram.
Never seen such a thing? It's no wonder: Red and green rims are razor thin and they wrap around something blindingly bright. A good zoom lens and proper filters are required; the bridge is optional.
---
April 2008 Aurora Gallery
[Aurora Alerts] [Night-sky Cameras]