| | | |
| --- | --- | --- |
| ANDROID FLYBYS: Our field-tested satellite tracker is now available for Android phones. Features: Global predictions and flyby alarms! Learn more. | | |
ASTEROID FLYBY: On Saturday, July 10th, the European Space Agency's Rosetta probe executed a close flyby of big asteroid Lutetia. Close-up photography revealed an alien worldlet dented by a giant bowl-shaped depression with landslides and boulders rolling down the sides. Click here for must-see images.
TOTAL ECLIPSE OF THE SUN: The South Pacific eclipse of July 11th is over. During the 5-hour event, sky watchers spent as much as 4 minutes completely enveloped in the Moon's shadow watching in awe as the solar corona revealed itself to the human eye. Eclipse-chaser Janne Pyykkö sends this picture from a hill overlooking Lago Argentino in Patagonia, Argentina: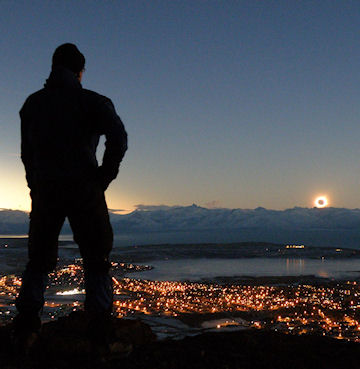 "The eclipse was not easy to catch here because the total phase occured at sunset when the sun was only 1o above the horizon," he says. "To increase my chances, I hiked to a hill 400 meters above the lake--and there it was! The eclipse was easy to see just above the usually-cloudy Andes. I was very lucky indeed."
Physics professor Patricia Reiff of Rice University witnessed the eclipse from the deck of the Aranui 3 cruise ship just off the coast of Tahiti. She sent this picture directly from the ship using her iPhone.
Photographers, submit your images here.
Solar Eclipse Photo Gallery
[NASA: South Pacific Eclipse] [animated map] [details]
SINUOUS BEAUTY: Sunspot 1087 is developing into a behemoth many times wider than Earth. It now has dozens of dark cores with a long magnetic filament snaking among them: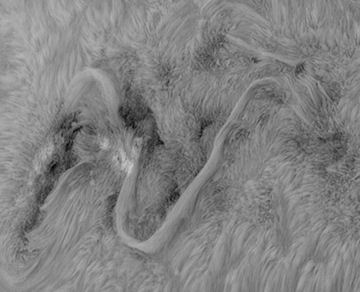 "What amazing active region!" says Britta Suhre, who took the picture from her backyard observatory in Rosenheim, Germany: "It is real fun to photograph."
The filament is crackling with B- and C-class solar flares, as shown in these movies from the Solar Dynamics Observatory. The biggest and most spectacular eruption so far was a C3-flare on July 9th: movie.
Readers with solar telescopes are encouraged to monitor the action.
more images: from Francois Rouviere of Mougins, France; from Mark Seibold of Sandy, Oregon; from Michael Borman on Patoka Lake near Wickliffe, Indiana; from Michael Buxton of Ocean Beach, California; from Steve Riegel of Santa Maria, CA; from Gianluca Valentini of Rimini, Italy; from W. Verhesen of Sittard, The Netherlands; from Andreas Murner of Rosenheim, Bavaria, Germany; from Gianluca Valentini of Rimini, Italy; from Jan Timmermans of Valkenswaard, The Netherlands;