| | | |
| --- | --- | --- |
| ANDROID FLYBYS: Our field-tested satellite tracker is now available for Android phones. Features: Global predictions and flyby alarms! Learn more. | | |
HAUNTING BEAUTY IN DEEP SPACE: The European Space Agency's Rosetta probe is beaming back images of haunting beauty from mysterious asteroid Lutetia. Researchers discuss the meaning of the photos in today's story from Science@NASA.
SUNSET PLANETS: The planets are aligning for a beautiful sunset sky show. Last night on the Atlantic coast of Portugal, Miguel Claro photographed Venus, Mars and Saturn all in a row: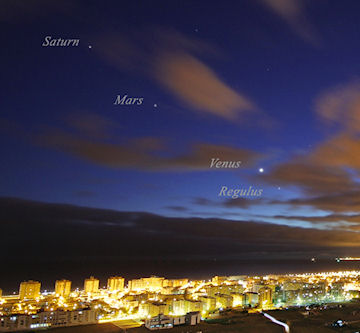 "The planets were beautifully arrayed over the Costa da Caparica," says Claro. "Even the bright lights of Lisbon (lower right in the full-sized photo) could not spoil the show."
Tonight the crescent Moon joins the show. It will appear beside Venus at the end of the line. For the rest of the week, the Moon will planet-hop from Venus to Mars to Saturn on successive nights. Go outside at sunset and take a look! Sky maps: July 14, 15, 16.
more images: from Alfredo Garcia Jr of Torrance Beach, CA; from Tamas Ladanyi of Veszpremfajsz, Hungary; from Christopher Calubaquib of El Sobrante, CA
SOLAR ACTIVITY: The magnetic canopy of sunspot 1087 is crackling with low-level solar flares. The biggest of the day so far, a C1-flare at 1230 UT on July 14th, caught the attention of NASA's Solar Dynamics Observatory. Click on the image to set the scene in motion: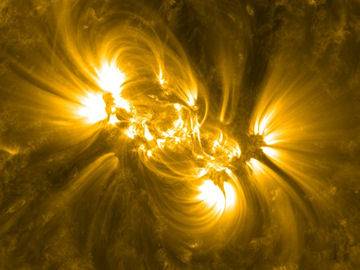 On the Richter scale of solar flares, C-class eruptions are considered small---and indeed they have little effect on Earth. But consider the following: A typical C-flare packs as much punch as 100 million atomic bombs. It's a good thing we're 93 million miles away.
Readers with solar telescopes are encouraged to monitor this active region as it continues to snap, crackle, and pop!
---
Solar Eclipse Photo Gallery
[NASA: South Pacific Eclipse] [animated map] [details]