| | | |
| --- | --- | --- |
| WAKE UP! Did you sleep through the auroras of October? Next time get a wake-up call: Spaceweather PHONE. | | |
NIGHT LAUNCH: Forecasters say there is a 70% chance of good weather for the launch of space shuttle Endeavour from the Kennedy Space Center later today. Blast-off is scheduled for 7:55 pm EST. If all goes as planned, the spectacular night launch will be widely visible from central Florida, and the glow of the shuttle's main engines will be seen all along the US Atlantic Coast as Endeavour ascends to orbit. [launch blog]
FOLLOW THAT STAR! What is this astronomer tracking through the light-polluted skies of Hong Kong? The answer lies in the eyepiece.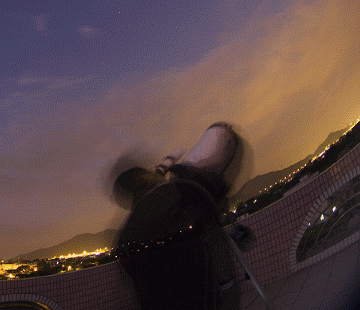 Click to launch a 1.4 MB movie
It's the International Space Station flying over the south coast of China on Nov. 13th. "The ISS was moving so fast, I had to unlock the mount and guide my telescope by hand," says photographer Wah!. He recorded the action using a Canon 450D and a fisheye lens. "I hope you like the animation of me."
The next time ISS flies over Hong Kong, it won't be alone. Space shuttle Endeavour is scheduled to blast off from Kennedy Space Center on Nov. 14th for a weekend rendezvous with the space station. Endeavour will deliver a toilet, sleeping quarters, a waste recycling system and other items needed to expand the station's crew from three to six in the spring of 2009. The eyepiece of that telescope is about to get crowded. Be alert for flybys.
more images: from Ralf Vandebergh of the Netherlands
CORONAGRAPHS: Yesterday, astronomers announced that the Hubble Space Telescope had used its onboard coronagraph to block the light of a nearby star (Fomalhaut), revealing a planet in orbit. Hubble proceeded to take the first visible-light snapshot of a world outside our solar system.
The Solar and Heliospheric Observatory (SOHO) has been doing this trick for years. Every day the spacecraft beams back coronagraph images of our own sun, revealing stars, planets, comets and asteroids that would otherwise be lost in the glare. Today's image captured Mars and Mercury: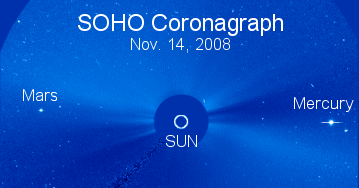 The two planets are converging on the Sun and next week, during the days around Thanksgiving in the USA, the trio will gather inside a circle less than three degrees in diameter. Looking up at noon, you'd never guess there are two planets hugging that star. What you need, of course, is a coronagraph. Click here for live images from SOHO.
---
2008 Taurid Fireball Gallery
[sky map] [2005 Taurids: on Earth, on the Moon]