| | | |
| --- | --- | --- |
| Metallic photos of the sun by renowned photographer Greg Piepol bring together the best of art and science. Buy one or a whole set. They make a stellar gift. | | |
PHOBOS-GRUNT vs. US RADAR: Sources within the Russian Space Agency have suggested to newspapers that a US radar on the Marshall Islands might have accidentally disabled Phobos-Grunt. The mishap could have occured, they say, while the radar was using megawatt pulses to track near-Earth asteroid 2005 YU55 on the same night the Mars probe was launched. According to an analysis by satellite tracking expert Ted Molczan, however, "the asteroid was below Kwajalein's horizon during both of Phobos-Grunt's passes" over the radar facility. An errant "zap" seems unlikely. Besides, says NASA, they weren't using the radar anyway.
SOLAR PROMINENCE: Today, a network of plasma-filled magnetic filaments is rising over the sun's northwestern limb. Some of the arcs in this Solar Dynamics Observatory image taken during the early hours off Jan. 18th are nearly 500,000 km long: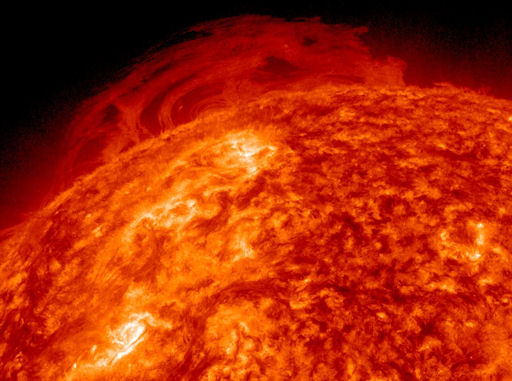 The vast structure is an easy target for backyard solar telescopes. If you have one, take a look. Any instability in the magnetic thicket of this prominence could produce a spectacular eruption framed by the black of space over the sun's horizon.
more images: from Monty Leventhal OAM of Sydney, Australia
CHANCE OF AURORAS: A coronal mass ejection (CME) heading mainly for Venus might deliver a glancing blow to our planet, too, on Jan. 19th. High-latitude sky watchers should be alert for auroras when the cloud arrives.
In Finland, the Northern Lights are already shining. Aurora tour guide Andy Keen sends this picture from the Municipality of Inari: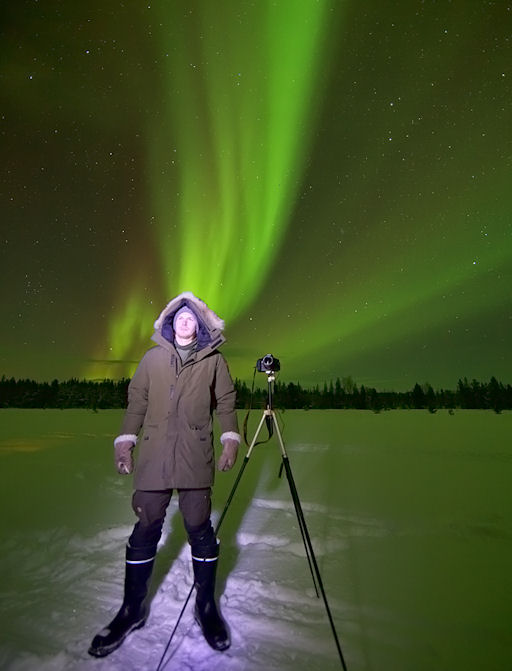 "We didn't need head-torches on Jan. 16th as the forest was illuminated by the Aurora dancing above our heads," describes Keen. "For over two and a half hours we witnessed one of the best light shows that I've ever observed in over 5000 hours of 'chasing' the auroras. Ribbons, curtains, mini spirals, bursts - you name it and we had it."
"Some of our group were so amazed by what we were witnessing that they simply lay on their backs in the snow and soaked it all up. Others ran around making noises like over excitable school children - myself included. It was absolutely mind-blowing to say the least. If this is a sign of things to come as Solar Maximum approaches, then all I can say is that we're all in for a real treat over the coming months and years." Aurora alerts: text, voice.
January 2012 Aurora Gallery
[previous Januaries: 2010, 2009, 2008, 2007, 2005, 2004]
THE GHOST OF COMET LOVEJOY: On Dec. 16th, Comet Lovejoy plunged into the atmosphere of the sun and emerged improbably intact, bright enough to see with the naked eye in the dawn sky. Thirty days later, Comet Lovejoy is a ghost of its former self. On Jan. 16th, Minoru Yoneto of Queenstown, New Zealand, photographed the fading sungrazer: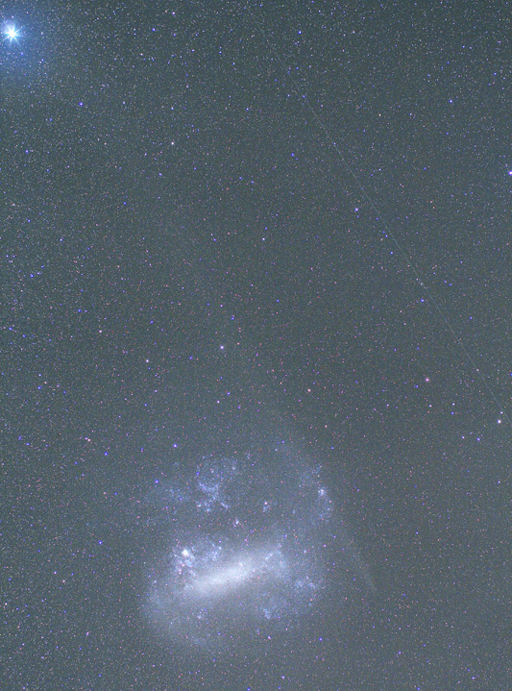 The comet's gossamer tail stretches more than 13 degrees from the Large Magellanic Cloud (bottom) to supergiant star Canopus (upper left). "I didn't expect the tail to be so long," says Yoneto. "[To show the full extent of it], I made a two minute exposure using my Canon EOS Kiss X2 digital camera set to ISO1600." He also captured a satellite traveling along the star field parallel to the comet's tail.
The Ghost of Comet Lovejoy is still putting on a good show.
more ghost shots: from Luis Argerich of Heavy, Argentina
Comet Lovejoy Gallery
[previous comets: McNaught, Holmes, Lulin, Tuttle, Ikeya-Zhang]
---