INTERPLANETARY INTERNET: Move over TCP/IP. NASA has developed a new communications protocol called Disruption-Tolerant Networking or DTN that allows Internet-style networking of remote spacecraft. DTN works during solar storms and eclipses, and it can handle extreme transmission delays typical of outer space communication. Using DTN, NASA has just tested a 10-node Interplanetary Internet: full story.
SILHOUETTES: On Nov. 15th in the skies above China, a winged shadow flitted across the Moon. It couldn't have been a bird, however, because it was flying 17,000 mph: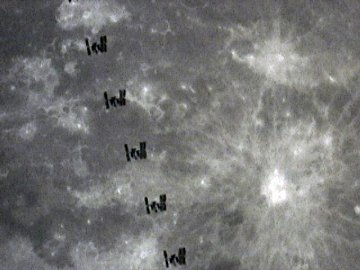 "The International Space Station (ISS) transited the Moon at 3:38 China Standard Time," says Xin Li of the Beijing Planetarium. "We photographed the event using a Meade 8" LX200 and a ToUCam video camera." The flyby occurred not long after the space shuttle docked with the ISS, so there are actually two spacecraft in the picture. Can you find Endeavour?
Two nights later, Nov. 17th, the ISS and Endeavour passed in front of the Moon again, this time over Cracow, Poland: photo.
Lunar transits are not rare, but they can be challenging to observe because the space station crosses the 0.5o face of the Moon in a split second. Usually the human behind the camera sees nothing until a later search through video frames reveals the fleeting silhouette.
There is an easier way. Look for the "anti-silhouette." In other words, watch the glowing body of the space station cross the great expanse of the night sky. The ISS outshines Jupiter and often Venus; you can't miss it! All you need are flyby times.
more images: from Mark Staples of Waldo, Florida; from Pieter Ibelings of Atlanta, Georgia; from David Tremblay of Alto, New Mexico;
CONVERGING PLANETS: "The anticipation builds as Venus and Jupiter approach each other for their spectacular conjunction with the Moon on December 1st," says astronomy professor Jimmy Westlake of Colorado Mountain College. "In the meantime, the view of the sky's two brightest planets set against the star clouds of the Milky Way isn't half bad, either!"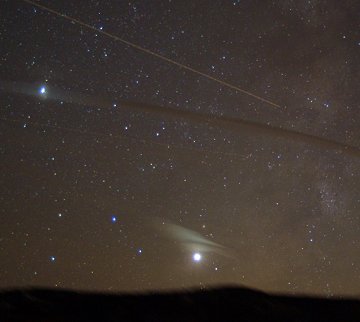 He took the picture last night from the dark countryside near Stagecoach, Colorado. "Dusk's fading light, wispy clouds, and aircraft headed for parts unknown combined to make a dramatic night scene," he says.
Not everyone has skies so dark and starry. Fortunately, you don't need dark skies to witness the ongoing convergence of Jupiter and Venus. The two bright planets beam through clouds, twilight and even urban light pollution. Step outside at sunset and take a look.Sky maps: Nov.19, 20, 21, 22, 23, 24, 25, 26, 27, 28, 29, 30, Dec 1.
more images: from Doug Zubenel at Kill Creek Park near De Soto, Kansas; from Tyler Burg of Omaha, Nebraska; from Bill Davis of Albuquerque, New Mexico; from Katy Giorgio of Boston, Massachusetts; from Val Germann of Columbia, Missouri;
---
Nov. 2008 Aurora Gallery
[Previous Novembers: 2007, 2006, 2004, 2003, 2001, 2000]