The space shuttle flies in April. Would you like a call when it soars over your backyard? Spaceweather PHONE!
VENUS AND THE MOON: When the sun goes down tonight, step outside and look west. You'll see Venus and the slender crescent Moon beaming together through the glow of sunset--beautiful!
ECLIPSE MIRAGE: What do you get when you combine a solar eclipse with a temperature inversion? Answer--a very strange Alaskan sunset. James Helmericks took this picture from the Colville River Delta of Alaska's North Slope on March 18th: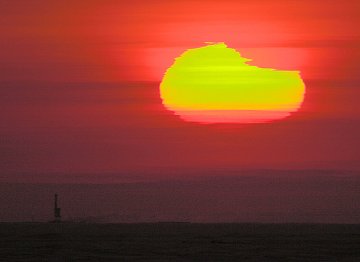 Photo details: Canon 300D, 400mm, 1/1000, f5.6
The crescent shape of the sun is caused by a partial eclipse--the Moon passed off-center in front of the sun on March 18th and 19th. This was widely seen from India, China, and the northern reaches of Alaska. The rest is a mirage....
"Alaska is the place for strong mirages," explains atmospheric optics expert Les Cowley. "Often, layers of very cold air sit beneath warmer layers. Here the abnormal refraction has produced a distorted and strongly flattened partially eclipsed sun. The miraging temperature inversion layers can be seen crossing the sun and at each side."
"Conditions like these often produce green flashes," he adds, but so far no one has reported a flash to go with this eclipse. Photos welcomed!
March 19th Solar Eclipse Gallery
Updated March 20, 2007
NEW COMET LOVEJOY: On March 15th, Terry Lovejoy of Thornlands, Australia, discovered a new comet (C/2007 E2) in the southern constellation Indus. Remarkably, to make the find he used not a telescope but just an off-the-shelf digital camera--a Canon 350D. At Lovejoy's request, John Drummund of Gisborne, New Zealand, confirmed the comet with this photo taken through a 0.41-m reflector: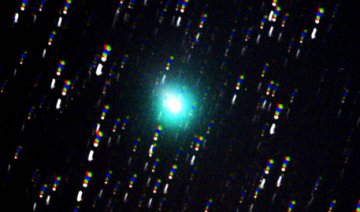 Photo details: 16" Newtonian @f5.2, SBIG STL11000M CCD, 3 minutes
The new comet is green and shines like a 9th magnitude star, too dim for the unaided eye but an easy target for large backyard telescopes in the southern hemisphere: ephemeris.
After five days of tracking, Comet Lovejoy's trajectory is known. The orbit is cockeyed, almost perpendicular to the rest of the solar system. At the moment the comet is swooping up from below, moving from southern to northern skies. At closest approach to Earth (0.44 AU) in late April, Comet Lovejoy is expected to brighten to 7th magnitude, still not a naked-eye comet but easy to see through small telescopes.