CELESTIAL TRIANGLE: Set your alarm for dawn. On Thursday morning, May 21st, Venus, Mars and the crescent Moon will form a lovely triangle in the eastern sky. It's a nice way to begin the day. Sky maps: May 20, May 21.
SPACESHIPS IN THE SUN, AGAIN: How often do you see spaceships flying in front of the sun? Astrophotographer Thierry Legault has seen it happen three times in the past week. Here he is standing on the grounds of the Kennedy Space Center with his solar-filtered telescope trained on the action: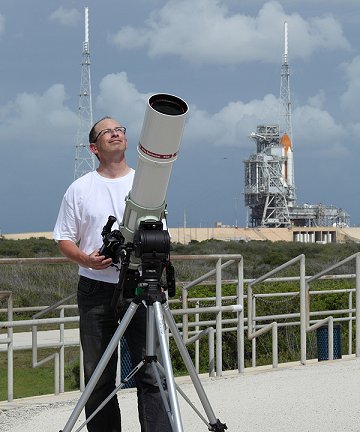 The view through the eyepiece looked like this. It shows space shuttle Atlantis with the Hubble Space Telescope in the cargo bay on May 18th during the fifth and final spacewalk of the STS-125 Hubble repair mission.
"One hour after I took the picture, rain began to fall and it hasn't stopped for 30 hours," says Legault. "Note the shuttle sitting on pad 39B over my left shoulder. That is Endeavour, ready to fly to the rescue in the unlikely case that Atlantis could not come back."
Legault also photographed a solar transit of Atlantis on May 12th and a transit of Hubble and Atlantis in tandem on May 13th. That makes three times. You never know what you might see when you look at the sun.
GREEN FLASH: Green flashes from the sun are brief and elusive. You can miss one simply by blinking. So imagine the surprise of Lance B. of the Cayman islands on May 17th when he watched a flash endure for two ... long ... seconds. "I had enough time to take this picture," he says: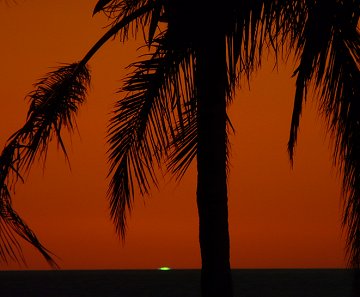 The green spot on the horizon is the flash showing itself during the very last seconds of sunset.
Green flashes happen when the normally mild refraction of Earth's atmosphere is amplified by a mirage. "The mirage occurs when there is warm air immediately over the ocean and the air temperature gradient changes rapidly with height," says atmospheric optics expert Les Cowley. "For the flash to be visible the warm air layers must be below you."
"The air was still and very hot; I knew the conditions were favorable," says Lance. "This was the longest green flash I've ever seen!"
more images: from Paul Edmondson of Point Reyes, CA; from Wolfgang Ott of Stuttgart, Germany; from James Helmericks of Colville River Delta, Northern Alaska;
---
April 2009 Aurora Gallery
[previous Aprils: 2008, 2007, 2006, 2005, 2004, 2003, 2002]
---