| | | |
| --- | --- | --- |
| All-inclusive Northern Lights trips in Tromsø, Norway. Small groups, big experiences! Highly qualified guides ensure unique and unforgettable adventures with a personal touch. Visit Explore the Arctic | | |
THE DECEMBER SOLSTICE: Thursday, Dec. 21st, will be the shortest day of 2017 for anyone living north of the equator. It's the December solstice, when the sun reaches its lowest point on the celestial sphere. Northern winter begins at 11:28 a.m. EST. Because seaons are reversed on opposite sides of the equator, southern summer beings at the same time. Happy Solstice!
POLAR STRATOSPHERIC CLOUDS: The stratosphere above the Arctic Circle is getting cold ... very cold. That's the only way to explain these colorful clouds that materialized over Kvaløya, Norway, on Dec. 20th: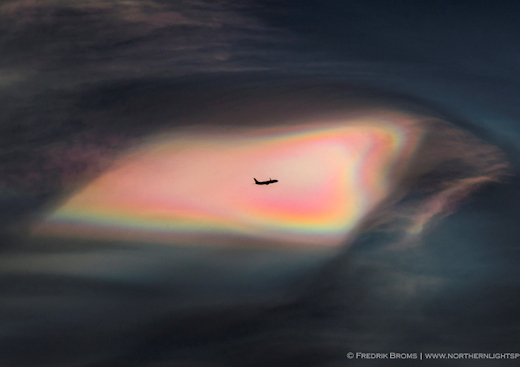 These are polar stratospheric clouds (PSCs), and they require temperatures around -85ºC to form.
"Today, heavy rainclouds and a bitter wind greeted the people of Tromsø in northern Norway when they woke up. But all of a sudden, the clouds parted and the sky cracked open to reveal an absolutely stunning display of stratospheric clouds high above the ordinary gray rainclouds," says photographer Fredrik Broms. "Seldom have I seen PSCs with such vivid colours as today."

The stratosphere is extremely dry, which makes it hard for clouds of any type to form. Only when the air up there becomes extremely cold do widely-spaced water molecules coalesce to form ice crystals--the "stuff" of PSCs. High-altitude sunlight shining through these ice particles produces the clouds' characteristic bright iridescent colors.
Today's sighting in Norway and a related sighting in Sweden marks the beginning of the 2017-18 winter season for polar stratospheric clouds. Stay tuned for more.
Realtime Space Weather Photo Gallery
A GASH IN THE SUN'S ATMOSPHERE: Magnetic maps of the sun's atmosphere reveal a long gash, more than 700,000 km long, where solar wind may be spraying into the solar system. This image of the structure is based on data from NASA's Solar Dynamics Observatory: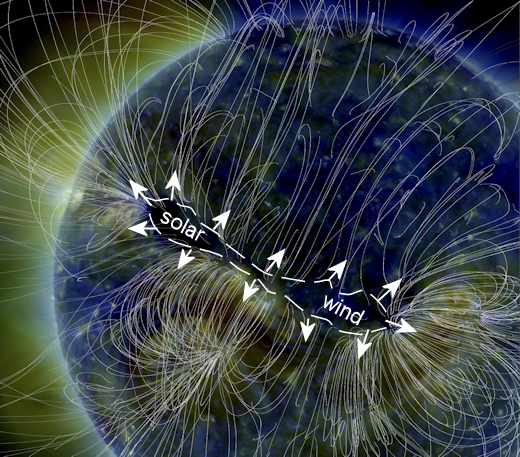 Astronomers call this a "coronal hole"--a region when the sun's magnetic field opens up and allows solar wind to escape. Coronal holes are common, appearing every few weeks. This one, however, is uncommonly long and narrow. A fan-shaped spray of gaseous material flowing from the gash could reach our planet as early as Dec. 23rd. Arctic sky watchers should be alert for auroras when the solar wind arrives. Free: Aurora Alerts.
STUDENT CHRISTMAS SPECIAL: Christmas shopping for a young scientist? Consider this: For the holiday season only, we're reducing the cost of payload space on Earth to Sky Calculus balloons from $500 to only $299. Buy a ticket to space before Dec. 25th and your student can send an experiment, photo, or keepsake item to the stratosphere, completely supported by an Earth to Sky Calculus launch and recovery team.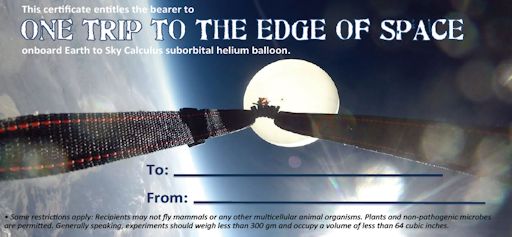 This is not only a great Christmas gift, but also a good kickstarter for science fair projects. Experiments will be flown and returned along with video footage, GPS tracking, temperature, pressure, altimetry and radiation data.
To take advantage of the discounted rate, payment must be received before Dec. 25th. However, the flight can take place at any time in the next 12 months.
Conditions: No mammals. Plants and non-pathogenic microbes are allowed. Generally speaking, experiments should weigh less than a few hundred grams and occupy a volume less than that of a school lunchbox. A brainstorming session is included with each certificate. Dr. Tony Phillips and other members of the Earth to Sky team will chat with recipients to help them craft an experiment that will work in the harsh environment of the stratosphere.
Far Out Gifts: Earth to Sky Store
All proceeds support hands-on STEM education

---
Every night, a network of
NASA all-sky cameras
scans the skies above the United States for meteoritic fireballs. Automated software maintained by NASA's Meteoroid Environment Office calculates their orbits, velocity, penetration depth in Earth's atmosphere and many other characteristics. Daily results are presented here on Spaceweather.com.
On Dec. 20, 2017, the network reported 29 fireballs.
(24 sporadics, 3 December Leonis Minorids, 1 Geminid, 1 December Hydrid)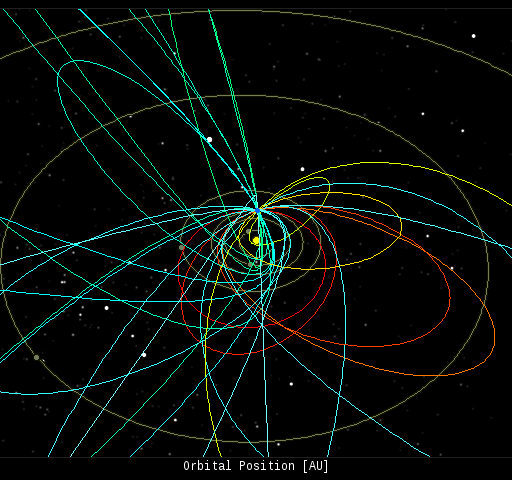 In this diagram of the inner solar system, all of the fireball orbits intersect at a single point--Earth. The orbits are color-coded by velocity, from slow (red) to fast (blue). [Larger image] [movies]
Potentially Hazardous Asteroids (
PHAs
) are space rocks larger than approximately 100m that can come closer to Earth than 0.05 AU. None of the known PHAs is on a collision course with our planet, although astronomers are finding
new ones
all the time.
On December 20, 2017 there were
1872
potentially hazardous asteroids.

Recent & Upcoming Earth-asteroid encounters:
Asteroid

Date(UT)

Miss Distance

Velocity (km/s)

Diameter (m)

2015 XX169

2017-Dec-14

9.7 LD

6.3

11

2006 XY

2017-Dec-14

3.4 LD

4.9

56

2017 XY2

2017-Dec-15

4.5 LD

8.2

14

2017 XK1

2017-Dec-15

6.2 LD

12.2

32

2017 XR2

2017-Dec-15

12.2 LD

9.4

44

2017 XD2

2017-Dec-15

14.4 LD

12.3

69

2017 VT14

2017-Dec-17

3.8 LD

10.4

84

2017 XT60

2017-Dec-17

8 LD

7

12

2017 XW60

2017-Dec-18

5.2 LD

8.8

9

2017 XW61

2017-Dec-18

3.1 LD

11.7

28

2017 XX61

2017-Dec-18

8.2 LD

15.6

17

2017 XY61

2017-Dec-19

2.5 LD

13.9

20

2011 YD29

2017-Dec-19

17.6 LD

7.7

20

2017 WX12

2017-Dec-21

10 LD

11.4

136

2017 XR60

2017-Dec-21

13 LD

6.2

49

2017 XQ60

2017-Dec-21

13.4 LD

15.7

49

2017 YE

2017-Dec-22

2.9 LD

4.7

7

2017 TS3

2017-Dec-22

18.1 LD

10.2

137

418849

2017-Dec-22

15.3 LD

17.4

257

2015 YQ1

2017-Dec-22

17.3 LD

11.1

9

2017 WZ14

2017-Dec-24

7.6 LD

4.9

33

2017 XG1

2017-Dec-29

16.4 LD

9.9

38

2017 QL33

2017-Dec-30

13.3 LD

8.2

191

2017 YD

2018-Jan-01

19 LD

4.1

30

2015 RT1

2018-Jan-02

19.7 LD

9

30

2017 XT61

2018-Jan-08

11.4 LD

10.8

83

2004 FH

2018-Jan-10

20 LD

8.5

26

306383

2018-Jan-22

14.4 LD

17.4

178

2002 CB19

2018-Feb-02

10.5 LD

15.6

36

276033

2018-Feb-04

11 LD

34

646

2015 BN509

2018-Feb-09

12.9 LD

17.7

257

1991 VG

2018-Feb-11

18.4 LD

2.1

7

2014 WQ202

2018-Feb-11

15.1 LD

19.8

62