AURORA WATCH: Arctic sky watchers should be alert for Northern Lights tonight. A solar wind stream is heading for Earth, and NOAA forecasters estimate a 30% chance of high-latitude geomagnetic activity when it arrives sometime during the next 24 hours: gallery.
THE GREEN COMET COMETH: From remote Portal, Arizona, astrophotographer Jack Newton reports: "Comet Lulin has brightened considerably and is now an easy naked eye object in dark, country skies." He photographed it using a Meade 14" HyperStar and sends this 16-minute exposure: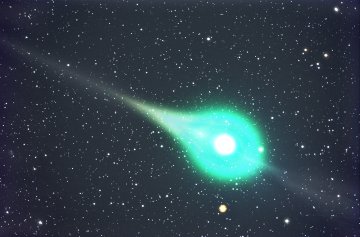 Comet Lulin's vivid green atmosphere is about three times as wide as the planet Jupiter, and its dusty tail stretches more than 1.5 million km into space. The comet is so big that "it no longer completely fits in my telescope's field of view," says Newton.
On Feb. 24th, Comet Lulin will swing past Earth only 38 million miles away. Got clouds? No problem. The Coca-Cola Space Science Center in Columbus, Georgia, plans to webcast the encounter. "We're going to transmit the view through our observatory's 16-inch Schmidt-Cassegrain telescope," says astronomy professor Rosa Williams of Columbus State University. "The webcast begins at 11:30 EST on Monday, Feb. 23rd and will continue until 5 a.m. EST on Tuesday the 24th." Tune in!
UPDATED: Comet Lulin Photo Gallery
[Comet Hunter Telescope] [Sky maps: Feb. 18, 19, 20]
SATELLITE DEBRIS UPDATE: US Strategic Command has identified a new batch of fragments from the Feb. 10th satellite collision over northern Siberia. "The count is now at 49 pieces for Iridium 33 and 85 for Kosmos 2251," says Canadian satellite tracker Daniel Deak, who has prepared some 3D maps of the debris for readers of spaceweather.com. Click on the image to view a snapshot of Iridium fragments on Feb 20th: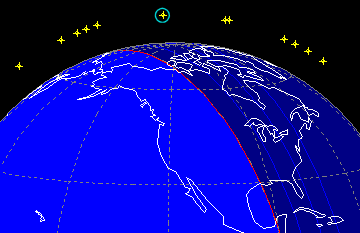 A similar map traces the Kosmos debris.
Observations: Both satellites are now smeared all the way around Earth; the original orbits are completely populated with fragments. Furthermore, for reasons not fully understood, Kosmos is more widely scattered than Iridium.
"The Kosmos debris ranges in altitude from 260 to 1450 km, so some of the pieces now reach lower than the 350-km orbit of the ISS," points out Deak. "For the Iridium debris, the fragments are confined to orbits between 687 and 1127 km."
This doesn't mean the ISS is in immediate peril. Most of the Kosmos scatter occurs over Antarctic latitudes. For comparison, the ISS stays within 51.6 degrees of Earth's equator, so the dangers are slight. The situation could change, however, as more fragments are identified and their spread increases. Stay tuned for updates.
A complete set of debris maps: #1, #2, #3, #4, #5
---
February 2009 Aurora Gallery
[Previous Februaries: 2008, 2007, 2006, 2004, 2003, 2002]
---